Jacob Benezra has a unique story to tell as an African American, Jewish basketball player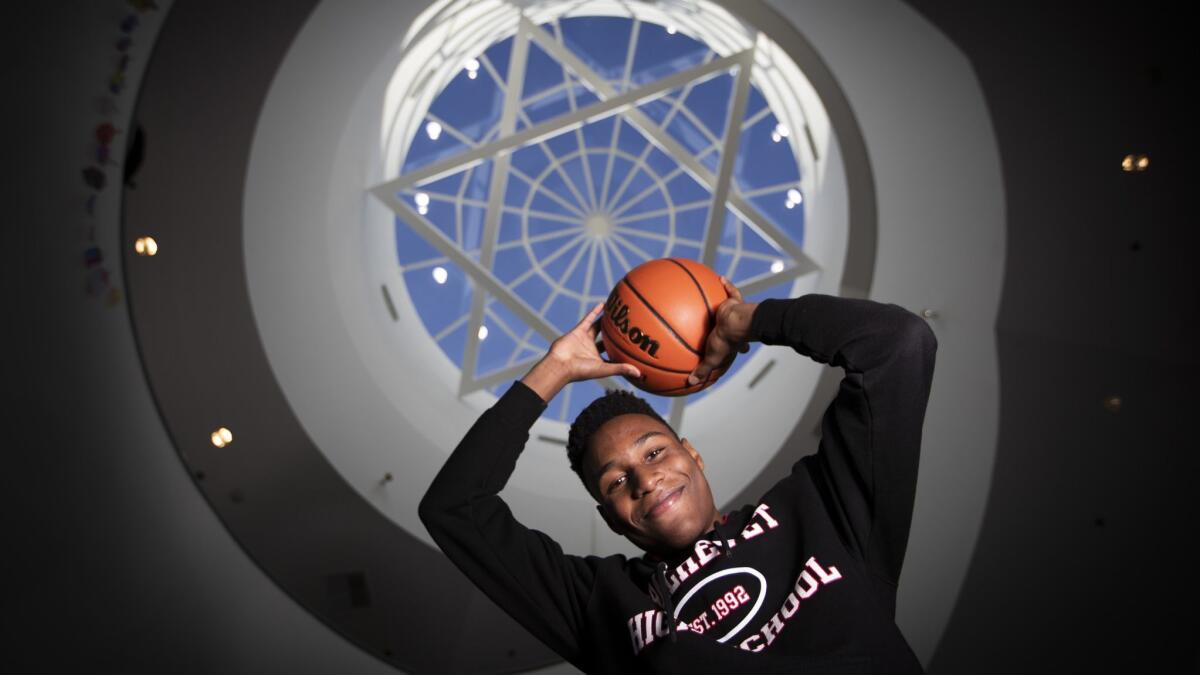 With a gray hoodie shielding much of his face, Jacob Benezra attracts stares during warmups as his Shalhevet teammates wearing yarmulkes go through layup drills.
When he arrives at the bench, the hoodie comes off to reveal that his head is covered by a bright blue yarmulke with an engraved orange basketball. At that point, something even rarer is divulged — an African American Jewish teenager playing high school basketball for an Orthodox Jewish team.
"It's a pretty interesting story," said Benezra, a 16-year-old junior. "It's not normal but I've met other African American Jews. I've been able to explore my Jewish and African American side that's connected me with other communities."
Benezra was born in Alaska to a 19-year-old single mother and adopted as an infant by David and Sigrid Benezra. They raised him as an Orthodox Jew in Seattle. He came to Los Angeles this year to live with a host family while attending Shalhevet, a small Jewish school in the Miracle Mile District off Fairfax Avenue.
"It was Jacob who drove that decision," David said. "He wanted to swim in a bigger fishbowl."
Jacob can't get enough of kosher restaurants in Los Angeles and kosher meats.
"Oh man," he said. "Kosher burgers, Chinese, Middle Eastern, pizza. Literally everything is here in LA."
His host family also has an espresso machine that he can't use enough.
The Benezra family includes 12-year-old twin siblings born via a surrogate parent.
"Ours just happened differently and it took some years until our children understood that it was their experience," David said. "They didn't understand that not all families are created that way. It's been an open discussion and it doesn't seem to diminish the reality of our ties."
Jacob is the only African American student on the Shalhevet campus.
"We all know each other and we're all Jewish," he said.
He's a 6-foot-1 guard who is the sixth man on a 4-3 team that's been competitive against some very good opponents. With good jumping ability, he's the only Shalhevet player who can dunk, and it has paid off.
"I got 10 bucks for a dunk," he said. "I dunked it and this guy said, 'I'll give you $10 if you dunk it again.'"
The head of school, Rabbi Ari Segal, said, "It's fun to know a dunk is possible at any time at a Jewish school. That's unusual."
At Shalhevet, 250 co-ed students in grades nine through 12 study in a four-year-old, three-story building that has a Star of David looking down into the foyer. Around the circular stairwells are walls covered with artwork. The gym is a central part of the building, and Jacob's presence has been embraced by students and faculty alike.
"He's a good, kind, sweet kid," Rabbi Segal said.
But everyone also wonders what it's like to be in his shoes outside the building.
"I have encountered both anti-Semitism and racism throughout points in my life, but it fuels me," Jacob said.
Asked how he reacts, Jacob said, "I've been trained to do two things. You either ignore it or try to teach them what the right thing or correct thing is. If they're not listening, then you can walk away."
His father says they've had long talks about the challenges of society.
"We felt given the events the last 10 years, the safest way to raise him was to have open conversations about the racism, both overt and subtle, that he will experience, including ways to defuse tense situations," David said. "If he's stopped by a policeman, to display his hands and ask, 'What can I do?' We literally had that precise conversation, and it's a conversation many African American families have had with their kids."
During a trip to Palm Springs last spring, Jacob said he was followed by a store employee as he tried to purchase a drink.
"My son is a very gentle soul," David said. "It shocked him very much."
David is part Sephardic Jew; his ancestors came from Spain before moving to Turkey. From his mother's side, he's part Ashkenazi Jew, with ancestry in Eastern Europe. His wife is part African American. They live in a small Orthodox Jewish enclave in a suburb of Seattle. Jacob briefly attended public school, providing what his father said was "an opportunity for him to start to take his uniqueness as a point of pride and advantage. At that point, he ran with it and enjoyed it."
People at Shalhevet games get excited when they see Jacob might have an opportunity to dunk. So far, he's only had one in a game.
"It was wild," he said.
Jacob has so much knowledge and depth of Judaism that his father said he could lead services. "He can read directly from the Torah," David said. "He's steeped in Judaic knowledge."
Jacob's plan is to stay at Shalhevet for two years and "inform, teach and show people you can be different."
So far, so good.
"Look where I am now," he said. "I'm 16. I'm living my life. I'm enjoying life. I have friends. I have everything."
Twitter: @latsondheimer
Get our high school sports newsletter
Prep Rally is devoted to the SoCal high school sports experience, bringing you scores, stories and a behind-the-scenes look at what makes prep sports so popular.
You may occasionally receive promotional content from the Los Angeles Times.