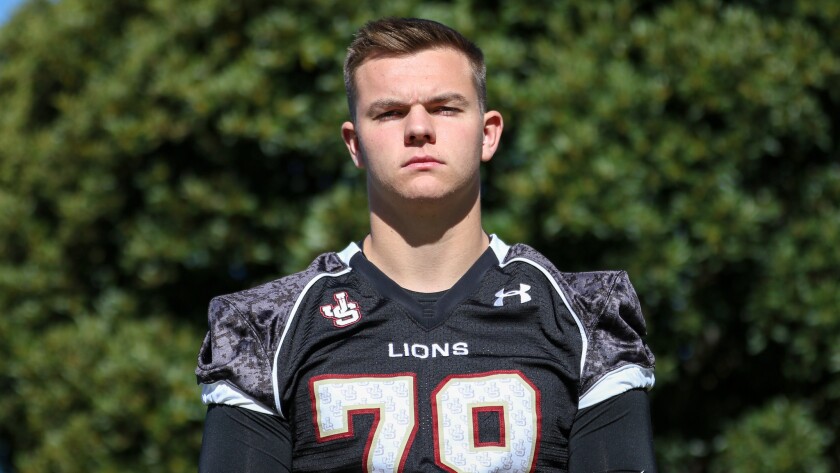 For Jeffrey Persi, it's about the questions.
The 6-foot-7 San Juan Capistrano JSerra offensive tackle has taken college recruiting trips to Stanford, Nebraska, Michigan and California this spring. He's talked to coaching staffs around the country. He knows every coach puts on a smile when chatting with recruits, but Persi focuses on asking the right questions to get an authentic feel from the coaches about their interest level and what their football programs have to offer him.
"Just trying to figure out how I would fit in and kind of what their style is like," Persi said. "It's great to see some of the practices and kind of get a feel of the way that they coach and they handle things. That helps."
Persi has been to a USC practice this spring and has plans to check out one at UCLA later this month. He watched USC offensive line coach Tim Drevno closely. He said Drevno is a great coach with an impressive resume and an aggressive, demanding coaching style.
The JSerra left tackle also got a chance to check out a practice while on his recent sojourn to Michigan. He got to watch the drills Wolverines assistant Ed Warinner was putting his offensive linemen through and observe his coaching style. Persi got to hang out with Warner, graduate assistant Josh Hendershot and offensive analyst Juan Castillo, a former NFL offensive line coach, during his visit. He got to query each of the men that could have an impact on his college career, if he were to choose the Wolverines.
"I loved the trip. Had lots of fun and ultimately I just feel like that's somewhere I can potentially see myself at," Persi said. "I mean, I love the coaches. They're so welcoming and they just seem like great coaches and great guys."
Persi came away impressed enough to arrange his first of five NCAA-allowed official visits, planning to return to Ann Arbor during the summer.
Checking out UCLA
Persi intends to take unofficial visits to Oklahoma and Washington this offseason, along with stopping by USC and UCLA again. Persi was recently in Westwood to meet with the UCLA coaching staff, including head coach Chip Kelly and offensive line coach Justin Frye, after a photo shoot for a recruiting magazine.
"I though the visit was great," Persi said. "I spent most of my time with Coach Frye talking football. They also had a strength presentation in the weight room which was cool."
The weight room will be important for Persi as the converted tight end will have to continue to add weight to his 265-pound frame and may be in line for a redshirt year wherever he goes to college.
Whittle away
He still is open to all schools, but Persi said he'd like to start narrowing things down soon and begin to whittle away some schools where the interest level isn't as high. He's got many options. The athletic and nimble Persi is a bit raw but has a lot of potential, which is why he's attracted a lot of recruiting attention this spring. He has received scholarship offers from more than 15 colleges since January, including schools in all five power conferences, and has more than 25 offers total.
"It's been crazy," Persi said of his spring. "Just grateful for all this attention and recognition I'm receiving and just trying to take it all in. Talk to my family and my coaches and just kind of see like where I can fit in where I can possibly see myself going.
"[I'm looking for] a great balance of academics and athletics," he said. "Just ultimately from a football standpoint just the coaches and the players, just that family atmosphere and somewhere where I feel comfortable. Just kind of somewhere where it's more than football, it's kind of like that family bond."
Redman commits
Six-foot-six tight end Mark Redman of Newport Harbor Corona Del Mar announced his commitment to Washington on Saturday. The four-star prospect becomes the third commit in the Huskies' 2020 recruiting class, joining Corona Del Mar teammate Ethan Garbers and Middleton, Idaho ,offensive lineman Gaard Memmelaar.
---