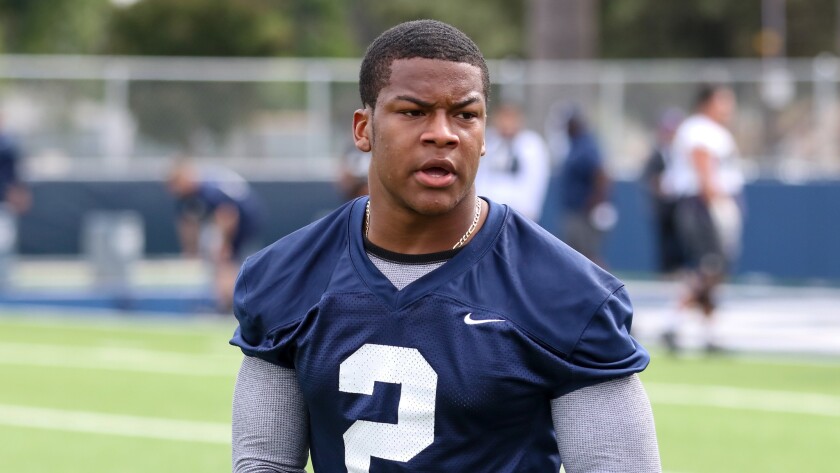 Kourt Williams II hopped on a plane Sunday morning, continuing his frequent-flyer offseason. The Bellflower St. John Bosco High safety has been traveling all over the country to check out potential college destinations.
He's taken official visits to Texas A&M, Oklahoma, Tennessee, Penn State and Ohio State in the last 10 weeks. Williams confirmed his intentions to leave California and the Pacific time zone on Twitter last week when he unveiled a top five featuring the aforementioned schools.
But those weren't the only trips he's made. He took unofficial visits to four of the five schools earlier this year along with trips to Michigan, Notre Dame and Oregon, among others.
Williams visited USC and UCLA, but he feels schools in the East will better prepare him for his future.
"I just feel like I have a better opportunity making it to the next level, [the NFL], playing in a Big Ten, SEC type of school than Pac-12," Williams said. "Just go to a bigger football powerhouse. I think they can prepare me better."
Part of the reason Williams prefers going across the country is the way he will be utilized. The 6-foot-1, 216-pound four-star prospect is listed as an outside linebacker by 247Sports and Rivals, but he sees himself as a safety who is capable of coming down in the box in a hybrid role.
"A lot of Pac-12 schools see me as a linebacker. A lot of SEC and Big Ten schools see me as a safety," Williams said. "I feel like that type of safety/outside linebacker position that Big Ten, SEC schools see me playing is a better fit for me because of my skill set. My speed. My versatility. And my hips and my feet. I'm more than just a linebacker."
Time to shine in Texas
Williams will get to showcase that this week in Frisco, Texas. His flight Sunday wasn't for another campus visit. Williams is participating in the Opening Finals, a four-day camp running through Wednesday that brings the nation's top high school football players together to train and compete.
Williams showed his elite athleticism during the spring, running the 40-yard dash in 4.60 seconds, with a 4.09 shuttle time (overall agility, speed and lateral quickness) and a vertical jump of almost 40 inches. He produced the second-highest "athletic football rating" in the nation during the Opening Los Angeles.
His mark of 137.94 is just shy of the 138.33 score Jacksonville Jaguars safety Jalen Ramsey had in high school, but better than that of some NFL stalwarts, including Chargers safety Derwin James (124.35) and former USC cornerback Adoree' Jackson (122.70), who is now with the Tennessee Titans.
Sign up for our daily sports newsletter »
Williams will get a chance to improve his score during the Combine Challenge this week. More importantly, he'll have the opportunity to show his coverage and ball-hawk abilities during the seven-on-seven portion of the camp. He could also get tutelage from Ramsey, James or Jackson as Opening alumni often come back to talk with players and instruct position groups.
"I want to show up, show out, learn from the NFL players that have been there, get some tips from them and don't get hurt," Williams said.
Wanted man
Williams will be a popular prospect this week as players committed to the schools he is considering will try to sell him on joining their recruiting class. Williams said he'll get insight on why each player made his decision and factor it in with all the other information he has gathered.
"[I am] just taking it day by day. Don't let it stress you out," Williams said. "It's a good problem to have, so I try to take as much advice from everybody that I can. And you know, it's really nothing but a blessing at the end of the day."
Represented well
Williams is one of 12 California prospects participating in the Opening Finals in Frisco.
The other Southland players competing: Gary Bryant, wide receiver, Corona Centennial; Jermaine Burton, wide receiver, Calabasas; Justin Flowe, linebacker, Upland; Korey Foreman, defensive lineman, Corona Centennial; Darion Green-Warren, cornerback, Harbor City Narbonne; John Humphrey, cornerback, Pasadena John Muir; Myles Murao, offensive lineman, Santa Ana Mater Dei; Clark Phillips III, cornerback, La Habra; Johnny Wilson, wide receiver, Calabasas.
Foreman is one of six underclassmen invited to the national camp.
---