During L.A. teachers' strike, City Section athletics are shut down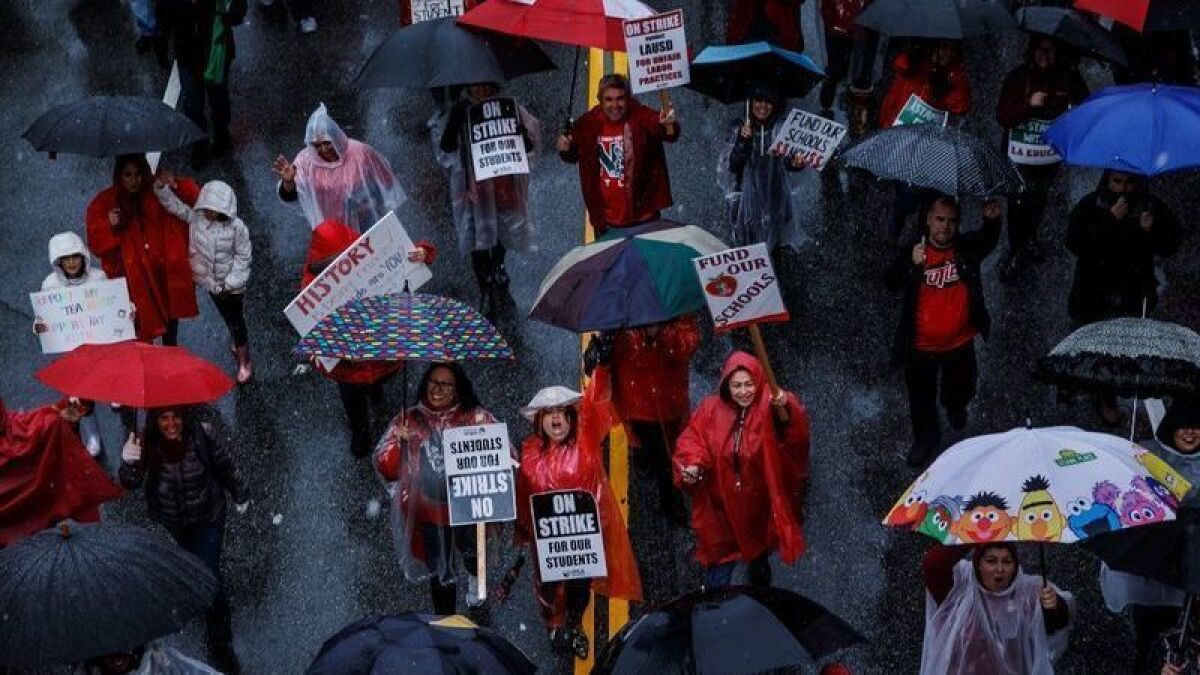 The high school sports season came to a halt for tens of thousands of student-athletes in the Los Angeles Unified School District on Monday when the teachers union began a strike.
There will be no after-school activities on LAUSD campuses, including practices and games for winter sports, which include boys' and girls' basketball, boys' and girls' soccer, and wrestling.
Westchester High boys basketball coach Ed Azzam, who is retired from teaching, remembers the last UTLA strike that affected City Section sports programs in 1989. That strike lasted nine days.
"If there is a strike, then obviously it will affect every team," Azzam said before the Comets' game on Friday night against Hamilton. "But as of this point, we're not worried about what might happen in practice. We play, we'll worry about tomorrow, tomorrow."
Tomorrow arrived Monday, with UTLA members walking picket lines under rainy conditions as a storm system blanketed the Southland. Students will have to train and practice on their own, off campus.
"That's gonna be up to them," Azzam said of players working out. "I haven't told them they have to. I haven't told them they can't. If they want to practice on their own, they'll figure it out. We have a good group of returning guys and good core leadership, so I'm hoping that they'll do something to stay in shape, depending on how long the strike is."
One of Westchester's senior leaders is Kaelen Allen, whose grandmother was at the game Friday and is worried about what the strike will bring for students and parents, although she had empathy for teachers.
"It's gonna affect the kids, what they're learning, but I guess [teachers] have to do what they have to do," said Shirley McKnight, who worked as a payroll specialist in LAUSD for 37 years.
"I know that the administrators are going out to the locations, but they're not gonna teach the kids. We do need smaller classroom size, we do. .. It's too many kids in the classroom."
McKnight said her grandson had not talked about plans for the week.
"He hasn't even told me if they're gonna have practices," she said. "He just said that, he don't think that they'll be coming to school, and I said, 'That's no good. You guys still need to go to school, because somebody's gonna have to be in that classroom.' I don't know what they're gonna be teaching, but you still have to be accountable with your attendance."
Azzam said the strike in 1989 only canceled a few games. If the current strike lasts longer, he said he'll deal with the aftermath.
"I haven't thought about it, I haven't worried about it, because there's nothing to be gained by doing either one of them," he said. "We just take today and take care of it, and whatever happens, however many days, games are missed, however they ask us to make them up … we'll do it. And just, play through it.
The district's 863 campuses are spread across 710 square miles and 26 cities in L.A. County.
School administrators, school police and bus drivers will be reporting for duty. The district has hired about 400 substitutes and redeployed 2,000 district staff with teaching credentials to replace about 31,000 striking teachers union members.
Classified staff — who include teachers' aides, custodians and cafeteria workers — will report for work at all but 10 campuses.
Twitter: @latsondheimer
---
Get our high school sports newsletter
Prep Rally is devoted to the SoCal high school sports experience, bringing you scores, stories and a behind-the-scenes look at what makes prep sports so popular.
You may occasionally receive promotional content from the Los Angeles Times.