Corona Centennial routs Orange Lutheran 35-7 in one of many blowouts in Division 1 playoffs
Huskies defeat Orange Lutheran 35-7
The opening round of the Southern Section Division 1 football playoffs on Friday night produced little drama and lots of routs, leading to the question is something broken?
"The Pac-5 Division had close games all the way through," Corona Centennial coach Matt Logan said, referring to the old Division 1. "Now it's different."
From Bellflower St. John Bosco routing Gardena Serra 49-0 to San Juan Capistrano JSerra blowing out Long Beach Poly 42-9, the lack of competitiveness is something everyone should be concerned about.
At Centennial, the Huskies cruised to a 35-7 victory over Orange Lutheran and will play Rancho Cucamonga in the quarterfinals. Rancho Cucamonga won in overtime 42-40 over Vista Murrieta in the lone close opening game in Division 1.
Centennial trailed 7-0 after the first quarter. Ryan Hilinski connected with Logan Loya for a 49-yard touchdown pass on the Lancers' opening possession.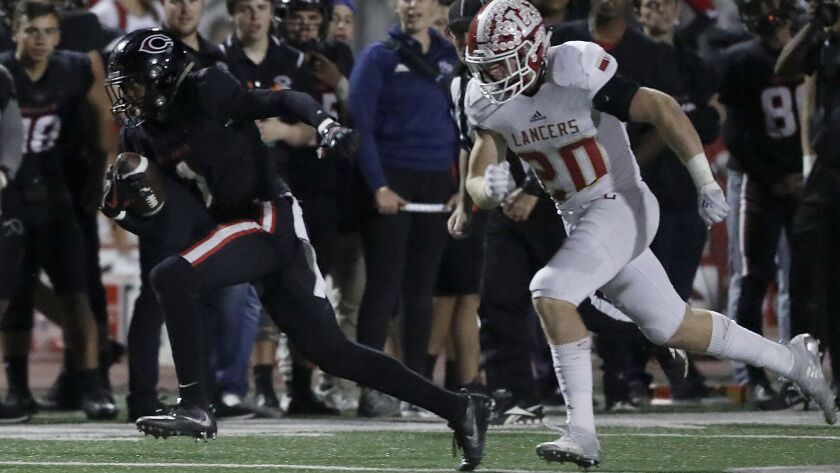 In the second quarter, however, Centennial (11-0) got the ball to its playmakers, and the Lancers were left in tatters, giving up five touchdowns to fall behind 35-7.
The second half was filled with penalties.
"I was disappointed in our execution," Logan said. "And the penalties were ridiculous."
Receivers Gary Bryant and Reggie Retzlaff used their speed, athleticism and versatility to put the Huskies into high gear after their slow start.
Bryant returned a punt 50 yards for a touchdown and caught a 42-yard touchdown pass. Retzlaff completed a 50-yard touchdown pass to Aaron Smith after catching a pass behind the line of scrimmage and also scored on a 27-yard pass play.
The Lancers (5-6) lost standout receiver Josiah Hawkins to an injury on the first play from scrimmage, then lost Hilinski to a possible concussion with 5:52 left in the second quarter and the score 14-7 Centennial. Also going down was tight end Ethan Rae.
The challenge for anyone left on Centennial's schedule is dealing with the Huskies' relentless pass rush. Centennial had 451/2 sacks coming in and recorded six more. The defensive line of Drake Jackson, Korey Foreman, Nick Smith and Malik Scurlock might be the best in Logan's coaching career.
Add linebackers Josiah Tanielu and Tuasivi Nomura, and the Huskies are capable of causing real havoc.
Hilinski was effective early on getting away quick throws to junior Loya, who made 10 catches for 132 yards. It was a tough ending for Hilinski.
Headed to South Carolina, he was 11 of 18 passing for 128 yards and finished his three-year varsity career with 8,099 yards passing and 74 touchdowns. Two other Orange Lutheran quarterbacks were a combined eight of 26 for 43 yards after Hilinski left.
City Section punishment: City Section commissioner John Aguirre has ruled 12 Carson football players and four Harbor City Narbonne players will receive one-game suspensions for leaving the sideline last week during a fight between Carson and Narbonne players. They cannot play in next week's playoff openers.
Twitter: @latsondheimer
---
Get the latest on L.A.'s teams in the daily Sports Report newsletter.
You may occasionally receive promotional content from the Los Angeles Times.