Prep Rally: It's going to be an epic week for high school basketball
Hi, and welcome to another edition of Prep Rally. My name is Eric Sondheimer. It's the final week of the high school basketball season. The regional finals take place on Tuesday, followed by the state championships Friday and Saturday at Golden 1 Center in Sacramento. It's showdown time.
Epic week of basketball
Does it get any better than Tuesday when the basketball teams that ranked No. 1 and No. 2 all season meet to decide a trip to Sacramento?
It's happening in the boys and girls Open Division regional finals, where Harvard-Westlake is playing at Corona Centennial in the boys' division and Etiwanda is playing at Sierra Canyon in the girls'.
Harvard-Westlake finally gets its chance to play Centennial after a loss to St. John Bosco during the Southern Section Open Division playoffs prevented the matchup.
Sierra Canyon is 31-0 and two wins away from a perfect season. Here's a report on the Trailblazers' semifinal win over Mater Dei.
In Division I boys, Sherman Oaks Notre Dame and Sierra Canyon will meet for a fourth time to decide who gets to play for a state championship Friday night in Sacramento. The game will be at Calabasas. Notre Dame is 3-0 against the Trailblazers, but Sierra Canyon is coming off an impressive win over Bishop Montgomery in the semifinals. Here's the report.
In Division III, former Laker Michael Cooper is the head coach at Culver City, which plays Buena in the regional final.
Here's the schedule for Tuesday's finals (some game sites may change to obtain larger gyms).
Get our high school sports newsletter
Prep Rally is devoted to the SoCal high school sports experience, bringing you scores, stories and a behind-the-scenes look at what makes prep sports so popular.
You may occasionally receive promotional content from the Los Angeles Times.
Streaming revolution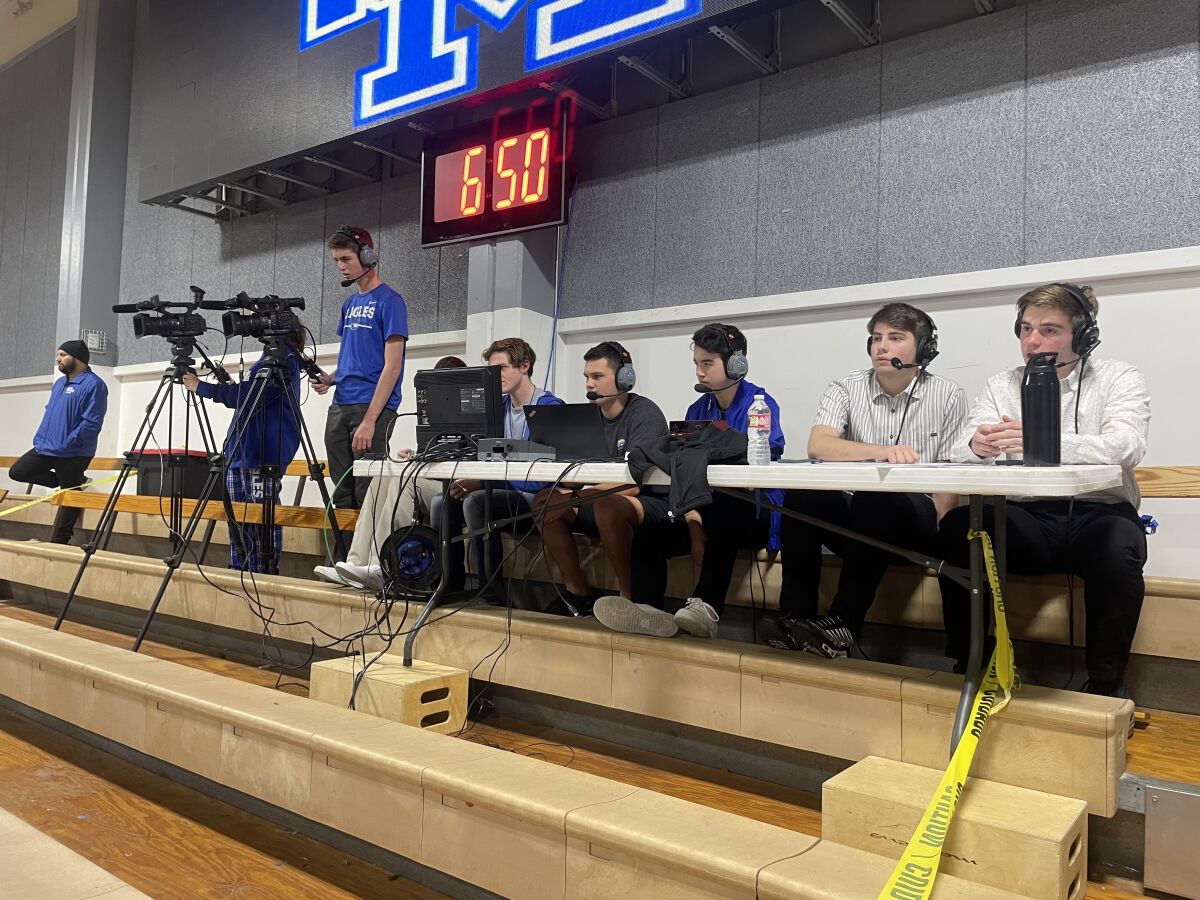 High school kids trying to be the next Vin Scully? It's happening on campuses throughout Southern California as high schools stream sporting events and employ students to be the announcers or cameramen.
Harvard-Westlake is the standard for excellence both in its announces and productions.
Here's a report from Luca Evans on the growing popularity of high schools streaming their own events.
Here comes Duncan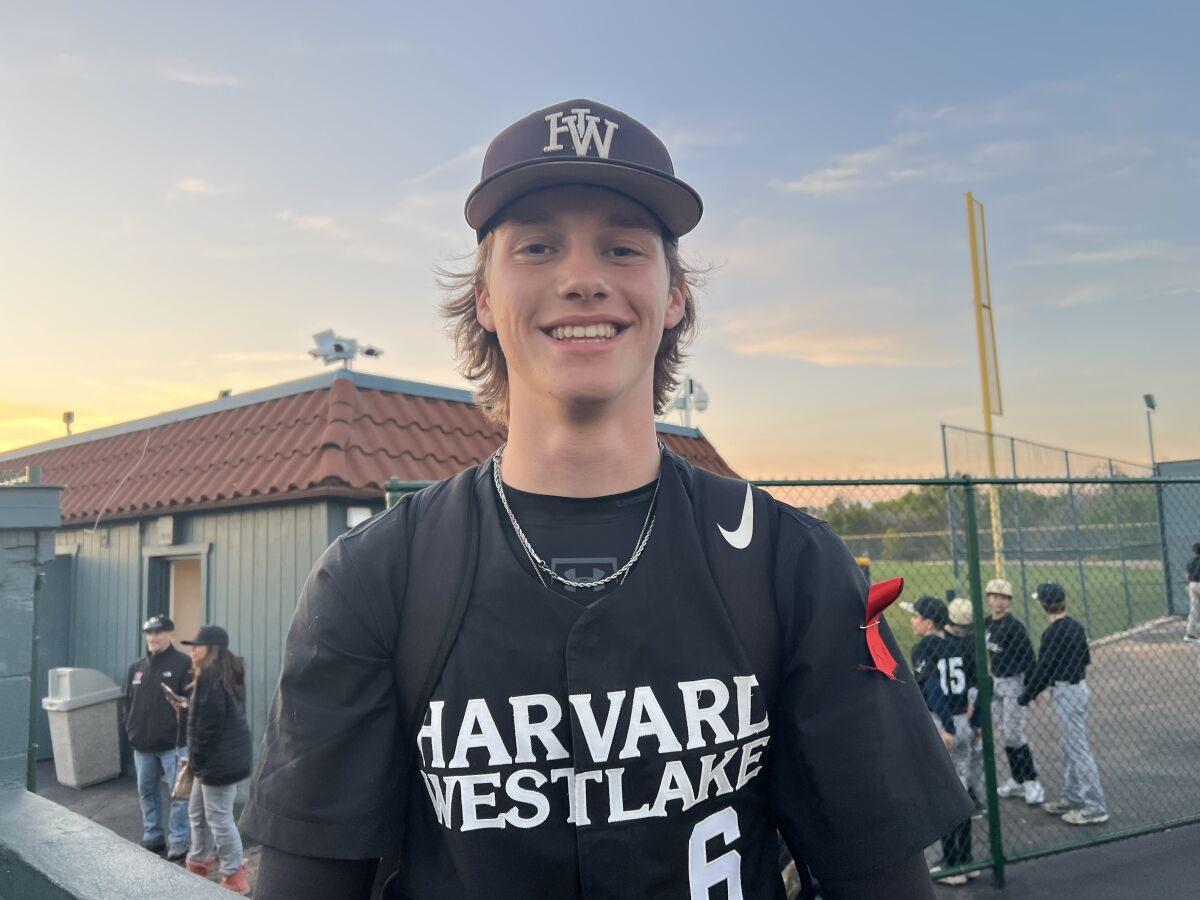 The long anticipated high school baseball debut of Duncan Marsten at Harvard-Westlake is finally scheduled to happen Friday against Loyola. He's supposed to pitch an inning in relief. It's been a long wait.
Marsten came in as a highly regarded pitcher as a freshman committed to Stanford. He never made it to the field because of a back injury. As a sophomore, he missed the season after Tommy John surgery. He has been cleared for 100% activity and the word getting out is pretty impressive.
Athletic director Matt LaCour, who was the coach when Lucas Giolito hit 100 mph on the radar gun, said, "Duncan is going to start throwing baseballs with numbers we haven't seen since Lucas."
"I'm thrilled and happy to go back out there and show what I can do," Marsten said.
What will people see?
"I can't say anything about the rumors," he said. "People will just have to find out on Friday."
Clearly Marsten has shown perseverance that will help in the future.
"It's the marathon, not the mile," he said. "Everyone has their time and you have to stick it out."
Baseball
It was a huge week in the Mission League, where Notre Dame, Crespi and Sierra Canyon all made positive impressions. Notre Dame fell behind 8-0 to Bishop Alemany on an extremely cold day where pitchers walked 19 batters, then rallied for an 11-8 win. Here's the report.
Crespi improved to 7-0-1 behind sophomore pitcher/hitter Diego Velazquez. Here's the report.
Former Chatsworth coach Tom Meusborn is having quite an impact in his first year as head coach at Sierra Canyon. The Trailblazers are 8-0 and 3-0 in the Mission League. Then there was the performance of Bryce Rainer of Harvard-Westlake in his first pitching start since the 2021 season. Here's the report.
Corona is 4-1 with all four victories by shutouts. The Big VIII League is looking very strong, with Corona, Norco, unbeaten Roosevelt (6-0) and unbeaten Corona Centennial (7-0).
The Trinity League begins action this week. The big series has Santa Margarita playing Orange Lutheran.
The West Valley League is playing three rounds this season and starts on Friday with a big one: Birmingham taking on Granada Hills.
Los Angeles Roosevelt's Matias Nolasco should be considered one of the most respected hitters in the City Section. He's had a home run in each of his team's two games this season. Mason Edwards of Palisades struck out 14 in a 1-0 win over Westlake.
Here's the link to this week's top 25 rankings by The Times.
Softball
Norco is off to a 6-0 start behind senior pitcher Marley Goluskin.
Rain has disrupted things, but the Cougars are one week away from starting the always tough Big VIII League season
Esperanza is 6-1 with two wins over Garden Grove Pacifica. The Aztecs face Corona Santiago on Wednesday.
Granada Hills is 6-2 and could be the City Section title favorite. The Highlanders are on a six-game winning streak.
Sherman Oaks Notre Dame finally showed off its power last week with a barrage of home runs, including the second of the season for Oklahoma-bound Ella Parker.
Track
What a season running debut for sophomore Sadie Engelhardt of Ventura. She set a sophomore state record by running the 3,200 meters in 9:51.39 at Moorpark High. She also holds the freshman record at 9:50.69. Here's the complete meet marks.
At Trabuco Hills, Mater Dei showed off some fast runners. Football standout Nate Frazier won the 100 meters in 10.76 seconds. Logan Lyght won the 110 highs in 14.36 seconds. Upland's Davis Davis-Lyric won the 300 hurdles in 38.97. Michael Serpa of Trabuco Hills took the 200 in 22.24.
Brandon Gorski of Mater Dei went 6-6 to win the high jump.
The girls' 3,200 went to Marjourie Lopez of Shadow Hills in 10:48.69. The 100 was won by Justine Wilson of Rosary in 12.31. Here's the complete results.
Aaron Sahlman of Newbury Park ran the 800 in 1:50.25 at JSerra meet. Leo Young of Newbury Park ran the 1,500 in 3:40.86. Cathedral's Emmanuel Perez set a school record in running 4:09.27 in the 1,600, fastest time so far in the nation.
Dijon Stanley of Granada Hills opened his 400 season with a scorching 47.13.
Volleyball
Eagle Rock pulled off the volleyball upset of the week, knocking off City Section title favorite Palisades, then beating another City power, Chatsworth, to win the Venice Invitational championship. Zech Fuentes was tournament MVP.
A story of twins
Without a second of hesitation, Hannah Lising was there for her sister.
Jerseys were grabbed and shoves exchanged from the first minutes of a rough, physical City Section Division I semifinal playoff game Feb. 17 between Sun Valley Poly and Hamilton. And with the fourth quarter winding down to an eventual Poly win, simmer turned to a boil as Parrots point guard Heart Lising and a Yankees player dove for a loose ball. As both got up after a foul call, the Hamilton player flipped up Heart's black ponytail.
So Heart flung the ball directly at her back. She was hit with a technical. And as a throng of Hamilton players gathered, twin sister Hannah — also a Parrots guard — walked over, placed herself directly in front of her sister, and raised her hands high.
It was a blatant act of protection, two twins linked at a deeper level than the jersey on their backs, than even the shared DNA buried in their cells.
"That protectiveness came out," Poly coach Tremeka Batiste chuckled a week later. "And nobody was going to get to her sister."
Some shoving broke out, and Hannah took an elbow directly to the face, stumbling away. She didn't cry. They'd grown up playing on a concrete court in the Philippines, running around roughhousing with boys. Unfazed.
But as Hannah stood, a piece of gum flew from the crowd and hit her shoulder. Heart saw it, and it further upset her, making a show of pointing at the wad on the court and waving her hands at the crowd.
She received a second technical, and was thus ejected. It meant bad news for the Division I final the following week: Poly would be without one of the sisters, their two best players. And it meant something even worse for Hannah.
The twins came to America two years ago, adjusting to an unfamiliar country in the middle of COVID-19. But they always had each other. Always had a friend, a companion.
Now Hannah Lising, for the first time, was alone.
The story of twins supporting each other.
Soccer
JSerra and Santa Margarita won Division I Southern California regional soccer championships for boys and girls, respectively.
JSerra shutout City Section champion Birmingham 3-0. Santa Margarita defeated Los Alamitos 1-0. Here's the complete scores from regional finals.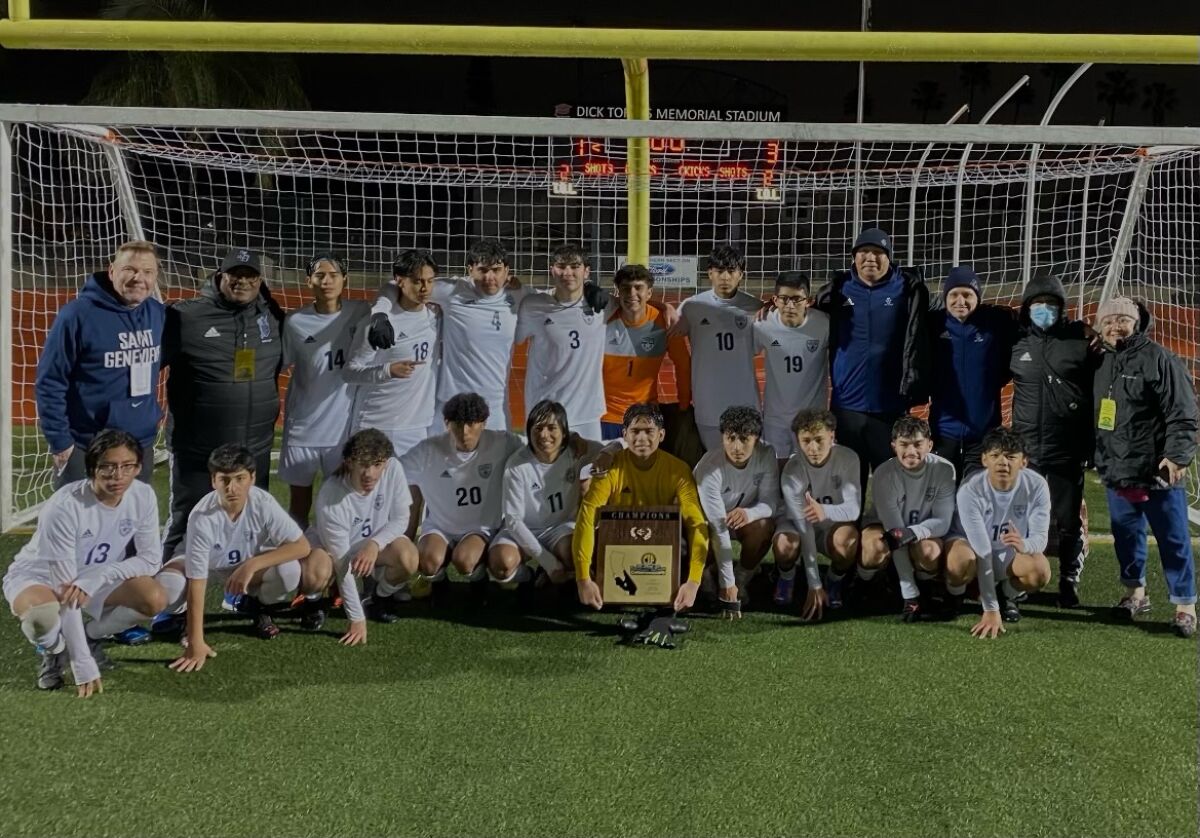 The season has ended but here's a story about St. Genevieve winning a Southern Section championship with a little inspiration from a coach dealing with cancer.
Save of the year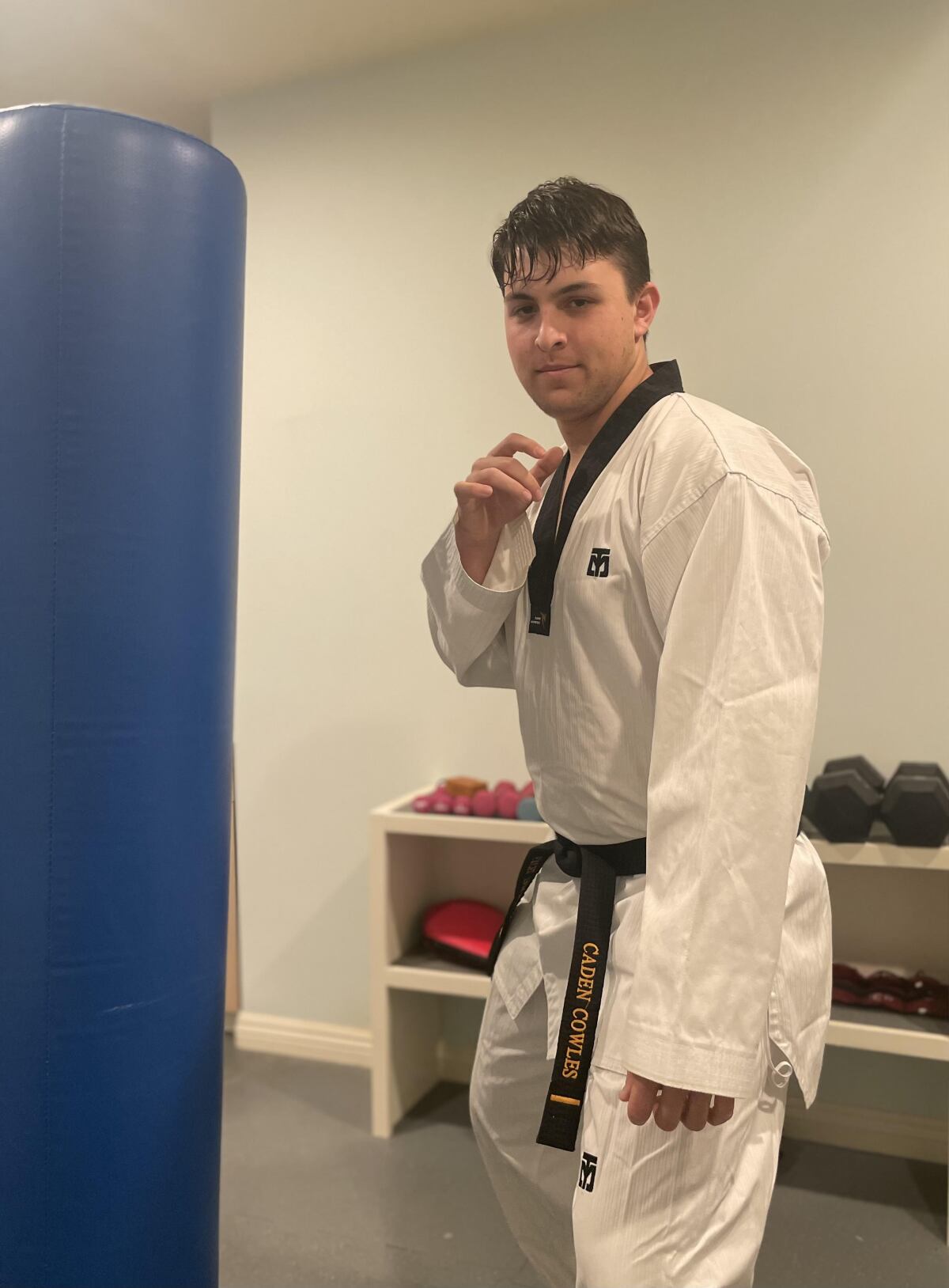 In the category of good news day, nothing deserves more attention and praise than the comeback story of 2023.
The COVID-19 pandemic came close to wiping out the San Fernando Valley chapter of the National Football Foundation and College Hall of Fame, the group that honors the top scholar athletes from each high school every year with a banquet and recognition of their accomplishment.
The last one took place in 2019.
"It killed us," chairman Jim Lufthal said.
The group's membership dropped to six people with no banquets for three years.
Enter Simi Valley High football coach Jim Benkert, who has become president of the organization. The 2022 scholar athletes are getting their banquet on Monday night at the Odyssey Restaurant in Granada Hills, with former San Fernando High and USC star Anthony Davis among the speakers.
Here's the report.
New era at Mater Dei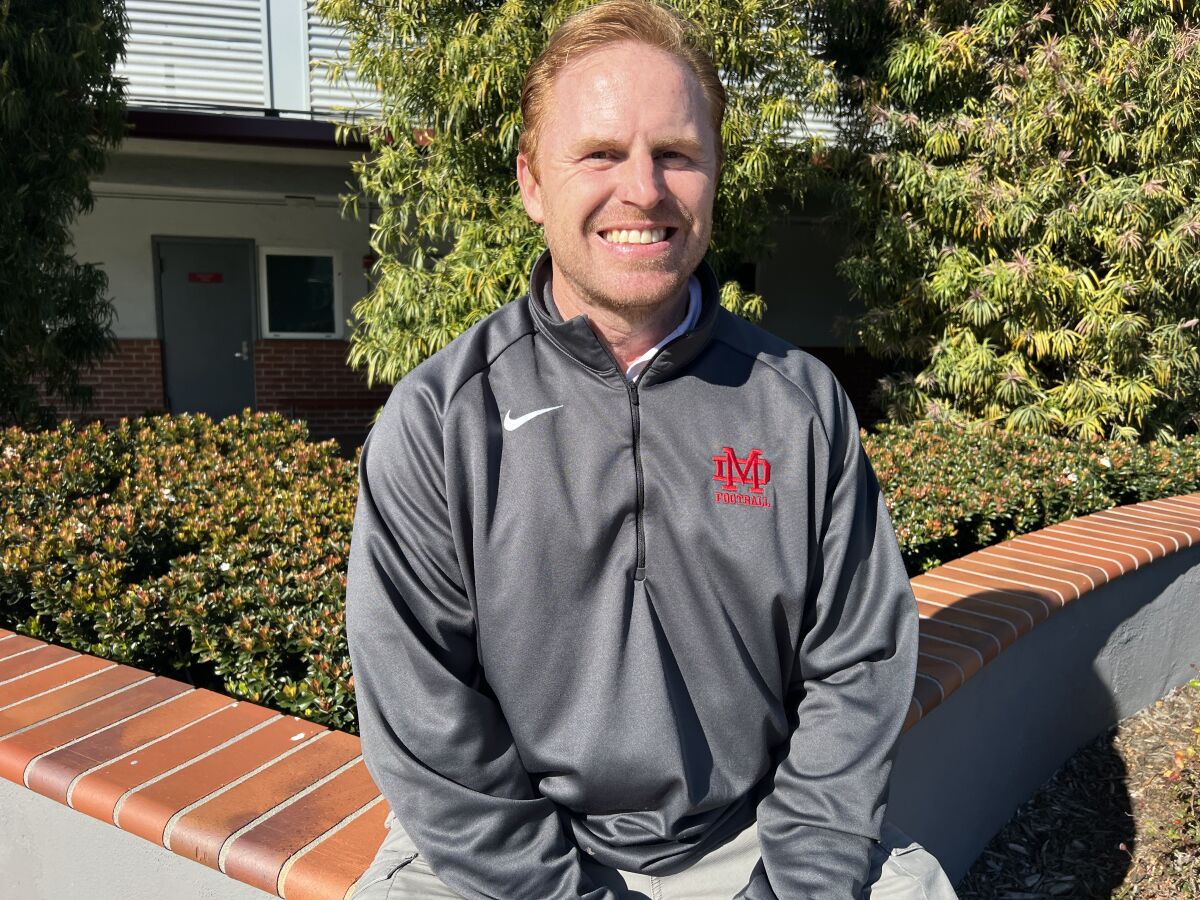 Michael Brennan, the tall, silver-haired president of Santa Ana Mater Dei, loves to hug people he likes. The school's new football coach, Frank McManus, has been receiving lots of hugs.
It seems as if everyone has a high regard for McManus. When Brennan introduced McManus last month as the replacement for the retiring Bruce Rollinson, players gave him a standing ovation.
Most importantly, he has the complete endorsement of Brennan. Here's the report.
Notes . . .
Alan Ellis is out as boys' basketball coach at Burbank Burroughs. . . .
JV Brown from Rolling Hills Prep has committed to Missouri for basketball. . . .
Quarterback Bryan Wilson announced he has enrolled at Eastvale Roosevelt after playing at Ayala the last three seasons. . . .
Eddie Ficklin Jr. is the new football coach at Cantwell-Sacred Heart. . . .
Jeff Kearin has resigned after two years as football coach at Taft. Here's the report. . . .
Juju Watkins of Sierra Canyon has been named the Naismith Girls' High School Player of the Year in basketball. . . .
Former Loyola basketball coach Jamal Adams, who left to become the principal at La Salle two years ago, is returning to Loyola as its new principal this fall. Adams is a Loyola graduate and former Loyola parent who has served in virtually every capacity as a teacher, administrator and coach.
"I'm excited going back," he said. "It's a real special place to me. The two years at La Salle has been great. I learned a lot about leading."
St. Paul has hired Mike Moschetti as its new football coach. He was head coach at La Mirada. . . .
Girls' track sprinter Jordan Washington of Gardena Serra has committed to USC. . . .
Linebacker Stacy Bey of Rancho Cucamonga has committed to San Diego State.
From the archives: Russell White
Four years after leaving high school basketball coaching to take over the head job at his alma mater, Cal Lutheran, Russell White has pulled off the improbable. His team won the SCIAC tournament as the No. 4 seed and made the NCAA Division III playoffs. The Kingsmen lost their playoff opener 83-77 to Rowan.
White has coached at Crespi, Calabasas and Chaminade. He helped develop pro basketball players London Perrantes, De'Anthony Melton and Brandon Williams at Crespi. He lives down the street in Thousand Oaks from Cal Lutheran and gets to walk to work.
Here's a 2014 story and video about the many faces of Russell White during a game. Here's a 2015 story about White finally meeting the other Russell White from Crespi, the football player.
Recommendations
From Ryanlavarnway.com, a story a what participating in the WBC for Israel means for former El Camino Real baseball player.
From Yahoo, the story of a student section being ejected at a high school basketball game in Iowa.
From Johncanzano.com, a story on former St. John Bosco quarterback DJ Uiagalelei.
From ESPN.com, a story on pro basketball injuries being traced to youth basketball.
Tweets you might have missed
Until next time...
Have a question, comment or something you'd like to see in a future Prep Rally newsletter? Email me at eric.sondheimer@latimes.com, and follow me on Twitter at @latsondheimer.

Did you get this newsletter forwarded to you? To sign up and get it in your inbox, click here.
Get our high school sports newsletter
Prep Rally is devoted to the SoCal high school sports experience, bringing you scores, stories and a behind-the-scenes look at what makes prep sports so popular.
You may occasionally receive promotional content from the Los Angeles Times.