There's a new revolution in Southland prep sports: student-run broadcasting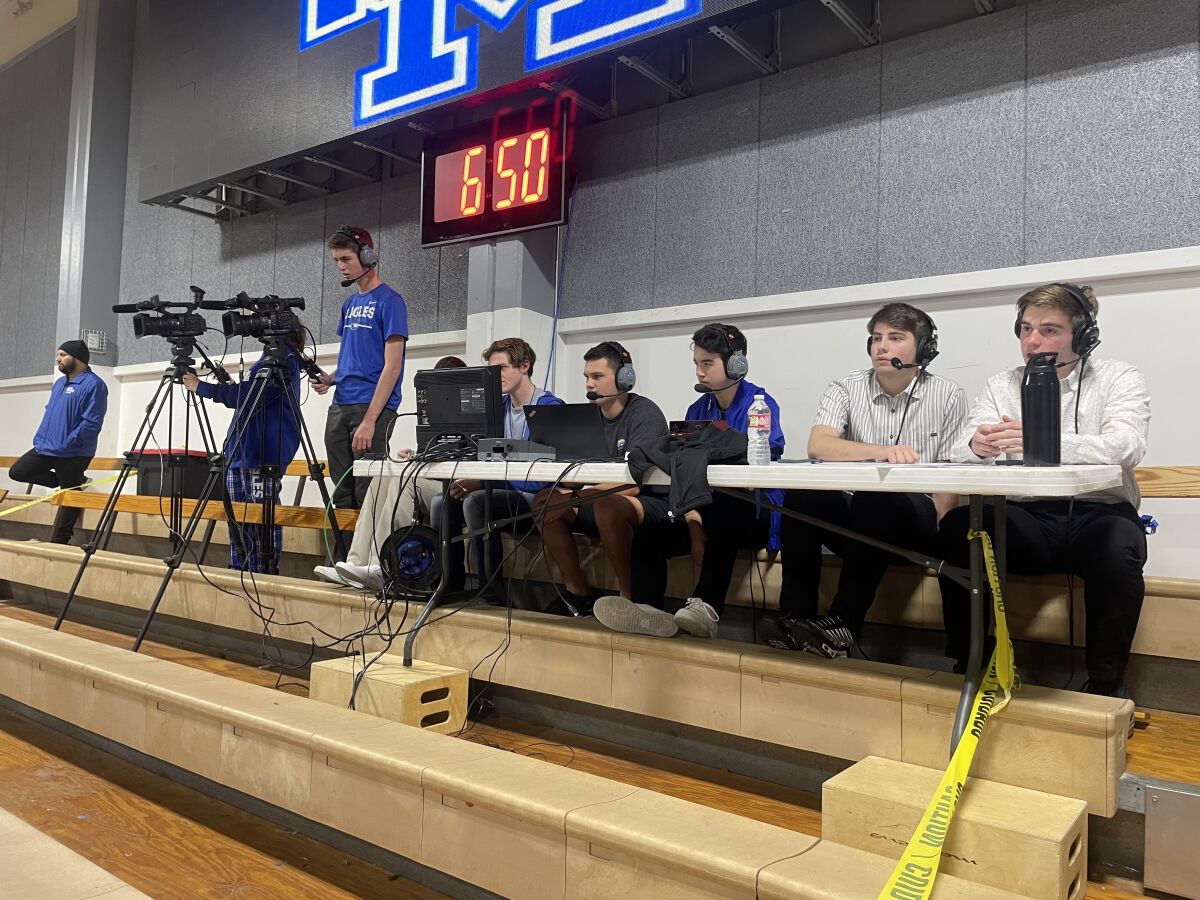 You need a chess master's savvy to coach at the highest levels in Southern California high schools. Also a scavenger's eye for nuggets of gold, for any hint of competitive advantage.
Corona Santiago girls' soccer coach Mike Fleming has scrolled social media and, several times, stumbled upon promotions for Studio City Harvard-Westlake TV's broadcasts of the Wolverines' matches. It's a free, near-professionally-run stream — and as Fleming put it, a scouting tool. So if such a broadcast is out there, Fleming said, and you're not checking it out as a coach, you're doing yourself a disservice.
"With Harvard-Westlake, they do a great job of producing the game with great content, with people commentating who are knowledgeable of the game," Fleming said.
Here's the kicker: Did he know those people are Harvard-Westlake students?
Slight pause.
"I did not know they were kids," Fleming said.
Harvard-Westlake's Jake Lancer is a 17-year-old who just started calling the Wolverines' live-sports broadcasts because it was unrealistic to keep his basketball dreams alive at a school overflowing with top-tier recruits.
Lancer has become a five-star prospect behind the mic, assuming a role as the Wolverines' cross-sport play-by-play announcer while honing his craft through countless hours of HWTV broadcasts.
"He's the best broadcaster in Southern California," Harvard-Westlake athletic director Jason Kelly said, without a trace of humor.
Grab the headsets. Grab the cameras. Lancer and HWTV are part of a revolution, a growing number of Southland high schools pouring resources into student-run broadcasts and live streams of their athletic events.
Breaking down top high school football players in Southern California who are transferring to new schools ahead of the 2023 season.
Santa Margarita has built a comprehensive operation complete with a mobile control board, graphics and cameras, all of which costs somewhere between $50,000 and $100,000. Bellflower St. John Bosco is launching its own student-run streaming platform, "Bosco+," later this month. And the NFL has launched a program called the "Sports Content Lab" at Inglewood High to start a local pipeline of sports-production talent.
Suddenly, the Southland is transforming into a preps hotbed for not only future athletes but also a generation of young broadcasters making their mark on the mic and at the control board.
---
At times throughout his teenage years, Inglewood High student Calliel Coleman's life slowed to an aimless crawl.
As a junior, his grandmother died when her heart stopped during dialysis.
Almost exactly a year later, his dad died from kidney failure.
The saving grace came every Tuesday, when Coleman would immerse himself in the Sports Content Lab at Inglewood, a rapidly-growing program created by NFL graphics director Patrick Lee that teaches students about the intricacies of live sports production.
After a junior year focusing on broadcast engineering and a senior year honing on-camera skills, Coleman landed an internship with the Chargers and is determined to have a career with NFL Network.
"When the Sports Content Lab came to Inglewood … I had to hop on that."
— Calliel Coleman, Inglewood High student regarding the NFL-backed program that immerses teenagers in live sports production
Working anywhere else, Coleman said, is "not even an option."
"Usually, schools in communities like Inglewood, Watts, Hawthorne, South [L.A.], a lot of places where there's a lot of urban communities — it's hard to get an opportunity to succeed," Coleman said. "So when the Sports Content Lab came to Inglewood ... I had to hop on that."
The majority of student-run broadcast programs, however, come from private or independent schools. Loyola has a club that broadcasts about once a week, and Santa Margarita's "Eagle TV 2.0 Sports" broadcasts major games as part of a TV sports production class taught by SoCal PBS sports producer Paul Higgins.
At Harvard-Westlake, nearly every game on campus is broadcast through HWTV, where students of a smaller production course man key positions and fill in on camera and graphics for physical education credit. A broadcast of a Feb. 14 boys' basketball game featured two court-facing cameras and two mounted on the backboards, full instant replay and smart rapport on the call between Lancer and color commentator Claire Conner.
Lancer, a junior, has parlayed his developing skills into freelance commentating work with the NFHS Network, which televises high school sports. In January, he shadowed Fox Sports broadcaster Gus Johnson in the booth at the Rose Bowl and started modeling his game notes from Johnson's tips.
"If you were comparing him to an athlete," Kelly said of Lancer, "you would say he's D-1."
---
The biggest hurdle to widespread student-run broadcasts, beyond equipment cost, is simple: schools don't always own the rights to broadcast their games.
Those go through the CIF, the state's governing body for high school sports, which can contract out rights for regular-season and playoff games to third-party companies like NFHS and Bally Sports. When they do, all of the rights fees are distributed to home schools (except in the playoffs), but student-run productions take a backseat.
"It definitely sucks when they come in and take an HW game, because they could be out there doing another game that doesn't have HWTV. ... It's definitely been a bit conflicting this year," Lancer said.
Hannah and Heart Lising, twin sisters from the Philippines who've led Sun Valley Poly to a City Section Division I title, share a special bond.
The future of broadcasting prep sports is a Wild West. Bally owner Diamond Sports Group is expected to file for bankruptcy, leaving the door open for bids on a primary-rights partnership with the CIF. In the midst of a potential shift, Harvard-Westlake is trying to enter an agreement with the CIF to stream on HWTV even if a third party comes in, Kelly said.
The deepest plunge into uncharted waters, however, comes from St. John Bosco with the launch of Bosco+, an app in development that will house student-run broadcasts of games and events for a monthly fee of $4.99.
A soft launch of Bosco+ had amassed about 1,250 subscribers by mid-February, according to president Brian Wickstrom, and the money generated will be split between coaches' salaries, tuition assistance and facility improvement. Students who worked live streams will be paid $20 per hour.
"I think what we're doing is going to change the landscape for high school sports," Wickstrom said. "It's going to allow for monetization opportunities for all the schools that participate."
In any model, interest is ultimately driven, school officials say, by networks of family and school alumni who flock to streams in droves when attending live events isn't possible.
"It's just so relatable to hear a young person talking and commentating with such knowledge about their peers," Kelly said. "Listen, this is Hollywood. We could hire an adult commentator to come and live stream our games, and they would be very professional. But that's like a paid assassin.
"We have the talent on campus with our kids and I think our community loves the fact that it's our kids commentating on our kids."
Get our high school sports newsletter
Prep Rally is devoted to the SoCal high school sports experience, bringing you scores, stories and a behind-the-scenes look at what makes prep sports so popular.
You may occasionally receive promotional content from the Los Angeles Times.