'You're going to be kings': St. Genevieve wins boys' soccer title after coach's cancer diagnosis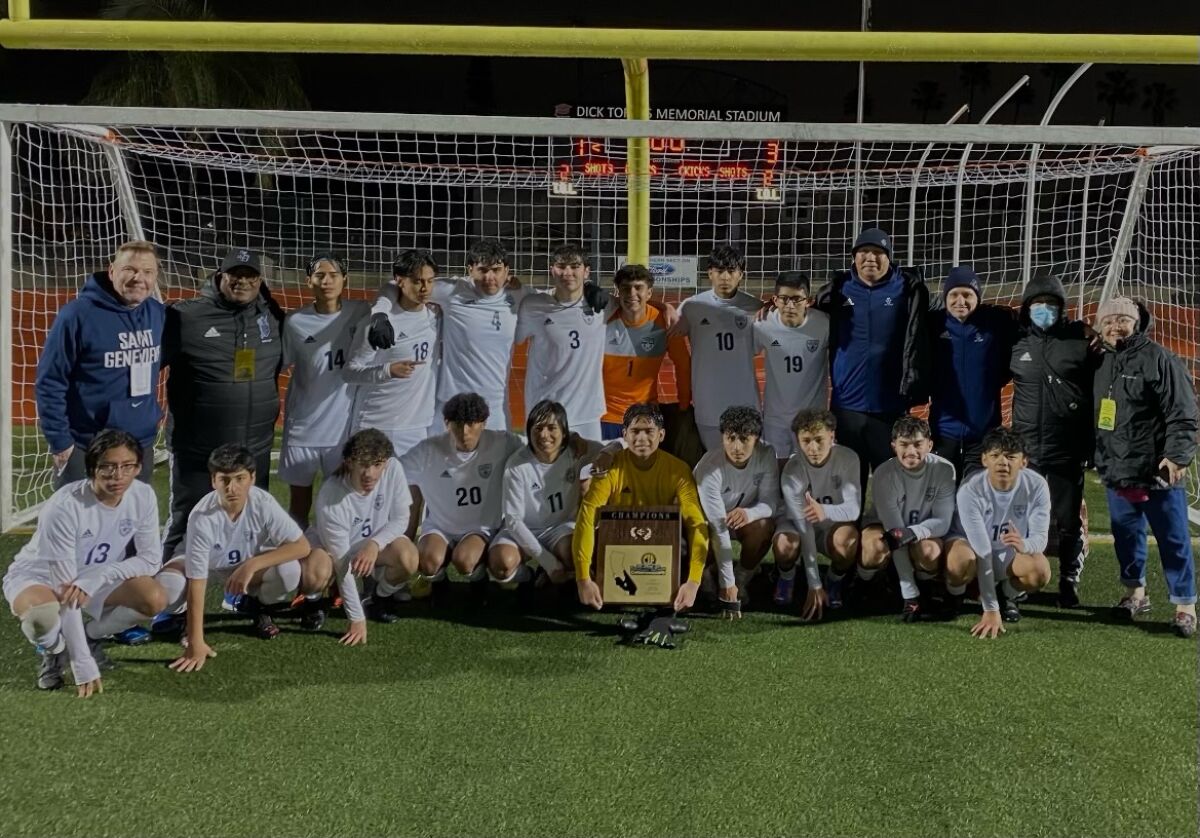 It felt strange when Jose Mejia Sr. wasn't there the first day at practice, the longtime assistant coach's presence missed when running laps and hopping into drills and sharing some trademark wisdom.
Afterward, St. Genevieve High boys' soccer coach Jose Mejia Jr. gathered his team with a heavy heart and told them the news — his father had been diagnosed with bladder cancer. Four stages of chemotherapy were ahead.
Faces fell and tears flowed, a team of mostly seniors trying to grapple with the reality that a beloved mentor might not return. Mejia Jr. was the coach, his dad was the "professor."
"It kinda broke all of our hearts," senior Beto Chavez said.
When Mejia Sr. spoke, you listened. You listened if you were Chavez, who feels the assistant coach took him under his wing ever since he was a freshman, teaching him how to use his feet and how to be strong mentally. You listened if you were Mejia Jr., who figured as long as he was lucky enough to carry a relationship with his father, he should take his advice.
And with a voice gone, it galvanized a team on a small Panorama City campus of 525 kids, from a school that hadn't won a CIF title in any sport for more than 40 years.
High school soccer: Southern California Regional results and updated pairings
"We took it as a motive to do even more, not only for ourselves, but for our coach and his father as well," Chavez said.
You won't see a rollicking parade or extended fanfare for a Southern Section Division 7 championship, Mejia Jr. knows. But after a 6-20-2 record the previous two seasons, the St. Genevieve boys streaked all the way to the playoffs — Mejia Sr. making a return four games in — and beat Oxford Academy 3-1 on Saturday to take home a title.
His father, Mejia Jr. said, has always been mentally strong. So when the two embraced after the win, Mejia Sr.'s eyes were dry. His son was the one crying.
"If I don't ever win another championship again, I'll be fine … I'm done," Mejia Jr. said. "This was the best one. It can't get any better."
It may be Mejia Sr.'s final year coaching, the team still fighting for more with a 3-1 win over Reseda on Tuesday to advance to the second round of the state Division 5 tournament. In mid-March after the season, Mejia Jr. said, his father will have to undergo a procedure to remove his bladder.
Before the playoffs began, the team gathered for a speech from the Spanish-speaking Mejia Sr., who implored his son to interpret.
"Who's the king of the jungle?" Mejia Sr. asked, his son remembered interpreting.
"The lion," the team responded.
"Why is he the king?" Mejia Sr. asked.
They turned quiet. Was he the fastest, the elder Mejia asked? No. The strongest? No.
Eventually, one of the boys understood. It was because of the lion's mentality, they answered.
"If you think like a lion, if your mentality's strong," Mejia Jr. remembered interpreting from his father, "doesn't matter if the other team's faster or stronger."
"If your mentality's strong," he continued, "you're going to be kings."
Get our high school sports newsletter
Prep Rally is devoted to the SoCal high school sports experience, bringing you scores, stories and a behind-the-scenes look at what makes prep sports so popular.
You may occasionally receive promotional content from the Los Angeles Times.