Venice falls short in Division III boys' basketball state final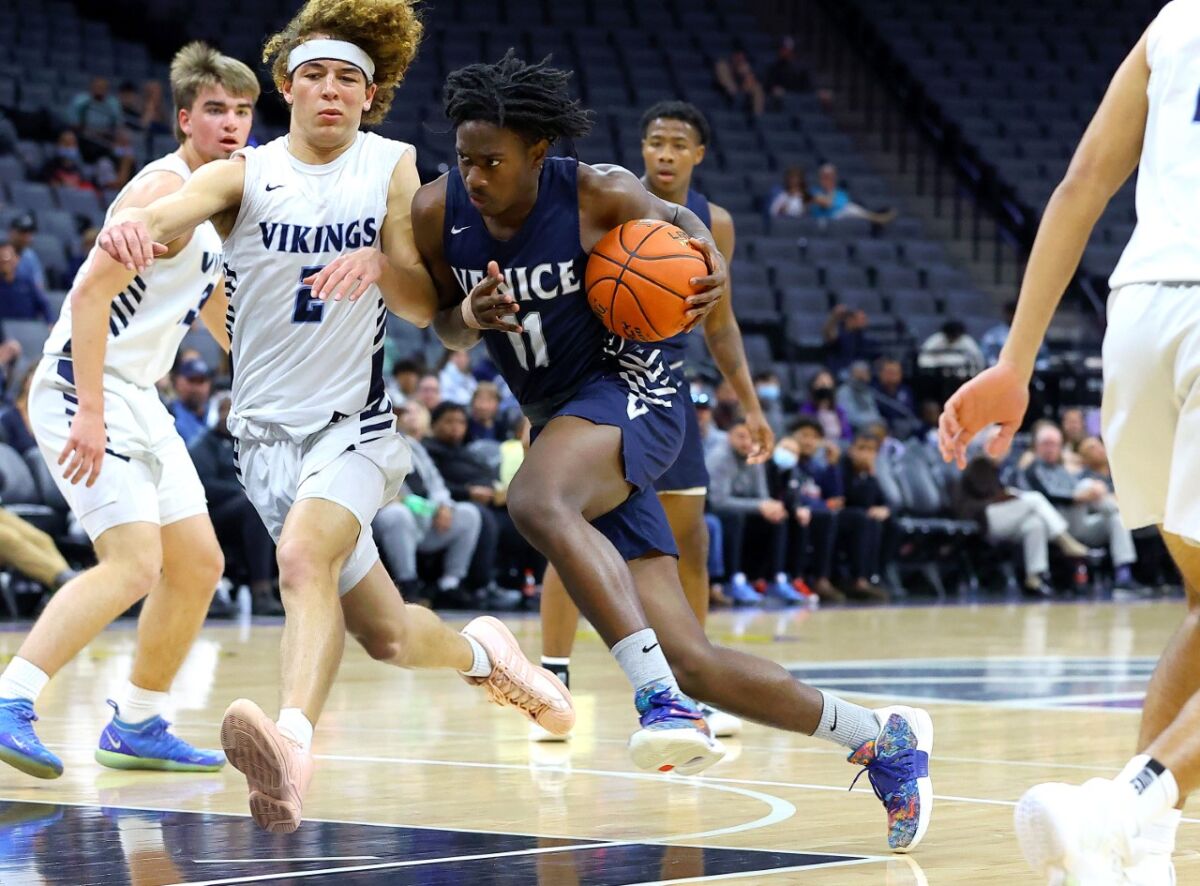 SACRAMENTO —
Venice coach Dave Galley put his arms around sophomore Aidan Donald, consoling him. Two teammates sat dejectedly on the bench with their faces covered by towels. The ending on Friday night at Golden 1 Center, a 57-53 defeat to Chico Pleasant Valley in the CIF Division III state championship boys' basketball game, was a bitter disappointment for a team that began to believe it could do anything during an improbable March playoff run.
Not since 2010 had a Los Angeles Unified School District team made it to a state basketball final. Venice (21-10) started the game with a 10-0 lead and was ahead 53-50 late in the fourth quarter thanks to what Galley described as "just a phenomenal effort." But Pleasant Valley (32-3) received consecutive baskets from Ned Joyce and focused on stopping Venice sophomore Tyler Hunt to come away victorious.
The 6-foot-3 Hunt sent notice that he will be the top returning player in the City Section for 2022-23. He finished with 22 points and 10 rebounds while making eight of 12 shots. He seemed capable of scoring any time he had the ball. In fact, Galley probably wished Hunt had shot more instead of passing the ball to teammates. "That's who he is. He's always going to find the open guy," Galley said.
Hunt said Pleasant Valley's defense forced him late to look for others. "They started closing everything off on me," he said.
Senior guard Oscar Lopez made all the talk that shooting in an NBA arena is supposedly challenging look foolish. He made five of nine from three-point range and finished with 15 points.
Noah Thomas led Pleasant Valley with 24 points.
Afterward, Galley explained how proud he was of a team that inspired others. Venice reaching the state final was for all the schools in LAUSD that lost practices and games during two years of COVID-19 protocols. It was for all the players who stuck it out and didn't transfer when gyms were forced to close. It was for all the coaches who worked while receiving meager stipends and trying to maintain programs that faced one week of adversity after another.
"For what these guys had to go through, testing every other day it seemed, mask mandates, LAUSD protocols … it was tough," Galley said. "We shut down for a week. These guys persevered through all of it."
Division I
The pressure was on. Five consecutive times Northern California teams got to celebrate state championship basketball victories at the Golden 1 Center on Friday. For the final game of the night, La Verne Damien was counted on to rescue Southern California's pride and reputation. The Spartans came through with a 65-57 victory over scrappy Clovis North.
With Kaleb Smith (23 points), Spivey Word (17) and RJ Smith (15) leading the way, Damien gave coach Mike LeDuc his first state title in 42 years of coaching. LeDuc's Glendora team played for a state title in 1989, but even though Tracy Murray scored 64 points, his team lost.
Damien (32-4) didn't let the No. 13-seeded Broncos (22-12) get any ideas that an upset was possible, leading by as many as 20 points. Word scored nine points early as the Spartans attacked the basket with focus and confidence. Sophomore Connor Amundsen finished with 25 points for Clovis North.
Division V
It wasn't a productive road trip for Ontario Chaffey (24-13). The Tigers ran into a team that had experience playing in an arena setting, resulting in solid shooting from three-point range (eight threes). San Francisco Stuart Hall came away with a 56-45 victory in the Division V final.
Brandon Lum (25 points) and Jackson Jung (17 points) each made four three-pointers for the winners. Tyler Terry led Chaffey with 13 points.
Get our high school sports newsletter
Prep Rally is devoted to the SoCal high school sports experience, bringing you scores, stories and a behind-the-scenes look at what makes prep sports so popular.
You may occasionally receive promotional content from the Los Angeles Times.