Birmingham gets walk-off hit from Gavin Taylor to advance to Easton tournament title game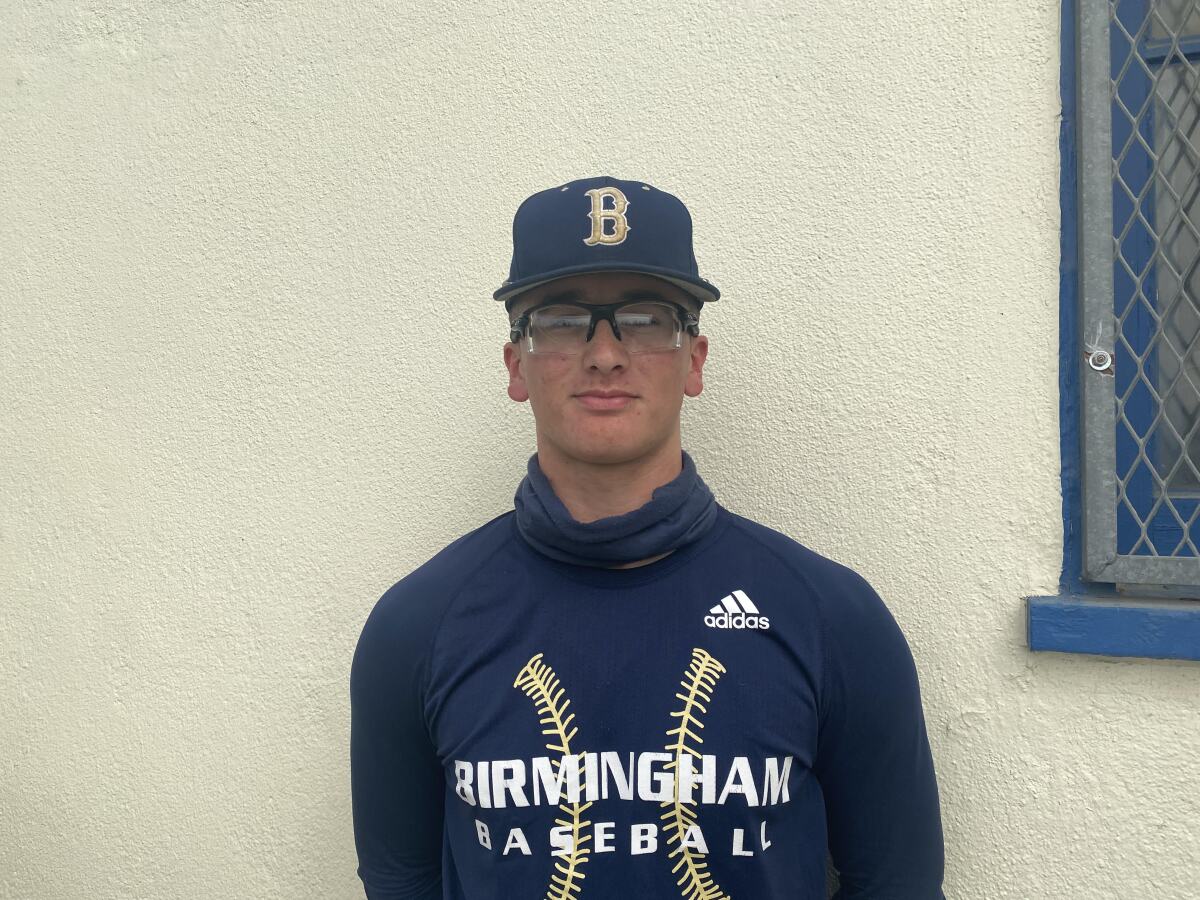 The sight of Carlos Marcias lying on the ground in front of home plate at Birmingham High after getting hit by a pitch in the bottom of the seventh inning Saturday was worrisome. There was blood after he apparently suffered a broken nose. He'd be taken to the hospital. All his teammates could do would be deliver victory as a present. And they did.
With the bases loaded and two outs, Gavin Taylor came through with the walk-off hit in Birmingham's 3-2 win over Oaks Christian, sending the Patriots into the Easton tournament championship game Tuesday at home against Crespi.
Taylor and Trevor Sostman each had two hits. Kaden Taque struck out nine while throwing a three-hitter. Chis Tampoya had an RBI triple for Oaks Christian (3-1).
Crespi 5, Calabasas 1: Ethan Kodama contributed three hits for the 4-0 Celts. Diego Velasquez added two hits and two RBIs, including a home run. Jack Truszkowski-Young threw a complete game with five strikeouts and no walks.
Valencia 6, Granada Hills 5: Gian Martinez had two hits for Valencia. Jackson Lyons had three hits for Granada Hills.
Newbury Park 2, Santa Barbara 1: Cole Miller struck out five in three innings for the Panthers. Andrew Vega finished with two hits.
El Camino Real 6, Moorpark 1: Oscar Lopez struck out four and gave up one run in five innings for El Camino Real. Braden Sellz had three hits and three RBIs.
Villa Park 8, Millikan 2: Josh Santangelo and Geoff McArthur each had three hits and Zach Brown struck out nine in five hits for 2-0 Villa Park.
Los Alamitos 3, Aliso Niguel 2: Josh Donegan threw a complete game with four strikeouts.
Beckman 10, Northwood 5: Ken Tomitaka and Ashton Kanegae each had two hits for 3-0 Beckman.
Simi Valley 7, San Marcos 1: Aiden Nykoluk finished with two hits and three RBIs for the Pioneers.
Agoura 7, Rio Mesa 4: Joey Blank and Ethan Kearney each had two hits for Agoura.
San Dimas 9, La Serna 7: Kasen Khansarinia had three hits for San Dimas in a Pizza Chalet tournament semifinal game.
Bonita 5, Arcadia 4: Diego Vasquez scored the winning run in the ninth inning for Bonita.
Bishop Amat 3, Lakewood 2: Isaiah Hernandez drove in two runs for Bishop Amat (2-1).
Camarillo 3, Dos Pueblos 2: Camron Muldoon threw five shutout innings for Camarillo.
Capistrano Valley 3, Segerstrom 2: The Cougars improved to 2-1.
Anaheim Canyon 5, Murrieta Valley 3: Cohen Gomez hit a grand slam to lead Canyon.
Roosevelt 7, Marshall 0: Gabriel Lizarraga struck out six in six shutout innings. Matias Nolasco hit a home run.
Sun Valley Poly 1, Westlake 0: Jorge Martinez gave up five hits in 6 2/3 innings for the Parrots.
St. Francis 8, Saugus 4: Jordan Lewallen and Holden Deitch each had two hits for St. Francis.
Burroughs 5, Cleveland 4: It took 12 innings to determine a winner.
Windward 7, Santa Monica 1: Alex Umland struck out five with no walks in five innings for Windward.
Edison 9, Narbonne 3: Brandon Winokur hit a home run and had two hits and two RBIs for Edison.
Ventura 5, Chatsworth 3: Jon Gurrola homered for Ventura.
Arlington 2, King 1: Andrew Rudd struck out 12 and walked none in 6 1/3 innings for Arlington.
West Ranch 2, Quartz Hill 1: Ben Cushnie and Ryan Shalkevich combined on a one-hitter for West Ranch.
Hart 6, Maranatha 2: Matt Perez had three hits for the Indians.
Mater Dei 4, Crescenta Valley 0: Brennan Seiber and JM Harduvel combined to strike out 12.
La Mirada 11, Dan Hills 1: Pablo Hidalgo had three RBIs for La Mirada (2-0).
Softball
Villa Park 6, La Palma Kennedy 1: Auddrey Lira struck out seven for 4-0 Villa Park.
Esperanza 10, Mission Viejo 0: Sharyn Duncan had three hits and two RBIs while Mia Sanchez struck out six.

Get our high school sports newsletter
Prep Rally is devoted to the SoCal high school sports experience, bringing you scores, stories and a behind-the-scenes look at what makes prep sports so popular.
You may occasionally receive promotional content from the Los Angeles Times.