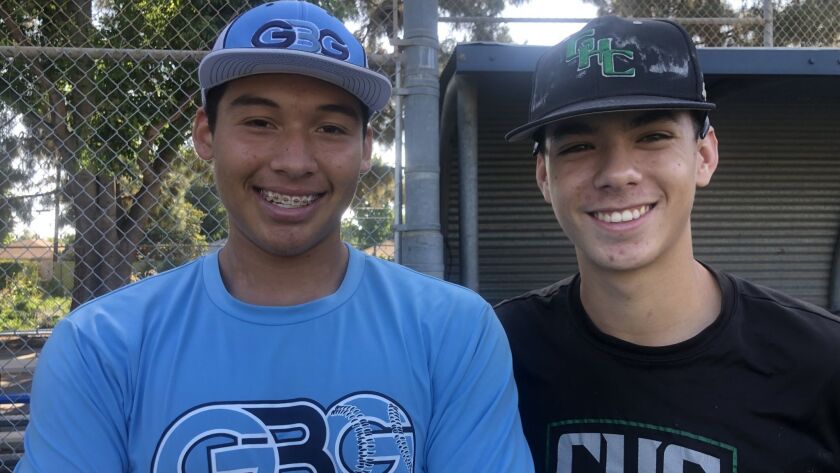 Twenty-four high school baseball players from City Section schools are scheduled to leave Sunday morning on a flight to Chicago, where they will represent Los Angeles in a four-game tournament against teams from Chicago, Miami and New York.
For pitcher Anthony Joya of Banning and catcher Isaiah Velazco of Granada Hills, it will be the first time they've flown on an airplane.
"I'm going to pretend it's a roller coaster," Joya said.
"I'm just going to sleep," Velazco said.
The GEICO High School Baseball City Series will be held at the University of Illinois Chicago, with the championship game and third-place game being televised Thursday on ESPNU.
Players will stay in college dorms and travel to some pro facilities during daily excursions.
This is a rare opportunity for public school athletes to gain some national attention. Paragon Marketing Group, which puts together high school events for ESPN and has frequently featured private school athletes, deserves kudos for creating the event that primarily will feature athletes from urban areas.
"It's a great opportunity to show what I have and go out there and have some fun," Velazco said.
Matt Mowry, the coach of three-time defending City champion Lake Balboa Birmingham, is head coach for the all-star team. Coaches from Roybal, Vaughn and Verdugo Hills will serve as assistants. San Pedro, Birmingham, San Fernando and Reseda Cleveland each have three players on the team.
Erik Rivas, an All-City first baseman at Birmingham, is the oldest player at 18. He has traveled extensively and even has a passport, so he'll be able to offer advice.
"It's going to be a great experience," he said.
When the four teams get together, there could be lots of talk about which city is best. Pitcher Chris Lozano of Cleveland seems ready to debate why Los Angeles is No. 1.
Sign up for our daily sports newsletter »
"We've got the weather, we've got the Rams, we've got the Dodgers, we've got the Lakers, we've got LeBron, we've got AD," he said. "Everything about L.A. is better than those cities. Why can't we go out there and beat them?"
Pitching could be a strength of the City Section with Lozano, Joya, Travis Connelly of San Pedro, Vince Esparza of Granada Hills Kennedy, Gavino Rosales of Birmingham and Nathan Flores of San Fernando.
The most valuable player could be All-City shortstop Josh Duarte of San Pedro. He could be used as a closer.
Summer showdown: Mission Viejo will be the site of a top seven-on-seven passing tournament July 13 featuring Santa Ana Mater Dei, Bellflower St. John Bosco, Corona Centennial and Harbor City Narbonne, among others.
Graduation present: When basketball standout Jake Kyman graduated from Santa Margarita, his parents' graduation present was paying for his first tattoo, which he got on his left arm. Kyman has moved into his UCLA dorm room and has been impressive playing in the Drew League this summer.
Star in Canada: Former Anaheim Servite quarterback Cody Fajardo is enjoying life in Canada. He passed for 430 yards and three touchdowns to lead the Saskatchewan Roughriders to a 32-7 win over the Toronto Argonauts on Monday.
LaMelo hangs tough: LaMelo Ball is supposed to be entering his freshman year in college. Instead, he's playing in the Drew League and headed to Australia for a year of pro basketball. He's still just 17. If he had stayed at Chino Hills, he'd be entering college discussed along with Nico Mannion (Arizona) and Cole Anthony (North Carolina) as the top freshman guards in America.
---