Patience again pays off for a Hart quarterback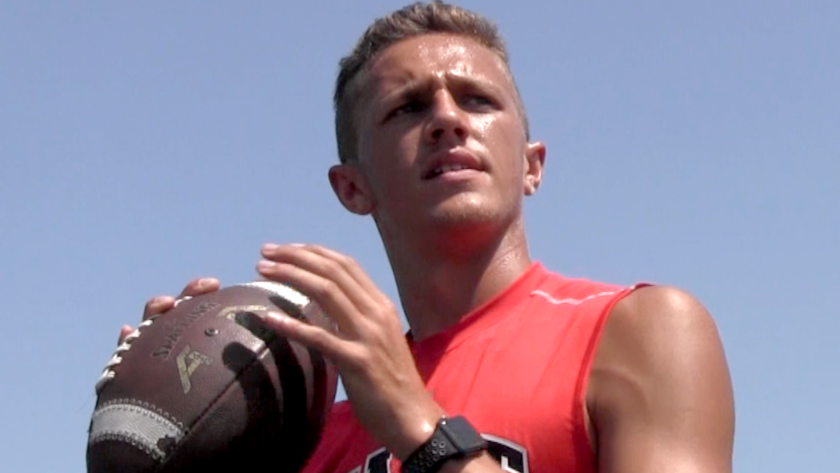 You have to go back 20 years to remember a time when being a backup high school quarterback wasn't the end of the world and didn't produce a tantrum from Dad, Mom or Grandpa.
At Newhall Hart High, something extraordinary was happening. In 1997, David Neill went from backup quarterback to 3,000-yard passer and Nevada signee. In 2000, Kyle Boller went from backup quarterback to star University of California recruit. In 2001, Matt Moore went from backup quarterback to leader of a 13-0 team and UCLA recruit.
Fast forward to the summer of 2017, the era where sitting in traffic can lead to road rage and being told to wait your turn usually leads to transferring.
J.T. Shrout, a 6-foot-3 quarterback at Hart who spent his sophomore and junior years as a backup, received 10 scholarship offers and ended the recruiting process this month by accepting a scholarship to Cal.
"I knew if I waited my turn like other quarterbacks in the past, the colleges would find me if I was good enough," Shrout said.
Shrout and his parents trusted that colleges would find him rather than seeking the usual quick fix of changing scenery.
"If I transferred out last season or sophomore year, I could have played at numerous schools and my options would have been easier," he said. "A lot of coaches were saying sticking with Hart, they liked the loyalty I showed to the program."
Shrout was the backup to Nick Moore, the younger brother of Matt Moore. Moore signed with Eastern Washington. Shrout didn't mope on the bench. He kept his name popping up by attending camps and combines and preparing for the day he got his opportunity to show what he could do.
"It's all about the lonely work that people don't see," he said.
On Jan. 23, he received his first offer from Weber State.
"I teared up when I was talking on the phone," he said.
A weekend for seven on seven competitions
And this spring, when he became the starter and college recruiters showed up to watch practices, he made a positive impression.
"He just decided he'd wait for his turn and things have worked out," coach Mike Herrington said.
Both of Shrout's parents went to Hart, so it's not as if he was going to abandon the school if he never got to start. But in this new world of high school sports, quarterbacks don't want to be backups, even if they're a freshman or sophomore. They know the clock is ticking. When a decision is made about the starting quarterback, those that lose out often don't stick around.
Shrout decided to trust his ability.
"It was a good learning process," he said. "I knew I could persevere."
It's been great preparation for what figures to happen in college, where the competition is even tougher.
"You're going to have to work your butt off," he said. "The best guy is going to play."
Shrout was firing away on Friday and Saturday at the Bonita seven-on-seven passing tournament. All eyes were on him, and he couldn't have been more comfortable. Hart advanced to the quarterfinals before losing to eventual champion Los Angeles Cathedral.
"It's fun to be back under center and get to play my senior year," he said. "I'll be a good leader and hopefully get a lot of wins."
Hart oldtimers Neill, Boller and Moore would be proud of him.
::
Two big tournaments
Two of the best basketball and football summer tournaments will take place over the next two weeks.
First up is the Fairfax basketball tournament that begins Monday. Next season's likely No. 1 team, Santa Ana Mater Dei, opens against Northridge Heritage Christian at 7:30 p.m.
On July 8 is the Huntington Beach Edison seven-on-seven football tournament. Cathedral, which has won three tournaments this summer behind sophomore quarterback Bryce Young, will take on Bellflower St. John Bosco, Mater Dei and Corona Centennial among an elite 20-team field.
Twitter: latsondheimer
---
Get our high school sports newsletter
Prep Rally is devoted to the SoCal high school sports experience, bringing you scores, stories and a behind-the-scenes look at what makes prep sports so popular.
You may occasionally receive promotional content from the Los Angeles Times.