Column: It'll be a jam-packed Saturday with Southern Section and City Section semifinals taking place the same day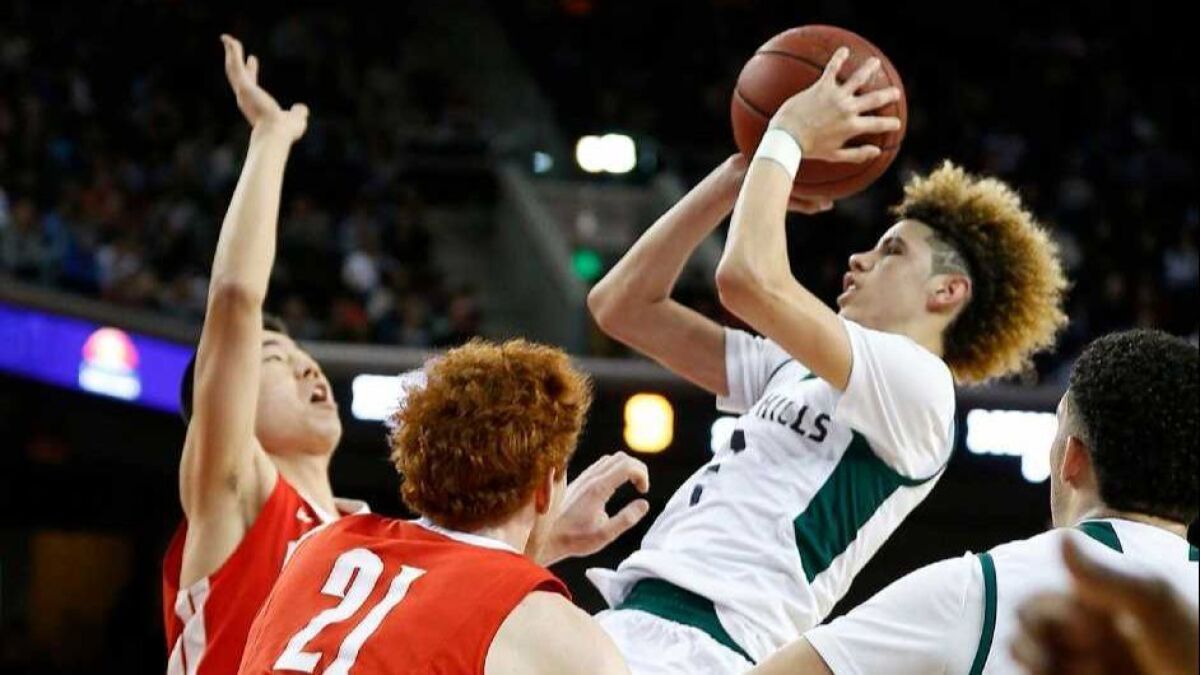 Oh, how much I miss the crazy days of last basketball season, when there were long lines and all 10,258 seats at USC's Galen Center were sold out by 4:30 p.m. for the Southern Section Open Division semifinals featuring Chino Hills and the Ball brothers, LiAngelo and LaMelo, against Santa Ana Mater Dei and 7-foot-2 Bol Bol, and Torrance Bishop Montgomery, led by Ethan Thompson, playing against Chatsworth Sierra Canyon and Marvin Bagley III.
It was the greatest show on Earth for that day, better than the NBA game down the street matching the Clippers and Spurs. Fans had so much fun. Mater Dei won in overtime 83-80. LaVar Ball was stewing in his seat. Bishop Torrance stunned Sierra Canyon 70-63.
You probably won't need to go on Craigslist to pay $500 for two courtside seats for Saturday's Open Division semifinals at Cal Baptist in Riverside. Three of the four teams are back, but Bagley is playing for Duke, LaMelo has his own shoe and is in Lithuania, and Bol Bol is in Nevada playing for a prep school.
Cal Baptist seats about 5,000. It's a nice new facility, but how many want to travel to Riverside remains to be seen. The games will be shown on Facebook Watch. The matchups feature Bishop Montgomery (26-0) taking on Sierra Canyon (22-3) at 6:30 p.m, followed by Mater Dei (21-6) playing Etiwanda (28-1).
On the same night, the City Section will be holding its semifinals at Roybal. Fairfax (21-8) is playing Taft (26-7) at 5 p.m., followed by Westchester (28-5) taking on Granada Hills (19-5) at 7 p.m.
Why the two sections couldn't communicate and work out a plan to hold their semifinals on different nights so fans could see both is beyond me. In two weeks, the Southern Section finals are on March 2 at The Pyramid and the City finals are March 3 at Cal State Dominguez Hills.
"Heck, I might be going to Cal Baptist," Taft Coach Derrick Taylor joked.
The most intriguing game could be Granada Hills taking on top-seeded Westchester.
"Let me tell you something — everyone underestimates Granada Hills, and Granada Hills is a difficult team to play if you don't know them," Taylor said. "They're not afraid, they all can handle the ball, they all can shoot."
As for Taft vs. No. 2 Fairfax, Taylor said, "We have to be able to handle Fairfax's physical play or we'll be bludgeoned to death."
In the Southern Section, Bishop Montgomery and Etiwanda have been the best, most consistent teams all season. Their veteran coaches, Doug Mitchell and Dave Kleckner, are admired for how well they teach defense.
Sierra Canyon is the TMZ team. The sons of former NBA players Scottie Pippen and Kenyon Martin are helping attract celebrities, paparazzi and social media fans to their games.
Mater Dei has California's all-time winningest coach in Gary McKnight. It was supposed to be the No. 1 team in the state until Bol Bol and a star transfer guard from Seattle left before the season. Now the Monarchs are finally healthy after injury issues and appear headed to peak form.
There are also the Open Division girls semifinals being played before the boys games at both sites, and they are terrific matchups too.
At Cal Baptist, the 2 p.m. game has Mater Dei vs. Windward, followed by Harvard-Westlake vs. Etiwanda. At Roybal, the 1 p.m. girls semifinal has El Camino Real vs. Granada Hills at 1 p.m. followed by Fairfax at Westchester.
Whichever site you choose to attend, it should be a great day and night of basketball.
Twitter: @latsondheimer
---
Get our high school sports newsletter
Prep Rally is devoted to the SoCal high school sports experience, bringing you scores, stories and a behind-the-scenes look at what makes prep sports so popular.
You may occasionally receive promotional content from the Los Angeles Times.