Column: Let's count the intriguing story lines in basketball state finals, from Chino Hills to Windward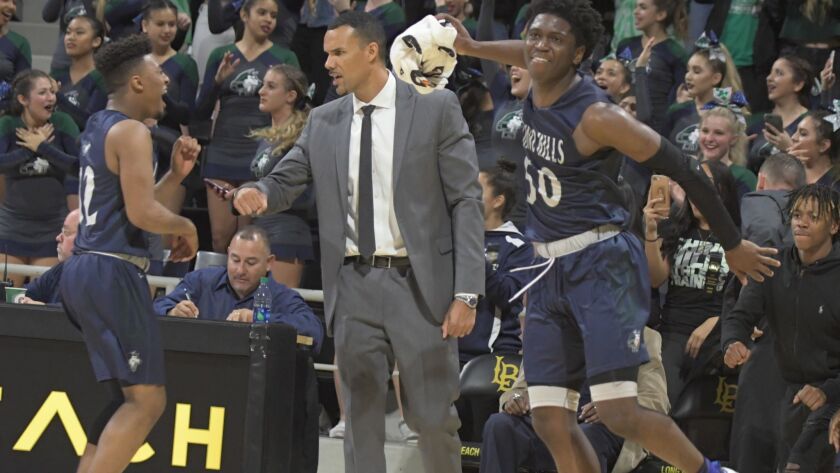 After five months of high school basketball, the 2017-18 season ends this weekend with the state championships Friday and Saturday at Golden 1 Center in Sacramento. There are plenty of intriguing story lines.
Let's start with the coach who stood up to LaVar Ball and let him vanish from the prep scene. That would be Dennis Latimore, the third coach in three years at Chino Hills, which is playing in the Division I final against Walnut Creek Las Lomas at 8 p.m. Friday.
Ball announced in August, "There's about to be new drama. I don't like him one bit."
Ball, the father of three basketball-playing sons that includes Lakers point guard Lonzo, pulled his youngest, LaMelo, from Chino Hills. LaMelo scored 92 points in a game last season. The decision to home school him and later have him turn pro in Lithuania became a national story. Ball apparently wanted several players added to the team. Latimore refused.
"It was really nothing for me," Latimore says. "I came in and my mission was to coach the team. I wasn't going to have a parent tell me what to do. Period. Or I wasn't going to take the job. I had that conversation with the administration. He left and moved on. Guys are united and we're having a lot of fun."
There's still a Ball on the team, 6-foot-5 Andre, a cousin of the Ball brothers. Finally injury free, he's making three-pointers, rebounding and teaming with 6-9 Onyeka Okongwu to make the Huskies one tough, entertaining team.
There's the all-star team from Chatsworth Sierra Canyon playing in the Open Division final against Sacramento Sheldon at 8 p.m. Saturday. With five transfer students in the starting five, the Trailblazers have developed the kind of chemistry and execution rarely seen when you put newcomers together.
Credit goes to first-year coach Andre Chevalier for successfully blending in players with different personalities and high-profile parents to form a cohesive unit that's winning close games.
No team has the star power of the Trailblazers with four sons of former NBA players — Duane Washington Jr., Scotty Pippen Jr., K.J. Martin and Terren Frank — plus the human dunk machine in Cassius Stanley.
There's Santa Monica Crossroads seeking its first state title since 1997 when former NBA All-Star Baron Davis was the standout. The Roadrunners play Alameda in the Division II final at 4 p.m. Friday. UCLA-bound Shareef O'Neal, a 6-10 senior and the son of Shaquille O'Neal, has been playing his best in the playoffs.
There's also Ben Terry, a starting guard and center fielder for the baseball team. He's been taking batting practice but can't play baseball until basketball is finished.
There's the best team from Riverside since the days of Kawhi Leonard winning a state title at King in 2009. Riverside Notre Dame is 33-3 and playing Chico Pleasant Valley in the Division III final at 4 p.m. Saturday. Anthony Holland, a 6-5 junior, is averaging 18.4 points and has made 83 three-pointers.
There's Vanessa Nygaard of Windward, the animated coach of the best girls' basketball team in Southern California seeking the Open Division championship against Los Altos Hills Pinewood at 6 p.m. Saturday. She and assistant Ebony Hoffman are both former WNBA players who have built a powerhouse girls' program, led by junior Charisma Osborne.
There's Fullerton Sunny Hills playing in its first state final in the Division III girls' championship game against Sacramento West Campus at 2 p.m. Friday. This team was 0 for 15 from three-point range in the first half in the regional final, only to rally after being down by 11 points. The community is sky high for the Lancers.
There will be six sons of former NBA players on the court this weekend, including Ty Penberthy of Santa Clarita Christian, the son of Mike Penberthy, a former Lakers guard.
Spectrum's SportsNet LA (the Dodger channel) will broadcast games Friday and Saturday.
Twitter: @latsondheimer
---
Get the latest on L.A.'s teams in the daily Sports Report newsletter.
You may occasionally receive promotional content from the Los Angeles Times.