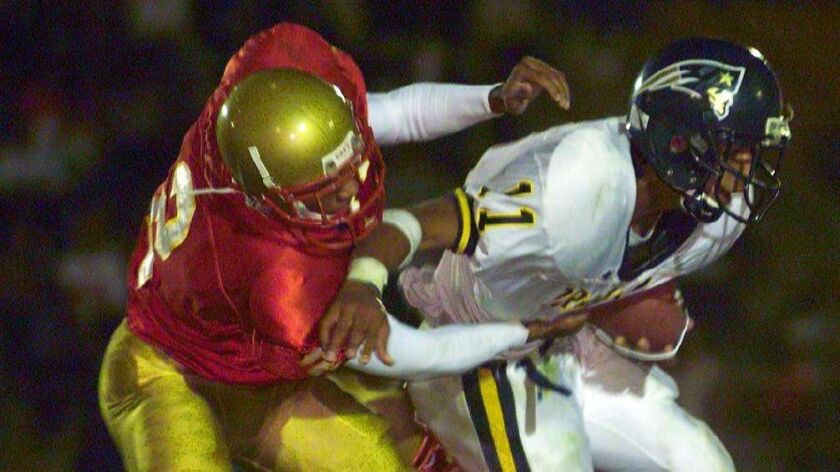 Steve Smith has a Super Bowl ring he won while playing as a receiver for the New York Giants. He's also a member of the so-called lost generation of people who grew up in Los Angeles from 1995 through 2015, when there was no NFL team based here.
"I was a basketball guy growing up," he said. "The Rams and Raiders left when I was in first grade."
At Woodland Hills Taft High, he became so good at catching passes that USC offered him a scholarship.
"USC was like a pro team," he said. "We felt we made it when you're at USC because there was no pro team."
How many young athletes abandoned football for basketball, baseball, soccer or other sports in Southern California over those 21 seasons probably won't ever be known, but the return of two pro teams this season — with the Rams playing at the Coliseum and the Chargers playing at StubHub Center — should be a boon for the football community.
"It helps build the new generation," said Smith, who has sons ages 6 and 2. "You take them to a game, and you see the fans. I didn't have that when I was a kid.''
The first NFL game that second-round draft pick JuJu Smith-Schuster of the Pittsburgh Steelers plays will be more than just a memorable experience.
"I didn't see any NFL games — ever," the standout receiver from Long Beach Poly High and USC said. "I'll be playing before I ever watched them."
Yes, there are plenty of cities in America that don't have NFL teams, and kids still grow up to be NFL players. But when you remove not one but two professional teams from an area as large as Los Angeles, the ramifications can be immense.
Because USC and UCLA have strong college programs, they helped keep interest in football locally and made dreams come true even — if kids didn't get the chance to see an NFL game live.
"You rely on the college team and being the best in your city and high school," said Malik Jackson, a defensive tackle for the Jacksonville Jaguars who played at Lake Balboa Birmingham High. "Not having an NFL team didn't bother me. It made me hungry to be on a team."
Players who made it to the NFL remember being inspired to follow the paths of some of their favorite high school and college players, such as Keyshawn Johnson (Dorsey High, USC), Clay Matthews (Agoura, USC), Robert Woods (Gardena Serra, USC), DeSean Jackson (Long Beach Poly, California), De'Anthony Thomas (Crenshaw, Oregon) and Anthony Barr (Loyola, UCLA).
"We came out and wanted to live our dreams and motivate kids that they could get there, whether they were at Birmingham, Oaks Christian or Taft," Jackson said. "We did inspire others."
There's no denying the impact of having an NFL team visit your city. Ryan Griffin, a backup quarterback with the Tampa Bay Buccaneers and a graduate of West Hills Chaminade High, played basketball as a child. But he also became a big Dallas Cowboys fan. The Cowboys had a training camp in Oxnard.
"I followed on TV," he said. "I went to Cowboy training camp all the time. My mom is from Dallas. She brainwashed me. For my 10th birthday, I got to watch Cowboys-Packers, Troy Aikman vs. Brett Favre."
And now, NFL players who grew up in Los Angeles will be able to play in front of family and friends.
"Getting to play the Rams and Chargers, it's going to be great for my family," Smith-Schuster said.
The Rams and Chargers both should have strong community outreach programs. The Rams last season donated equipment to the Los Angeles Unified School District and sponsored a seven-on-seven high school tournament. They also are sponsoring a pilot program creating an academic challenge among the football teams at Crenshaw, Eagle Rock, Fairfax and San Fernando highs. Both NFL teams are honoring high school coaches of the week.
The biggest wish list item among high school coaches is for the pro teams to hold clinics to show them training methods.
"I'm not sure how big the NFL presence was before," Griffin said. "I know cities that do have NFL teams, they do a great job mentoring. There will be tons of kids benefiting from having teams here."
At least one high school player has his own brother to serve as an NFL role model. That would be Chaminade's Mac Griffin, Ryan's younger brother.
In Los Angeles, nothing is simple when it comes to deciding which pro team to root for. The Raiders left in 1994 but still have a large following.
"It's hard to go against the Giants, but I'm going to pick a game and go watch," Smith said. "In my heart, I bleed blue."
Twitter: latsondheimer
---