Column: North Hills' Pedro Valencia is a top cross country runner and boxing prospect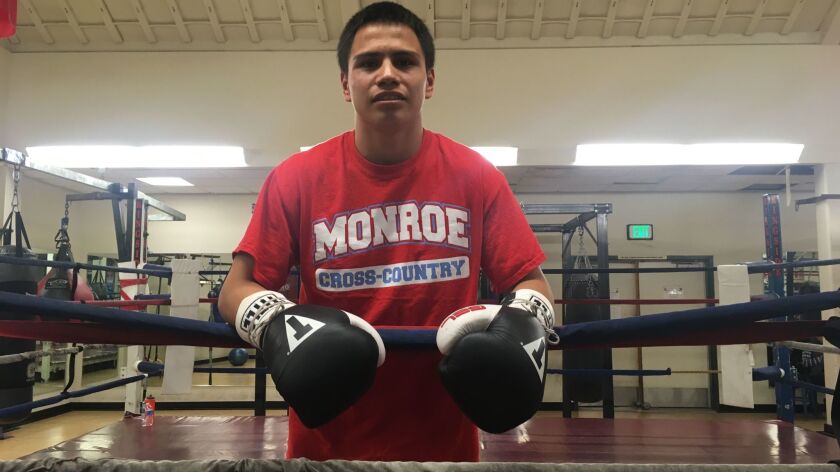 It's Thursday night in Pacoima, and Pedro Valencia is wearing a red Monroe High cross country shirt as he dances around the boxing ring, repeatedly smacking a foam hitting ball held by his trainer.
With each punch, Valencia produces so much noise and energy that someone observing him for the first time would be startled, if not flinch, with each impact.
"I think my best punch is a body shot," Valencia says. "If it doesn't knock them down, it slows them down."
At 5 feet 6, 130 pounds, Valencia fights as a super featherweight. He's a 17-year-old senior at Monroe who has been keeping his boxing skills somewhat of a secret around the North Hills campus.
He's the No. 1 runner for the cross country team and will compete in the City Section championships Saturday at Pierce College. He's also 4-0 as a professional boxer fighting in Mexico. When he turns 18 on June 27, he'll be cleared to fight in the U.S. He went 89-5 as an amateur and hasn't lost since his first year as an 8-year-old.
"I just didn't like the feeling," he said. "I like winning."
So why not let his classmates know about his boxing skills?
"I try not to tell anybody," he said. "My parents from the beginning told me not to tell anybody because they didn't want anybody trying to challenge me. Then I'd get into trouble fighting, so I always tried to keep it a secret."
His cross country coach, Leo Hernandez, figured out the secret early on. He saw Valencia running in a PE class and asked him to join the cross country team as a freshman. He also asked him if he was a boxer.
"He's got the boxer nose — it's flat," Hernandez said.
Valencia won the City Section freshman-sophomore title and has found running a perfect training vehicle to help with boxing. It strengthens his stamina and helps with mental toughness.
His cross country teammates nicknamed him "Hercules" early on because they "saw him ripped up" when he didn't have his shirt on, Hernandez said.
Watching him train with a jump rope or work out in the middle of the boxing ring at the Pacoima Recreation Center reveals a teenager determined to outwork and outlast competitors. His focus is intense and you can sense the joy and satisfaction he receives from generating sweat and endless energy.
"I like punching and getting punched," he said. "I like the adrenaline and the feeling afterward."
Marcos Murillo and his son, Damon, have been training Valencia since he walked into the gym as an 8-year-old. He showed up when he was 6 but was told he had to be 8 to enter the gym.
"He's something special," Damon said.
He trains five days a week in boxing and runs six to eight miles daily for cross country. He would have been a City contender in the two-mile run during the track season but missed the prelims because of a boxing commitment last spring.
Let's just hope Monroe students let him be when he's walking around campus now that they know he's a professional boxer. He likes to smile, he's humble and he only fights in a ring. But boy, can he punch. We're all going to get to see and admire those punches in the years ahead.
Monroe High senior is 4-0 as pro boxer
---
Get the latest on L.A.'s teams in the daily Sports Report newsletter.
You may occasionally receive promotional content from the Los Angeles Times.