Personalities come out during Trinity League baseball media day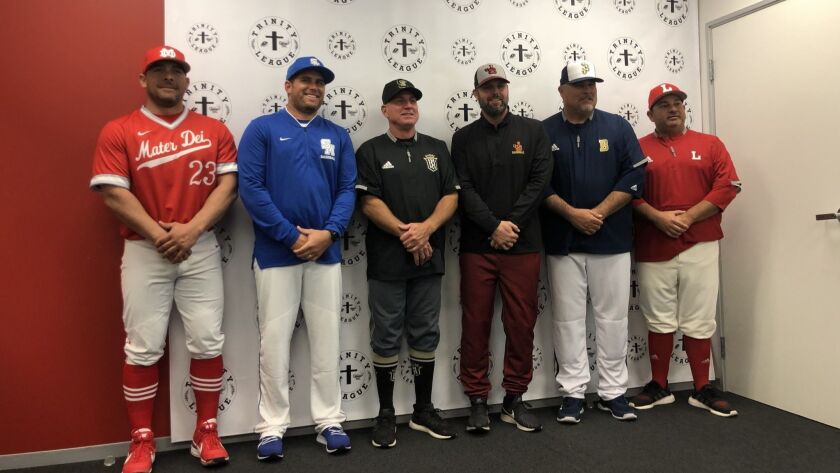 With Santa Ana Mater Dei serving as the host school, the Trinity League held its first baseball media day on Wednesday. All six coaches brought along three players, and every 20 minutes, they'd enter a room, sit at a podium and answer questions while introducing themselves, similar to a college setting. And there was breakfast for the media and athletes (burritos, potatoes and coffee), so everyone was happy.
What's clear is the Trinity League once again has top teams and top players. And the students are not just good athletes. They have intriguing personalities, work hard in the classroom and understand how competitive the league is.
Take the case of Jasiah Dixon, a USC-bound outfielder from Orange Lutheran. His coach, Eric Borba, said: "He's a freak talent." Borba claimed Dixon can do "three backflips in a row and dunk a basketball barefoot."
Dixon agreed: "I really like to think I can do anything."
Then he told the story how he was doing backflips in a pool and decided, "I think I can get this on the ground." Now he does backflips at school, and teachers and classmates take out their cellphones and document it. He also has been dunking since he was 12. And Borba said he saw Dixon matching his daughter, a gymnast, "step for step" when the two were on a dairy farm his freshman year.
There's also Servite closer Alec Rath. He said he's "a social person." It turns out he's one of the leaders of the student cheering section called the Asylum. And a special rule had to be put in for him. You've heard of pitch count for pitchers. Rath has a different count because he likes to talk so much.
"I like to meet people," Rath said. "It got so bad at one point, we had to put in a word count on me."
Orange Lutheran, with seven returning starters and 11 players with Division I scholarship offers, appears to be the favorite in the league. The Lancers and JSerra have so many pitchers, they won't need to rely on aces until the playoffs.
Mater Dei might have the most intriguing player in 6-foot-11 pitcher Hunter Cope. Pro scouts will be following him all season, and he has a chance to rise rapidly. Asked if he likes to use his size to intimidate hitters, Cope said, "Yeah."
Cody Schrier of JSerra, a sophomore second baseman committed to USC, said he was originally "a huge fan of UCLA." But a recruiting visit to USC changed everything.
Santa Margarita brought Schrier's brother, Alex, a pitcher, pitcher Spencer Edwards and junior shortstop Milan Tolentino. They're headed to UC Santa Barbara, Cornell and UCLA, respectively, and have grade point averages of 3.5, 4.4 and 3.5.
Santa Margarita will start home games at 2:30 p.m. in February, since moving up the start of the season could lead to darkness issues before games are completed.
JSerra is traveling to Alabama for games and will visit Auburn and Alabama and a civil war museum.
St. John Bosco center fielder Sebastian Orduno, an Oregon commit, could be the best leadoff hitter in the league. Braves pitcher Kyle Moats is headed to the Air Force. He used to play with toy soldiers.
Trinity League baseball personalities come out a week before the season begins.  
---
Get our high school sports newsletter
Prep Rally is devoted to the SoCal high school sports experience, bringing you scores, stories and a behind-the-scenes look at what makes prep sports so popular.
You may occasionally receive promotional content from the Los Angeles Times.