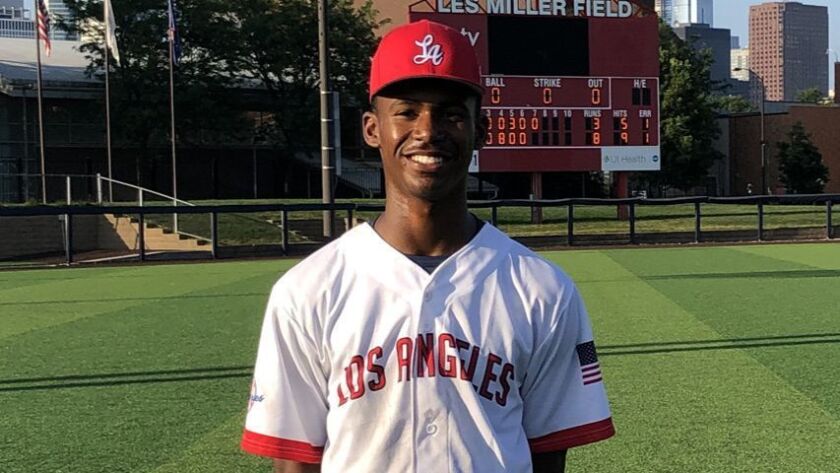 A 24-player all-star baseball team from the Los Angeles City Section made an impressive debut on Monday in the GEICO City Series in Chicago, scoring eight runs in the fifth inning to knock off Miami 8-3.
The star was senior Hasan Standifer of Narbonne. He drove in the first run after a scoreless first four innings with an RBI triple. He added a two-run single during the eight-run fifth that featured 13 City batters.
Josh Duarte (San Pedro), Joe Guzman (Sun Valley), Nathaniel Flores (San Fernando) and Alec Garcia (Cleveland) also had RBIs in the inning.
"He's so athletic in the way he swings and catches and runs," Birmingham coach Matt Mowry said of Standifer, who also made a diving catch in right field to save a run earlier in the game.
"For a kid who doesn't weigh very much, he hits the ball very well."
The game was played at the University of Illinois-Chicago and included lots of college scouts in attendance. Chicago defeated New York 8-5 in the first game.
"He's going to be opening up some eyes," Mowry said. "I'm sure he impressed a lot of people."
Gavino Rosales of Birmingham threw four shutout innings as the starter. Travis Connelly (San Pedro) pitched a scoreless sixth and Enrique Espinoza (Sylmar) threw a scoreless seventh.
Los Angeles will face New York in game No. 2 on Tuesday.
Sign up for our daily sports newsletter »
FINAL: Los Angeles 8, Miami 3.

Hasan Standifer (LA): 2-3, R, 3 RBI
Romeo Sanabria (MIA): 1-3, RBI

W - Gavino Rosales-Espinoza (LA): 4.1 IP, 4 H, ER, 2 K pic.twitter.com/zxP32Pu00z

— Who's Next (@WhosNextHS) July 8, 2019
---