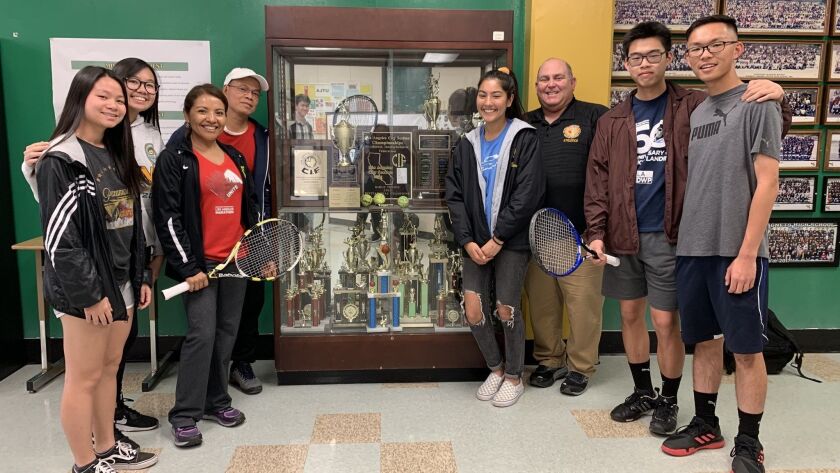 Koko Makrygiannis, a junior tennis player at Peninsula High, has become a hero to seven tennis teams in the Los Angeles Unified School District.
She created Sharing the Love|Team Tennis, a nonprofit that provides free tennis equipment to programs in need. Through her help, Downtown Business Magnet, Elizabeth Learning, Santee, Gardena, Dorsey, Los Angeles and Manual Arts received kits containing 12 rackets with new strings and grips, 12 balls, a coaches manual and sunscreen.
Dave Siedelman, an assistant in the LAUSD athletics office, was at Downtown Business Magnet when Makrygiannis arrived with her gifts.
"It brought excitement and joy to programs that don't get funded," he said. "The kids were jumping up and down and so excited with smiles and trying to claim all the rackets."
Makrygiannis said she got the idea of donating equipment to programs after her Peninsula team played Inglewood and saw a need to help. She received donated equipment from the tennis club she belongs to. Soon teammates and adults joined her to help fundraise and turn the idea into reality.
"I love tennis, and within the LAUSD schools, they don't have enough funding, and I'm fortunate to live in a community where I have access to that funding and wanted to give students the same access I have," she said.
She and her mother personally deliver the equipment to schools working through Siedelman and the LAUSD. She's hoping to add more schools and wants teammates to continue the project after she graduates.
"I don't want it to be a one-time thing," she said. "They've been really, really appreciative. They're very thankful."
---