Tri Bourne, John Hyden ready for next step at Huntington Beach tournament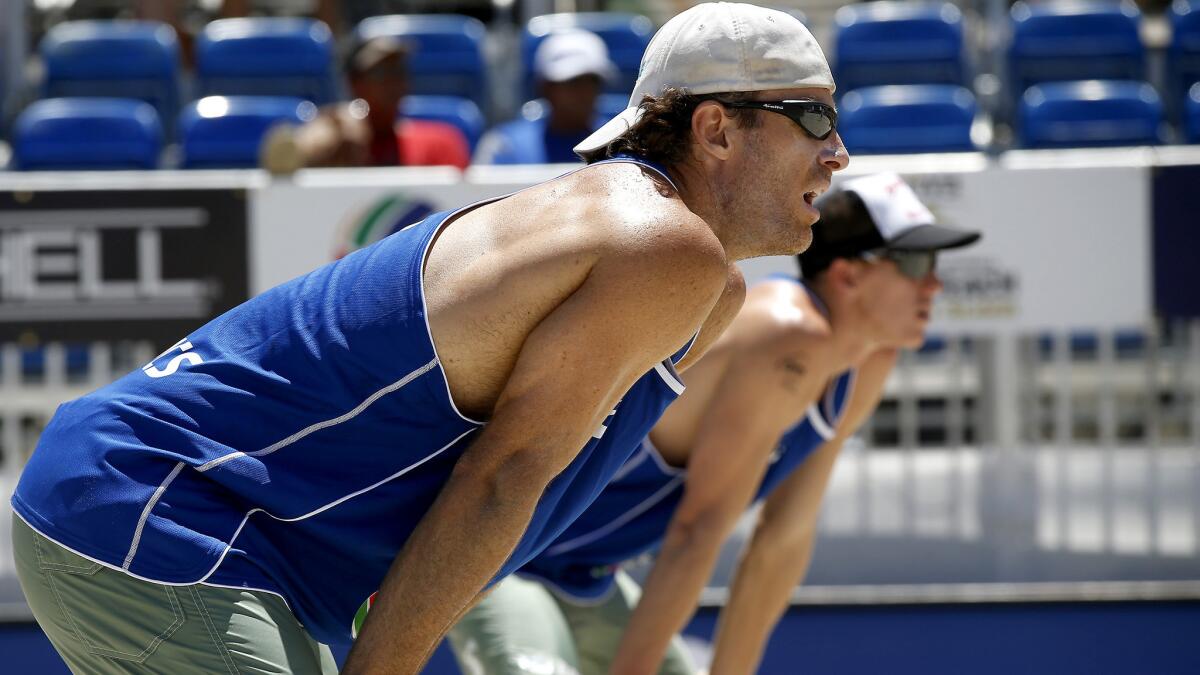 Tri Bourne and John Hyden have plenty of reasons to feel optimistic as they head into the 2015 AVP Championships at Huntington Beach.
For starters, they won the most recent AVP Tour event, the Cincinnati Open, defeating top-seeded Jake Gibb and Casey Patterson in the quarterfinals and championship match.
"Mentally, yeah, to be able to beat Jake and Casey twice in one tournament — since they've beat us so many times in the last year — it really helps our confidence," Hyden said.
Then there's Bourne's and Hyden's history at Huntington Beach — they've come in second place two years in a row, and feel right at home playing in Southern California.
"Usually, all of our family gets to come out for this one," Bourne said. "That's what's biggest for me. It's a great atmosphere. Huntington Beach is huge for beach volleyball. Besides Manhattan [Beach], it's probably the biggest California stop, and it's been for years a legit stop on the AVP."
There's also a slight drop-off in competition, since Phil Dalhausser and Nick Lucena are skipping Huntington Beach in favor of an international tournament in Russia that could help them qualify for the Olympics.
"They would definitely rather be in Huntington than Russia," Bourne said, jokingly.
Still, Bourne and Hyden are monitoring Dalhausser's and Lucena's performance closely. Bourne and Hyden would be one of the two American teams to make it to the 2016 Games in Rio de Janeiro, while Dalhausser and Lucena would be on the outside looking in.
"It's going to be on our radar the whole time we're playing the rest of the year," Hyden said. "We'll always be looking at that. As far as the competition, yeah, it's one less team we have to deal with, but that just means everybody else is looking that much more to win this tournament."
Bourne and Hyden, who are seeded third, will have to deal with Gibb and Patterson, second-seeded Ryan Doherty and John Mayer, plus the Crabb brothers — Trevor and Taylor — who had a strong showing at Manhattan Beach.
April Ross headlines the women's bracket, though she'll be playing with a new teammate, Lauren Fendrick. Ross' usual partner, Kerri Walsh Jennings, is scheduled for surgery Thursday to repair a torn labrum and torn capsule in her right shoulder. Though Walsh Jennings wishes she could play with Ross, she says she'll be keeping tabs on her progress, and that Fendrick is one of the best blockers in the world.
"I would agree," Ross said. "She's one of my least favorite blockers to play against. I'm excited to be on the same side of the net as her and play behind her. We practiced twice already now and it feels really good. She's worked so, so hard to get to this point, and I respect her game."
It's not going to be easy. Since Ross and Fendrick have never played in a tournament together, they were given the 11th seed, meaning they won't have any easy opponents.
"Regardless of where we're seeded, we're going to have our work cut out for us in Huntington, and a little tougher draw in the first round for sure," Ross said.
Nicole Branagh and Jenny Kropp were given the top spot, while Jen Kessy and Emily Day are seeded second. Three-time Olympic gold medalist Misty May-Treanor is interrupting her retirement to participate as well, and she'll be competing as a 12th seed alongside Brittany Hochevar. But the favorite is still Ross, who, like Bourne, is counting on her Southern California roots to help push her over the top.
"It's the closest to a home tournament for me," Ross said. "It's really easy for my family and friends to come to, I feel like I have a good amount of local support. It's really a hotbed for beach volleyball. People play there all the time, every day. So I think the fans really know what they're watching and appreciate it."
Get our high school sports newsletter
Prep Rally is devoted to the SoCal high school sports experience, bringing you scores, stories and a behind-the-scenes look at what makes prep sports so popular.
You may occasionally receive promotional content from the Los Angeles Times.