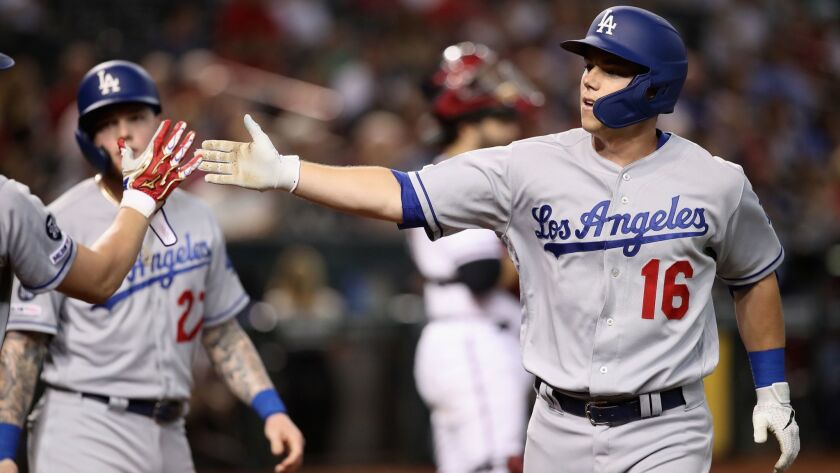 The Dodgers have the best record in baseball.
It might be just June, but already they've opened a double-digit lead atop the West division and could push their lead for best record in the National League to double figures by the end of the week.
Nearly 40% through the season, the Dodgers have won close to 70% of their games and would need to win just 57% of their remaining games to finish with at least 100 wins for the second time in three seasons.
Sadly, 100% of Dodgers fans aren't allowing themselves to enjoy this season.
Every time I mention the Dodgers' record or highlight a big win on social media, the majority of the responses are something along the lines of, "It doesn't mean anything unless they win it all" or "Who cares? They're going to lose the World Series again with that bullpen."
These replies aren't coming from Dodgers haters but longtime Dodgers fans who have been burned the last two seasons, believing a championship was imminent for the first time in 30 years only to watch them fall short.
I get it. It's hard to watch your team not only lose the World Series but also do so on your home field in back-to-back seasons.
Allowing that heartbreak to ruin your enjoyment of this season, however, is silly.
This is a golden age of Dodgers baseball for someone such as me, who grew up going to Dodgers games from 1989 to 2007 when the Dodgers missed the postseason 15 of 19 seasons, failed to win a playoff series and won just a single postseason game.
Journeyman Jose Lima became a Dodgers legend for a generation of fans after pitching a complete-game, five-hit shutout to give the Dodgers their only postseason win in nearly two decades before the St. Louis Cardinals completed a "gentlemen's sweep" in the 2004 National League division series.
Anyone who was a Dodgers fan during that time should be savoring every day the Dodgers hold the best record in baseball and celebrating every dramatic win. Who cares what happened eight months ago or what may or may not happen four months from now?
If you're a Dodgers fan, allow yourself to enjoy this time. Be a prisoner of the moment. Don't be that person worrying about your Halloween plans in June. We know what happened last year, and no one knows what will happen this season, so why not relish the ride?
The Dodgers are on the verge of winning the division for a team record seventh straight season and perhaps going to a franchise record third straight World Series. If you can't enjoy this run, it might be time to start following another team looking up at the Dodgers in the standings.
::
Steve Rolls had a smile on his face as he walked into Madison Square Garden on Wednesday with his promoter, Lou DiBella. Rolls is a heavy underdog Saturday when he faces Gennady Golovkin but couldn't help but look around and cite what happened at the arena last week when Andy Ruiz Jr. shocked the world by knocking out Anthony Joshua to become the world heavyweight champion.
"I watched the fight, but even before I saw that I planned on coming here and pulling an upset," Rolls said. "I know exactly what I'm capable of and after watching that fight I understood when you get two guys in the ring, anything can happen. You can't count anybody out."
DiBella had Rolls switch his fight night dressing room Wednesday and will be in the same dressing room that Ruiz occupied last week.
The Canadian boxer said he fully expects to be one of the reasons sports fans north of the border will be celebrating this weekend since his fight takes place between Games 4 and 5 of the NBA Finals involving the Toronto Raptors and Golden State Warriors.
"We're looking to go two for two," Rolls said. "It's going to start on June 8 at Madison Square Garden. After I win, the Raptors are going to take over."
Rolls laughed when asked if he is avoiding Drake during fight week, given his penchant for jinxing teams and athletes he supports, including Joshua, who took a photo with the rapper before his loss.
"No," Rolls said. "I don't believe in curses."
"I do!" DiBella chimed in. "If he wants to speak to us, he can wait until after the fight."
::
The Sparks have won back-to-back games since dropping their season opener to the Las Vegas Aces. Despite playing without Candace Parker, Alana Beard and Maria Vadeeva, the Sparks defeated the New York Liberty, 78-73, on Tuesday powered by Chiney Ogwumike, who recorded a double-double for the second straight game (15 points and 10 rebounds).
Nneka Ogwumike should end up in the MVP conversation, considering she is averaging 15.0 points and 11.7 rebounds. If the Sparks can continue to get that kind of contribution from the Ogwumike sisters, they'll be just fine while Parker, Beard and Vadeeva are out.
::
The Long Beach Little League is one of the more prominent ones in the country thanks in large part to the contributions of Al Huntley, who managed his first team in 1976 and coached the next 35 years before retiring in 2010.
He managed 25 District Champion all-star teams and coached the World Series champions in 1992 and 1993, when Long Beach became the first U.S. team to win consecutive championships.
The league has named its flagship facility "Al Huntley Field" in honor of the longtime manager, who at 76 continues to be a regular in the stands and at the snack shack he helped build at Stearns Championship Park.
---