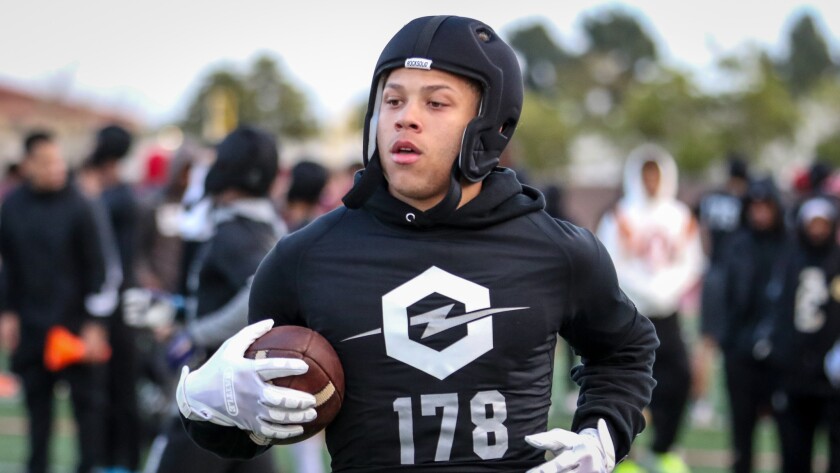 Louisiana State has the top-rated 2020 recruiting class in 247Sports' composite rankings thanks to recent commitments of two of the nation's top wide receivers, including Calabasas High's Jermaine Burton.
Burton committed to coach Ed Orgeron and the Tigers last week in a video that featured cornerback Elias Ricks, another Southern California prospect headed to LSU.
"Coach O was just really happy about it," said Burton of informing Orgeron. "He told me he was happy that I was a Tiger and, 'Thank you for being a Tiger. You're going to love it and everything.' "
How the 6-foot-1, 193-pound receiver fits into LSU's offense and the style of play in the Southeastern Conference played a big role in Burton's decision. He is excited about what Joe Brady, LSU's new passing game coordinator, is bringing to the offense and the changes that he is implementing after Brady spent the last two years with the New Orleans Saints.
"I just feel like it fits best perfectly for me," Burton said. "They run a spread offense now and they want me to play slot. Slot receivers in college football, you have your fast guy who really gets the ball a lot and that's the kind of receiver they want me to be. They want to move me around and get the mismatches. I'm 100% down with that."
Burton caught 40 passes for 863 yards and 14 touchdowns last season while playing beside five-star wideout Johnny Wilson and Mycah Pittman, a four-star prospect who will be a freshman at Oregon. Burton spent time lining up inside and outside, giving him a dynamic skill set that should help him fill LSU's needs for the future. The Tigers will have three senior receivers and five junior receivers on the roster this season.
Burton has speed. He ran the 40-yard dash in 4.43 seconds at the Opening Los Angeles Regional this year despite soggy conditions. He can take hits. He knows how to make tough catches in traffic. And he can make defenders miss after the catch.
Burton knows how about the physicality of football in the South because he's from the South. Committing to LSU is a return to the region of the country that has claimed the college football national championship 12 of the last 13 years. Burton played his freshman year at Hapeville Charter High in Georgia and his sophomore season at IMG Academy in Florida.
"I've always told myself that I want to play SEC football because it's really physical and I feel like that's the type of receiver that I am," Burton said. "I looked at all the SEC schools and which offense I could fit in and LSU is the one for me."
Shift in focus
By committing in the spring, Burton felt that he could improve in the classroom and on the field.
"I want to focus on grades. I want to focus on getting better as a player," he said. "I don't want to be tied up with having to call coaches here and there. If I am busy with school and I miss a call, I don't want the coaches to feel like I'm trying to act in a disrespectful way."
Sign up for our daily sports newsletter »
Burton said he will turn his attention to recruiting other prospects to join the Tigers' class. LSU has 14 commits, including three from the Southland — Burton, Ricks and Harbor City Narbonne defensive tackle Jordan Berry.
"I'm definitely working on some guys who aren't committed and I'm staying on the guys who are committed as well," Burton said. "I really feel like we could do something different with the 2020 class."
Mater Dei's top cornerbacks transfer
Ricks and Darion Green-Warren both announced their decisions to transfer out of Santa Ana Mater Dei where they helped the Monarchs win state titles the last two seasons.
Green-Warren enrolled at Harbor City Narbonne on Monday. Ricks has not said where he will transfer. Both said their decisions were based on the same thing: the ability to graduate in December and enroll in college in January.
Their departures open up more opportunities for underclassmen Jaylin Davies and Domani Jackson, who have already attracted scholarship offers from several programs around the nation.
---