Column: LeBron James is only getting older. Lakers need to upgrade their roster now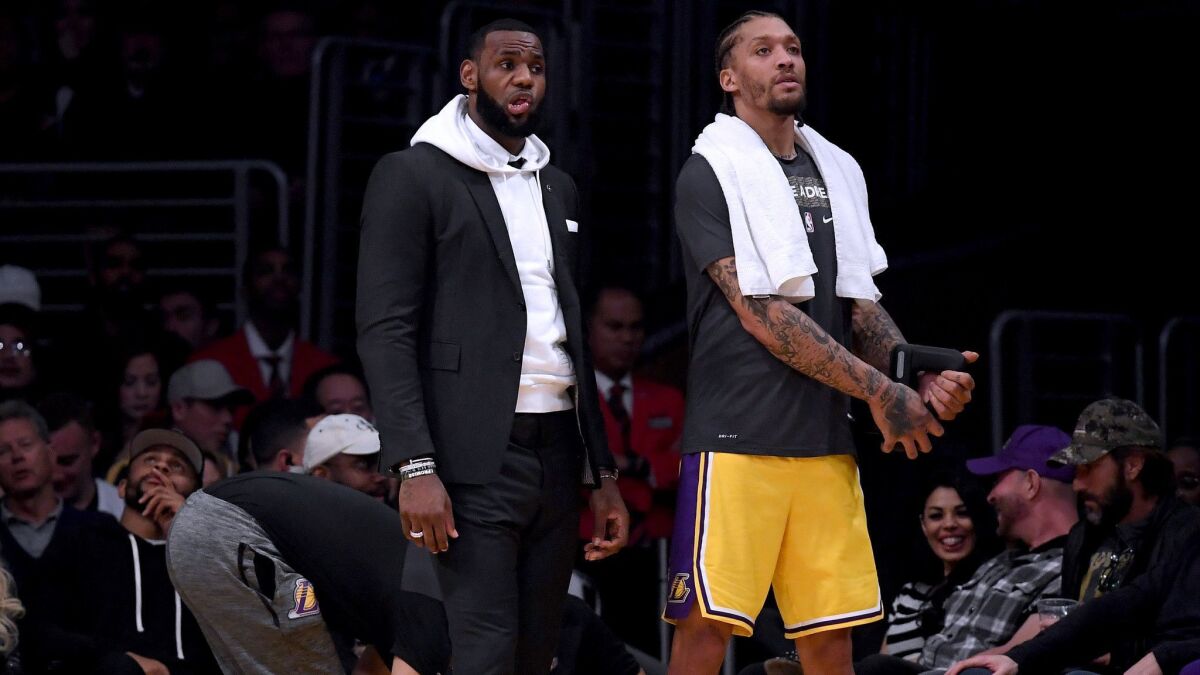 The fundamental problem remains the same: Without LeBron James, the Lakers don't have a chance.
They're the Washington Generals.
They're the Dodgers under Frank McCourt.
They're the Rams in their first season back in Los Angeles.
None of this should be a surprise, their 5-9 record in James' absence more or less what should have been expected considering they have more or less the same team they did last season.
The team's predictable drop to ninth place in the Western Conference isn't the disconcerting part.
What's more worrisome here is the amount of time James has missed because of the groin strain he suffered on Christmas — more specifically, what it signals for the remainder of his career.
The updates the Lakers have provided on James' condition have been purposely vague, which is their way of saying James will return when James says he's ready to return.
"I know you know how serious he is about his rehab," coach Luke Walton said Monday night. "So he's doing everything possible and we've talked. I know he's dying to get back on the basketball court, but he also knows that getting healthy is the top priority. So whenever that day comes, he'll be back out there."
That probably won't be Thursday against the Minnesota Timberwolves, considering how Walton characterized the possibility of James coming back alongside point guard Rajon Rondo.
"I haven't seen him do contact yet, so I don't feel as confident," Walton said.
By the time James returns, he will have been sidelined more than a month.
What Magic Johnson, Lakers president of basketball operations, and general manager Rob Pelinka have to determine is how they will incorporate this information into their future decisions.
As mentioned in these pages several times before, James is 34.
If there's anyone who can delay his physical decline, it figures to be James. But even the freaks of nature have their limitations. Allen Iverson was Allen Iverson until he suddenly wasn't.
The Lakers have to ask themselves questions to which there are no clear answers at this point.
For how many more years will James be the player he is now?
And do the Lakers have to brace themselves for extended stretches without James in the future?
Not even James can respond with certainty.
But what Johnson and Pelinka think should guide what they do in assembling the team around him, starting with the time leading up to the Feb. 7 trade deadline.
Unfortunately for the franchise's decision makers, the relatively modest progress made by the team's up-and-coming players presents them with only tricky options.
What they know is they can't count on the likes of Kyle Kuzma, Brandon Ingram and the now-injured Lonzo Ball to provide James with the kind of support he would require to make a serious postseason run. And if the front office views James' prime as a window that is quickly closing, they would have to at least consider acting with greater urgency in the coming weeks. The peak of an all-time great player is precious. Might as well make the most of it.
The players who are believed to be available — Mike Conley Jr., Marc Gasol, Bradley Beal — are players who can complement James, but not carry a team in his absence.
The one potential target who could is Anthony Davis, who doesn't figure to become available before the offseason, if then.
Davis could be the co-star who could lead the Lakers in future seasons while James deals with the kind of ailments that typically strike older players.
But waiting for Davis won't guarantee him. It's entirely possible the New Orleans Pelicans send him elsewhere or hold onto him until he becomes a free agent.
Waiting could cost the Lakers a chance to make a solid upgrade now that could be further reinforced in free agency.
And waiting will make James even older.
The Lakers lost the waiting game with Paul George. They lost out on getting Kawhi Leonard this season. And they could lose here again.
Sign up for our daily sports newsletter »
Follow Dylan Hernandez on Twitter @dylanohernandez
---
Get our high school sports newsletter
Prep Rally is devoted to the SoCal high school sports experience, bringing you scores, stories and a behind-the-scenes look at what makes prep sports so popular.
You may occasionally receive promotional content from the Los Angeles Times.