Letters: Shootout at L.A. Corral was something to see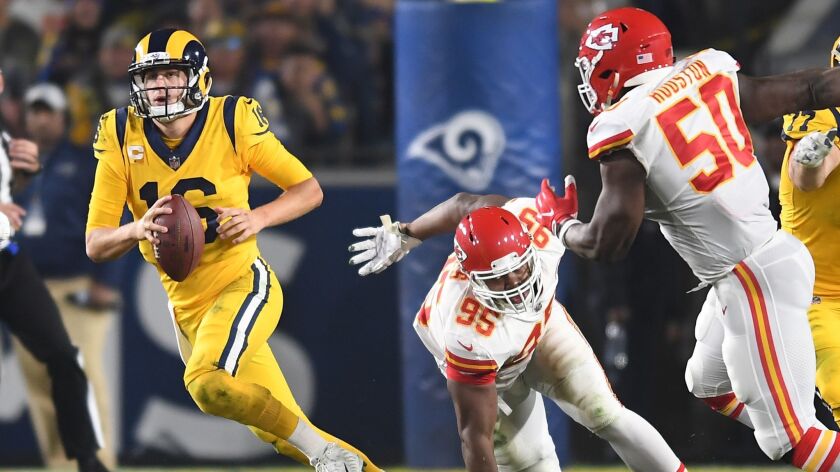 No need to have a Super Bowl. I don't think Monday night's game can be topped.
Mark Keys
Newport Beach
::
I have been watching a lot of USC games this year, so it was quite a revelation to tune in the Rams-Chiefs game and see how much better the Coliseum looks when it is full.
Gerry Swider
Sherman Oaks
::
What an incredibly innovative and clever move made by the Rams in their Monday night game at the Coliseum. Obviously their regular uniforms didn't make it back in time from Mexico City, so they had their players dress in yellow pajamas! Cool! #juiceboxesforeveryone
Richard Turnage
Burbank
::
I thoroughly enjoyed "Monday Night Refereeing." What a great opportunity to enjoy the beauty and athleticism of professional referees as one flag after another flew gently across the field. I don't have to tell you how exciting it is to watch the two hottest offenses in pro football slowed to a snail's pace so we could enjoy what's truly important: watching our favorite referees call penalties.
Mike Gersch
Brea
::
I could not agree more with Tom Hoffarth's assessment of "Monday Night Football announcers." ESPN has really damaged the MNF franchise with their on-air commentators. Many of us have figured out how to remedy the situation — watch the broadcast on ESPN with volume down and listen to Westwood One radio.
Tony Braswell
Valley Village
Unrivaled trouble
USC was, obviously, looking ahead to Notre Dame.
David Marshall
Santa Monica
::
This just in: Forest Lawn announced an order from former USC coach, Clay Helton, for a headstone with the inscription: "Lynn Swann still has confidence in me."
William David Stone
Beverly Hills
::
My fellow Trojans who want to fire Clay Helton should stop focusing on one season and look at the big picture. Helton's first two seasons are the best first two among all USC coaches. He took over a floundering program and won a South Division Championship, a Rose Bowl, and a league championship. Discipline has certainly been an issue, but the two main reasons they aren't winning is inexperience at quarterback and an enormous number of injuries. That's the difference between being 5-6 and a respectable 8-3.
Randolph Ziskin
Sherman Oaks
::
After beating USC, he's a Chip off the old blocked punt.
Jeff Black
Los Angeles
::
Chip Kelly should take pride in the victory over USC, but maybe it was his foolish pride that kept UCLA from having a better season. Watching loss after loss, many fans criticized his commitment to QB Dorian Thompson-Robinson. The more flak Kelly got the more stubborn he became. Who knows why he eventually went with Wilson Speight, but now, all of a sudden, Speight's "a cool customer," who "doesn't get fazed," and has a calmness that "pervades through our offense." Whew.
Mario Valvo
Ventura
::
UCLA accomplished the impossible. Not in beating a mediocre USC team. But after the game when Chip Kelly bragged how UCLA is the most scientific team in college football and tracks their players with GPS. Rarely, and maybe never, has college football witnessed insufferable conceit from a head coach whose team emerged 3-8 following a win. I guess the plan is that word of Apple watches and Fitbit technology will never reach the SEC, or for that matter cross-town Los Angeles.
Konrad Moore
San Diego
::
As a lifelong Bruin fan, I would really appreciate you running two pages of letters from UCLA and SC fans this Saturday instead of only a half page. I promise I'll read them all. Thanks
Gary Peattie
Camarillo
There's another team here?
If I were a newly minted Chargers fan living in SoCal (and I followed the team in the L.A. Times), I'm pretty sure I would be in emergency therapy by now. LA times sports reporters and columnists are simply brutal to the Chargers, and they're 7-3!
David Pohlod
Oak Park
::
The few, the proud, the Chargers fans.
Ron Reeve
Glendora
Sweet schedule
How can a team see how tough it can be playing the likes of St. Francis, Liberty or Presbyterian? I hear UCLA tried to get Taft or Birmingham High, but they were already booked. With all these cupcakes they are playing maybe they should open a pastry shop on campus.
Craig London
Encino
Important issue
Gun violence and gun control are emotional and complicated issues and they concern most of Americans. However, I can't believe you chose to print such a simplistic and one-sided letter in your sports section.
There's a lot to be said on the issue from both sides but to be subject to such propaganda on a Saturday morning while escaping to the sports world is just not right. That letter belongs in the opinion section of the newspaper where one expects diverse views. I think you blew it on this one.
Patrick Kennedy
Frazier Park
Good/bad news
Award-winning journalist Helene Elliott tugs at the heartstrings with a beautiful story on Wednesday about a wonderful man, Trevor Hendershot, who does a terrific job as an employee of the Ducks and Angels. Then multiple-time national sports columnist of the year Bill Plaschke writes a gem about Dodgers star employee Maria Hartmark, which is another tear-jerker about a lovely person.
On this Thanksgiving week, it's nice to realize that L.A. Times readers are so blessed that the writers, editors and photographers provide us with truly one of the nation's greatest sports sections throughout the entire year. You keep us entertained, sometimes making us laugh, sometimes cry, other times rejoice, and other times shake our heads. Thank you for doing such a remarkable job.
Charlie Plowman
La Cañada
::
My family joins others in wishing Maria Hartmark a speedy recovery. What a wonderful article by Bill Plaschke about her and how she has performed her job above and beyond the minimum for the 28 years she has worked at Dodger Stadium and how those she serves appreciate and respect her for it. Yet she is being paid $14 an hour.
Some of those she serves have recently donated generously, but do the Dodgers or Levy Restaurants feel the shame they should feel from paying her that salary?
Ben Tenn
Northridge
Going to school
So great to see an article on education in the sports section ["James' school shows promise," Nov. 21], very well done.
I was a special education teacher for 40 years, including a four-year stint at a non public school for emotionally disturbed students. It was very tough, challenging, but rewarding as well. Sports played a large role in teaching stress management, teamwork, tenacity and emotional control. My last 27 years I was an Adapted PE teacher in LAUSD.
Congratulations to LeBron for his commitment to those young people who have had a rough beginning in life. Although the success rate will be low, I'd be interested to know about long-term effects of the graduates of the I Promise School.
Ron Brumel
West Los Angeles
He said it
At a 2017 news conference, Magic Johnson proclaimed that Lonzo Ball would be the new face of the Lakers. He also directed Lonzo's attention to the wall that displayed a select group of Laker greats and said " we expect you to have your name placed on that wall."
If that really happens, it would truly be an act of magic.
Gil Moe
Palm Desert
::
The Los Angeles Times welcomes expressions of all views. Letters should be brief and become the property of The Times. They may be edited and republished in any format. Each must include a valid mailing address and telephone number. Pseudonyms will not be used.
Mail: Sports Viewpoint
Los Angeles Times
2300 E. Imperial Hwy.
El Segundo, CA 90245
Email:
---
Get the latest on L.A.'s teams in the daily Sports Report newsletter.
You may occasionally receive promotional content from the Los Angeles Times.