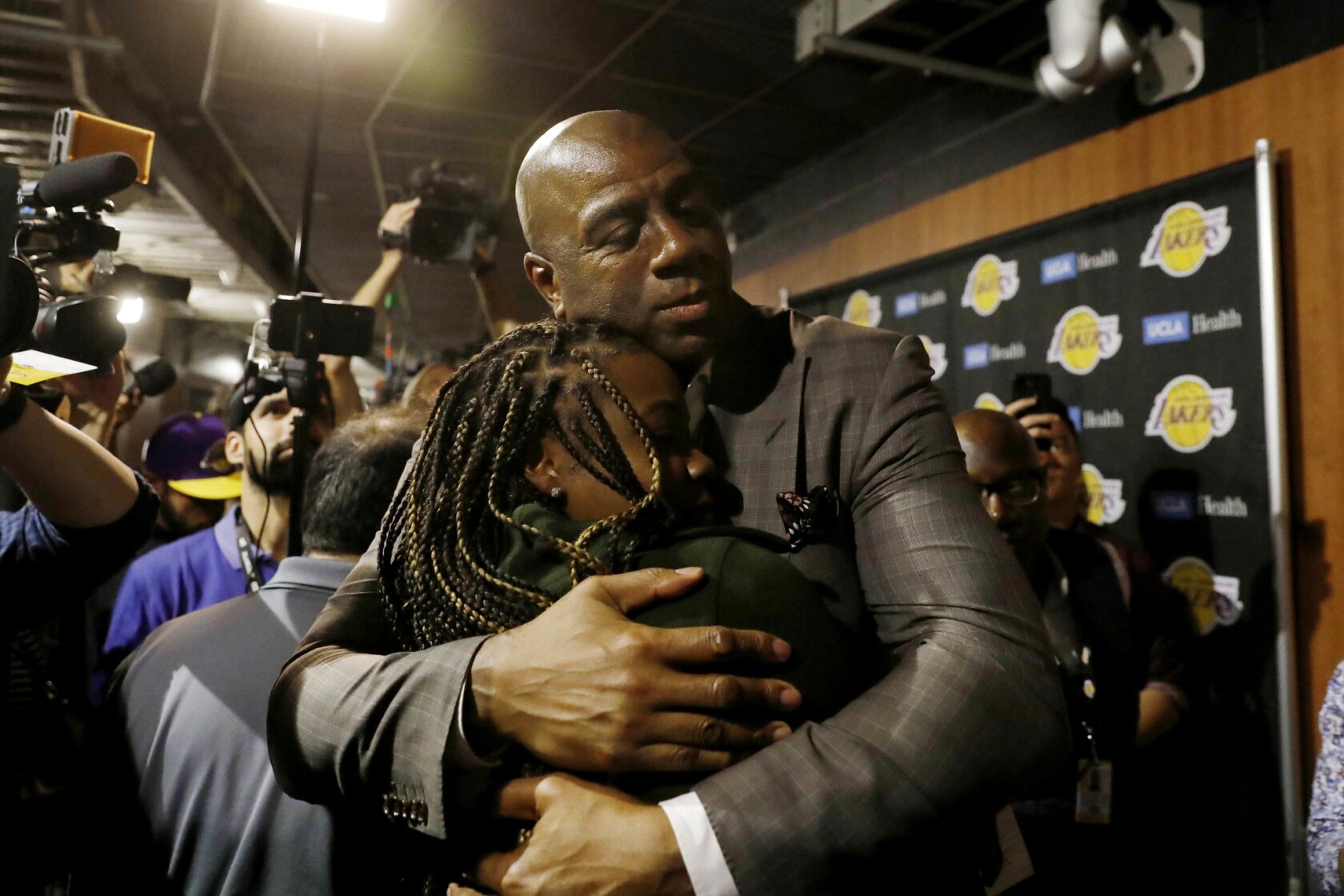 Magic Johnson hugs Lauren Jones, Los Angeles Sentinel reporter, after he steps down as Lakers' president of basketball operations at the Staples Center.
(Gary Coronado / Los Angeles Times)
Magic Johnson steps down as Lakers' president of basketball operations.
(Gary Coronado / Los Angeles Times)
Magic Johnson steps down as Lakers' president of basketball operations.
(Gary Coronado / Los Angeles Times)
Magic Johnson steps down as Lakers' president of basketball operations.
(Gary Coronado / Los Angeles Times)
LeBron James, left, Kyle Kuzma, Tyson Chandler (5) and Josh Hart (3) of the Lakers.
(Gary Coronado / Los Angeles Times)
Lakers forward Jemerrio Jones (10) blocks a shot attempt by Portland Trail Blazers guard Seth Curry.
(Gary Coronado / Los Angeles Times)
Lakers head coach Luke Walton.
(Gary Coronado / Los Angeles Times)
Lakers guard Kentavious Caldwell-Pope loses the ball while driving to the basket.
(Gary Coronado / Los Angeles Times)
Lakers guard Isaac Bonga drives around Al-Farouq Aminu.
(Gary Coronado / Los Angeles Times)
I've never been good at breakups. I'm usually the guy who stays in a doomed relationship longer than I should because of the angst that comes with breaking the news to someone I care about face to face.
Many forms of interpersonal communication have died with the rise of technology, but one conversation I've always felt needs to take place in person is when you're leaving a long-term relationship or job.
It's never fun or easy. but it's a common courtesy with no suitable substitution.
Magic Johnson apparently doesn't feel the same way.
He resigned as Lakers president of basketball operations with an impromptu press conference Tuesday before telling Lakers owner Jeanie Buss or anyone else. Buss, who has become like a sister to Johnson during their nearly 40-year friendship, found out the news through texts and tweets like everyone else.
One day removed from a three-hour meeting with Johnson about the direction of the team, Buss was blindsided by the news. His shocking exit and puzzling news conference now serve as a rare blemish on the resume of the man many consider the greatest Laker of all time.
Sign up for our daily sports newsletter »
"Somebody's going to have to tell my boss because I know she's going to be sick," Johnson said during the start of his rambling 45-minute media session. "But I know I couldn't face her face-to-face and tell her, even though I was just with her yesterday. We had, what, a three-hour meeting about the direction of this great organization.
"She doesn't know I'm standing here because I know I would be crying like a baby in front of her — even though I'm about to cry now. But it's the right thing to do. The right move to make."
It probably was the right move for Johnson to make in the best interests of the team and himself, but he carried it out in the worst possible way.
I always thought the breakup text was bad form, but Johnson's exit was a new low. He smiled in front of reporters and cameras as he said someone else would have to break the news of his exit to the Lakers owner he calls his "sister." Imagine someone you loved and trusted telling a group of strangers he was leaving you because he couldn't muster the courage to do it himself?
Buss was classy in her response on Twitter. There was really nothing more to say or do after she found out. That's the way Johnson wanted it apparently. He wanted to make his announcement without telling anyone who might try to talk him out of it and let everyone deal with the aftermath as he walked out.
Johnson wanted the title but not the responsibility that came with being the leader of an organization. He wanted to have fun. He wanted to tweet. He wanted to be Magic again.
He referenced being unable to tweet because of NBA tampering rules on a number of occasions. He wanted to tweet Russell Westbrook congratulations on his 20-20-20 game. He wanted to go to Miami to see Dwyane Wade's last home game with the Heat. He wanted to serve on some advisory board at the request of Serena Williams. He wanted to mentor young players around the league like Ben Simmons.
The bottom line is he wanted to do something other than being in charge of the Lakers and mentor the young players on this team. He wanted the freedom to tweet to whomever he wanted, travel whenever he wanted, mentor whomever he wanted and serve on whatever advisory board he wanted.
All of that's fine. Johnson deserves to live his life his way. He was never suited for this job and made the right decision in stepping down. The problem is how he did it.
::
UCLA can't catch a break. After hiring Mick Cronin as the new men's basketball coach, after striking out with the top three choices, news of the hire immediately got overshadowed by Johnson and the Lakers.
Cronin is a good coach who has led Cincinnati to the NCAA tournament the last nine seasons. The problem is that his teams have only made it to the Sweet 16 once and never beyond. That might be the high water mark of Cronin's career, but it won't be enough at UCLA.
Steve Alford made it to the Sweet 16 three times in his first four seasons. Steve Lavin made it to the Sweet 16 in five of his first six seasons, including a trip to the Elite Eight. Ben Howland made it to three straight Final Fours, including one runner-up finish. They were all eventually shown the door because the program expects to win national championships. That's a high bar when you're taking over a program that has won just one national championship since 1975 with that lone title coming in 1995, before any current players or recruits were born. If Cronin is going to be viewed as a successful hire at UCLA, he's going to have to do more than lead them to the Sweet 16.
::
Things are going to be a lot quieter at Staples Center with the Lakers and Kings done until October and the Clippers possibly having only two or three home playoff games. That doesn't mean there won't be anything happening at the arena. Vasiliy Lomachenko of Ukraine, arguably the No.1 pound-for-pound fighter in the world, will face England's Anthony Crolla on Friday night in the main event of a Top Rank card at Staples Center.
Lomachenko (12-1, 9 KOs) has won eight of his last 10 fights by stoppage, with four in a row coming by way of the rare corner retirement. Boxers don't quit. They'd rather get beat up and lose a lopsided decision than quit on the stool but Lomachenko's ability to beat the will out of his opponents makes him one of the more dominant fighters in boxing today.
::
Ralph Lawler will wrap up his regular-season career with the Clippers on Wednesday night, with favorite broadcast partner Bill Walton. The Clippers added a special touch to the end of his hall of fame career by putting a logo commemorating Lawler's 40 years as the voice of the Clippers on the court. It was another special honor for Lawler, who also got his signature on the Clippers' city edition uniforms this season and a star on the Hollywood Walk of Fame.
"It's kind of embarrassing to tell you the truth," Lawler said. "I wanted to go out with a tweet after the season was over. This has never been about me. It's about our basketball team and our players. I just feel awkward when so much focus goes on me. I'm sure I'll look back on this a year from now and say, 'Wow, that's pretty remarkable.' What a year this has been."
---