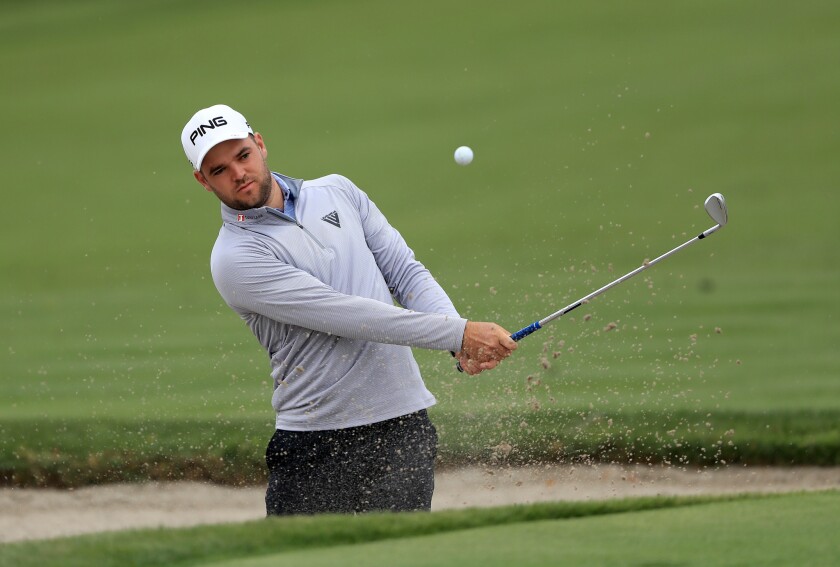 Reporting from AUGUSTA, Ga. —
Corey Conners made the equivalent of a miracle shot out of the trees to win last weekend's Valero Texas Open.
Now, he's looking to stun everyone again at the Masters.
"It's been a crazy week for sure," said the Canadian Conners, 27, who qualified for Augusta National by picking up his first victory on the PGA Tour.
Not only that, but he had to play his way into Valero as a Monday qualifier. It's the first time in nine years that someone has won a tour event that way.
So forgive him if he's walking on a cloud this week, having recorded 10 birdies Sunday in his final round at TPC San Antonio, including three in the final five holes.
"Definitely a roller coaster," he said of his start to this week. "It's been wild. After getting the victory, did some stuff with Valero at the tournament and was able to fly here Sunday night. Arrived really late and took it easy [Monday]. Tried to soak it in and realize that I'm in Augusta right now. I'm going to be teeing it up in the Masters."
It isn't his first Masters, having played here as an amateur four years ago.
"I took a lot" from that experience, he said. "It was a dream come true at that point to play here and play in the Masters tournament. ... I feel like I've been playing rounds over in my head through the course, and although the course has changed slightly, a lot of the shots are going to be pretty similar to what I faced in 2015. A lot of good memories."
Down the stretch at Valero, the broadcast frequently showed the emotional reactions of Conners' wife, Malory, who since has had the unusual experience of being recognized in public. The couple were frequently approached while out to dinner in Augusta this week.
Corey Conners is hearing his share of cheers on the course too.
"That's something I haven't really experienced in the past, but it felt pretty awesome," he said after a practice round. "Sort of sinking in what a big deal winning a PGA Tour event is. We haven't had much time to go out and react with too many people, but definitely getting noticed a lot more than ever before."
COMFORTABLE CONFINES — Jordan Spieth, once the world's hottest golfer, hasn't won a tournament in two years.
No better place for him to get back on track than at the Masters, where he has four top-three finishes in five appearances.
"It's my favorite tournament in the whole world," Spieth said. "It was kind of a big reason why I fell in love with the game of golf. ... I think it was in 2005 when Tiger [Woods] chipped in there on 16, and just kind of seeing the creativity and imagination on that shot and that win, and just the history of the tournament itself."
PINNED — Bryson DeChambeau is among the golfers who plan to take advantage of the new rule that permits keeping the pin in on putts. He figures that could help on the ultra-fast Augusta greens.
But for him, it's always a calculation.
"If you get a unique situation where the flag isn't sitting in the cup all the way, and it has some wiggle room and it's blowing towards you, there will be certain times where I will pull the flag out," he said, "just because the geometry and physics don't work at that point.
"I really try and look and evaluate the situation, see what the best strategy is. I think the cool part about leaving the flagstick in now is that you start to see the players' strategies come out based on what they know about the whole situation. On a downhill putt, when it's not windy, I will definitely use it to my advantage."
Sign up for our daily sports newsletter »
Follow Sam Farmer on Twitter @LATimesfarmer
---