L.A. is on 2024 Olympic bid list as cost guidelines become focus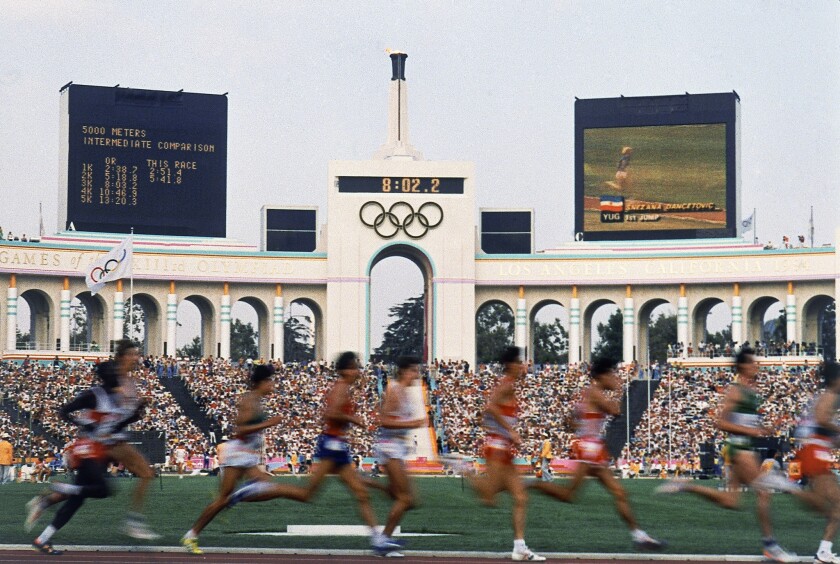 At least some of the mystery surrounding the race for the 2024 Summer Olympics has been resolved.
The International Olympic Committee released more than 500 pages of new guidelines, requirements and information for candidate cities on Wednesday, the latest step in their stated mission to make bidding and hosting less costly.
Now comes the real question: Will the revamped procedures actually save Los Angeles and its four rivals any money?
"We don't know how serious the IOC is about this," said Victor Matheson, an economist at the College of the Holy Cross in Worcester, Mass. "It could be just lip service."
On Wednesday morning, IOC President Thomas Bach predicted the changes could lead to a fascinating bid cycle.
As expected, Paris, Rome, Hamburg and Budapest will join Los Angeles in the two-year competition. Potential last-minute entries — Toronto and Baku, Azerbaijan — did not enter.
"What we see are five really highly qualified candidates," Bach said.
Los Angeles and Paris appear to be the front-runners. The bidding will proceed in three stages that begin with a video conference and a workshop at IOC headquarters in Lausanne, Switzerland, this fall.
Next summer, candidates will send observers to the 2016 Rio de Janeiro Games. Later, IOC evaluators will visit each city.
Unlike past years, the IOC will not short-list the field halfway through — every candidate is assured of reaching the final vote in September 2017, as long as it can meet minimum requirements.
The IOC arguably needed to overhaul bidding after Russia spent an estimated $51 billion on the 2014 Sochi Games — much of the money devoted to surrounding infrastructure such as roads and hotels.
Cost concerns prompted four candidates to withdraw from consideration for the 2022 Winter Games. The eventual winner, Beijing, was left to compete against only Almaty, Kazakhstan.
Olympic leaders discussed placing a cap on bidding and hosting but decided against it. Instead, following the recent "Agenda 2020" reforms, they enacted several tangible changes for 2024.
During bidding — which can cost upward of $50 million — candidates will be required to make three formal presentations instead of nine. And they will no longer have to pay expenses for those visiting IOC evaluators.
More significantly, Bach said, bidding has taken a "philosophical" shift. Whereas the committee used to dictate terms to candidates, he said the reverse is now true.
"What we want to achieve is that the candidate cities tell us how the Olympic Games will fit into their long-term strategy and vision for their city rather than the other way around," he said. "The city is sitting in the driver's seat."
For Los Angeles, it means creating a plan that uses existing venues such as the Coliseum, Staples Center and the Rose Bowl.
LA 2024 bid leaders have proposed a budget that, with private sector involvement, could exceed $6 billion. They have estimated that with little construction required, sponsorship and ticket revenues would cover all costs and generate a surplus.
Bach did not rule out the possibility of less-equipped candidates such as Hamburg and Budapest spending significant amounts on construction.
"All the cities are starting from a different starting point," he said. "You can also use the Olympic Games as a catalyst … for realizing the vision you have for your city."
Not all of the announced modifications involved money. The IOC inserted a reference to sexual orientation in its non-discrimination clause, added stronger language regarding the media's freedom to report on the Games and directed host cities to comply with labor laws.
Olympic leaders also announced their contribution to the chosen host will increase to $1.7 billion in 2024. The 2016 Summer Olympics will receive $1.5 billion.
One thing did not change.
For Los Angeles, the host city contract would still put taxpayer dollars at risk by making the city ultimately responsible if the privately managed Games wind up in debt.
"Of course, like in any competition, you have the candidates guarantee that they are delivering on their plan," Bach said. "It is their budget which they present."
As for things that were modified, Olympic experts said it is too early to know if IOC members — a diverse electorate spanning many countries — are committed to cutting costs for host candidates.
"If they keep picking cities that are spending a zillion dollars," Matheson said, "then we can conclude it's just lip service."
Twitter: @LATimesWharton
ALSO:
Floyd Mayweather's worst Showtime pay-per-view haul, in perspective
Mystery over speeding exotic cars in Beverly Hills and diplomatic immunity claims
L.A. renters, landlords should split cost of quake retrofitting equally, housing officials say
---
Get the latest on L.A.'s teams in the daily Sports Report newsletter.
You may occasionally receive promotional content from the Los Angeles Times.