Column: Maame Biney will smile and laugh her way into America's heart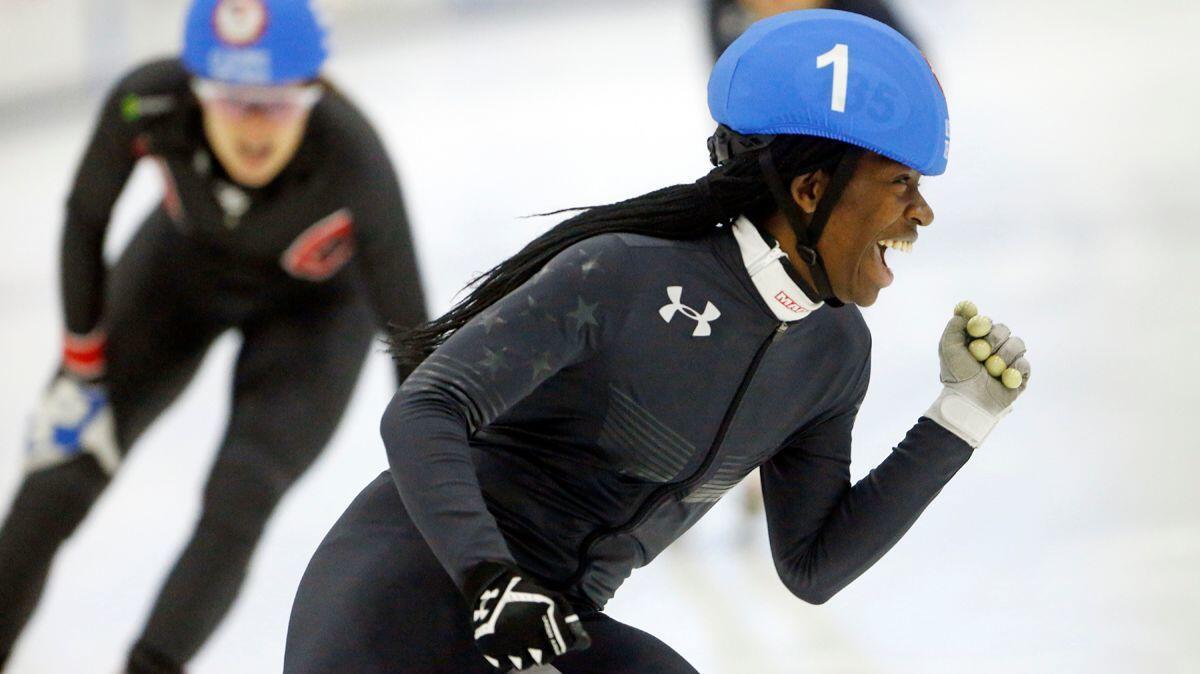 Reporting from PYEONGCHANG, South Korea —
The Olympic spirit hasn't quite caught on in the place known around here as the MPC.
Maybe this will change in the coming weeks, but at the moment, everyone in the Main Press Center is too busy, too cold or too jetlagged to be unified by sport. Almost 40 news organizations have rented office space in the complex and the majority of them keep their doors closed.
The strain of the upcoming competition is also noticeable on many of the American athletes paraded in front of the media, the biathletes complaining about Russian drug cheats and the women's hockey contingent declaring in perfect coachspeak that games are won by whichever team scores more goals.
A short but necessary respite from this atmosphere was provided Wednesday afternoon by Maame Biney. The 18-year-old bounced in here smiling and laughing and soon an entire auditorium was smiling and laughing with her, including her teammates on the U.S. short-track speedskating team.
If becoming the first African American female speedskater to qualify for the Olympics earned Biney a place in history, the Ghana-born high school senior's megawatt personality is what has positioned her to be the transcendent star of these Games.
America, this could be your newest Olympic star.
Almost every sentence that comes out of her mouth is dotted with a "like" or two or three and punctuated with a girlish giggle. She travels everywhere with her favorite purple blanket and stuffed poop emoji, likes Avengers movies and wears a purity ring on her right hand.
And she is always smiling. Like, always smiling.
The enormous smile will be introduced to world Saturday, when Biney races in the opening round of the 500 meters, the event she dominated at the U.S. Olympic trials. She will also compete in the 1,500 meters.
"Yes!"
Her shriek pierced the auditorium. The turbo-charged answer was in response to a question about her long-standing quest to convince her father to purchase her a mobile phone.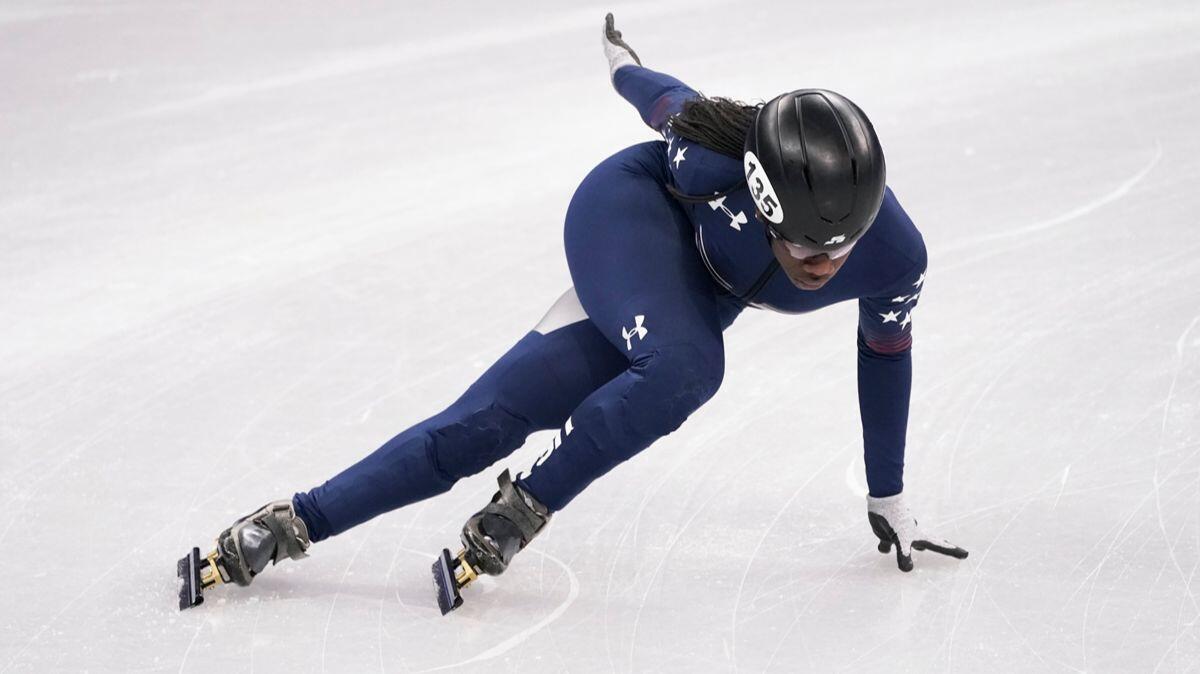 "It's an iPhone 6S!" she said. "I finally got it! It was like a week before we got here so I'm like, 'Ohmygosh!'"
A fawning television reporter told her she deserved the phone and Biney's eyes widened.
"I do!" she said. "I really do! I think I do. My dad finally was like, 'OK, fine.'"
She giggled.
She's like this on every subject, even something as unpleasant as racism.
"My dad really sheltered me so if people said anything behind me, I never heard it," she said. "And if they did and I heard it, it bounces right back. I don't care. Cool! Great! You think of me like that? Awesome!"
She giggled again.
She said her disposition is founded in her background. She was born in Ghana and lived there with her mother until she was 5.
"I think it comes from the fact that I don't take things for granted because I know that things back home aren't as great as things in America," she said. "I always just try to have a happy face and give everyone joy, which is good."
Her father, a Ghanian immigrant named Kweku Biney, was living in Maryland. The story Kweku has told numerous media outlets is that his daughter visited him, saw a J.C. Penney and insisted on staying in the United States.
I always just try to have a happy face and give everyone joy, which is good
— Maame Biney
Biney has no recollection of the fateful trip to the department store.
"I was 5 and I don't really have the best memory," she said, the giggle returning.
Father and daughter settled in Reston, Va. Biney's mother remained in Accra, Ghana, as did Biney's younger brother, Nana Kojo, who is now 15.
Biney last visited Ghana when she was 14.
Of her mother, Biney said, "I talk to her about every week. And I talk to my brother too. His voice has gotten so deep! Ohmygosh! He's probably taller than me now! Darn!"
More giggles.
She started skating at 5 or 6 years old, motivated to attend practice every week by her coach, who said her purple skating costume made her his best-dressed pupil.
Her ambition of reaching the Olympics was sharpened a year ago, when she surprised herself by claiming a bronze medal at the world junior championships. She convinced her to father to let her move to Utah and live with a host family for the first half of senior year so she could train with the U.S. national team in Salt Lake City.
She will return to Virginia after the Olympics to graduate with her classmates, but will return to Salt Lake City soon after. She plans to attend the University of Utah, to which she has already been granted admission. Doing so will allow her to continue training with the national team.
Training in Utah has already proved beneficial, with Biney reducing her best time in the 500 meters by more than a full second over a seven-month span. She posted a personal-best of 43.161 seconds at the trials, using an explosive start to open up early leads on the field.
The world record in the event is 42.335 seconds.
She said with a smile covering her face, "My game face on the ice is totally different from right now. It's not this. It's like, 'Don't be in my way because I'm probably going to kill you, so …"
She laughed.
But there was a time when the smile disappeared, at least in her private moments. After her resounding triumph at the trials, she fielded countless interview requests. She said she obliged to please her father.
"I just had a lot on my mind and it affected how I was training."
She has learned to manage her anxiety with breathing exercises she's learned from Dr. Mark Cheng, the U.S. team's mindfulness and recovery specialist.
Biney is back to being herself now, clapping as she spoke about trading text messages with Akwasi Frimpong, who will represent Ghana in the skeleton.
"He's from Ghana and I just think it's super cool and I just like texted him and he texted back today, actually, and we're going to meet up some time and hang out, it's going to be so cool!" she said.
As for competitive goals of these Games, she said, "Obviously, my goal is to get the gold or get any medal, but my goal-goal is to just do my best, the best I can and put it all out there on the ice. And if I don't get a medal, that's OK. It just means I can get it next time. I'll be back in '22."
In other words, four more years of smiles.
Follow Dylan Hernandez on Twitter @dylanohernandez
Get our high school sports newsletter
Prep Rally is devoted to the SoCal high school sports experience, bringing you scores, stories and a behind-the-scenes look at what makes prep sports so popular.
You may occasionally receive promotional content from the Los Angeles Times.