It's been a special season for Rams coach John Fassel, who knows what it's like to be the head honcho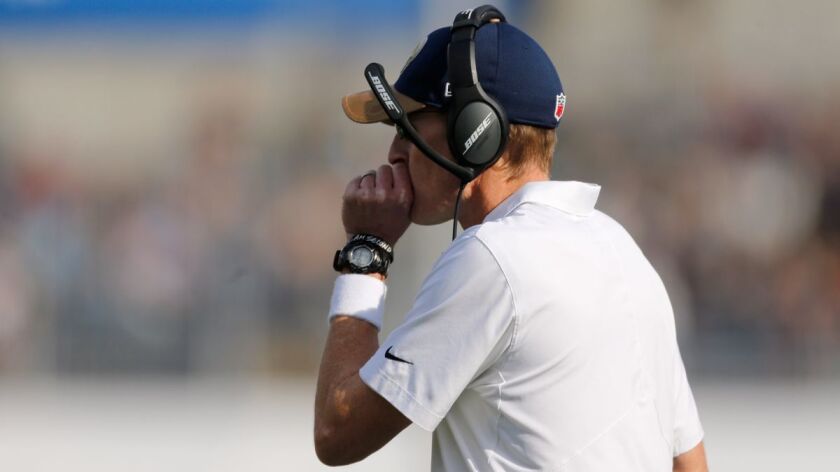 A year ago this week, John Fassel was preparing for a game against the Seattle Seahawks as the Rams' special teams coordinator.
And then, within hours, he was much more.
The Rams fired coach Jeff Fisher and named Fassel interim head coach.
"I was named in the press conference and then had to go right into the special teams meeting maybe a half-hour later," Fassel said.
A year later, Fassel is back in his role as special teams coordinator on coach Sean McVay's staff. And the Rams are again preparing for the Seahawks in a Week 15 game at CenturyLink Field.
The Rams are 9-4 and atop the NFC West. The Seahawks are 8-5 and in second place.
Those are far different circumstances from last season.
The Rams were 4-9 and had just been routed by the Atlanta Falcons. The next day, Dec. 12, Fisher was fired and Fassel was elevated to coach for the final three games. The Rams lost them all en route to a 4-12 finish, but Fassel said he gained perspective.
"It was just a great experience to be responsible for that couple of weeks when things were bad and just remind myself that I've got to always bring it," Fassel said last week. "Especially when people might need a little help being pulled along the way."
Punter Johnny Hekker laughed, recalling that Fassel rarely was in his office those weeks.
"His world was spinning," Hekker said.
Fassel, who had never been a head coach at any level, continued to coach special teams, and managed timeouts and challenges during the game. He relied on coordinators and position coaches to handle their units.
With only three days to prepare for a Thursday night game, the Rams lost to the Seahawks 24-3. They also lost to the San Francisco 49ers and Arizona Cardinals.
Despite the 0-3 record, Hekker said Fassel took the role in stride.
"He had fun with it and really kind of made the position his own and didn't try to be anything that he's not," Hekker said.
Defensive lineman Michael Brockers recalled Fassel's nerves, but said players bought in, despite the seemingly meaningless games.
"We knew we were out of it but at the same time we didn't want to go out there and give up on your team and your brothers," Brockers said.
Fassel, 43, was one of only three coaches that McVay retained from Fisher's staff and once again has the special teams unit playing at a high level.
In last Sunday's loss to the Philadelphia Eagles, the Rams blocked a punt and returned it for a touchdown. The week before, they blocked an extra point and a field-goal attempt against the Cardinals.
The Rams also returned a kickoff for a touchdown and a blocked punt for a touchdown against the Jacksonville Jaguars in Week 6.
Kicker Greg Zuerlein has made 36 of 38 field-goals attempts and leads the league with 148 points. Hekker is averaging 48.1 yards per punt, and Pharoh Cooper has emerged as one of the NFL's top return specialists, averaging 28.3 yards per kickoff return and 11.9 yards per punt return.
Zuerlein, Hekker and Cooper are among leading special teams vote-getters for the Pro Bowl.
"They know their role is important," Fassel said, "and that they can help influence the outcome of the game in a good or a bad way."
Linebacker Cory Littleton, signed as an undrafted free agent in 2016, credits Fassel's "pain-staking attention to detail" for standout plays.
"He makes sure we focus on every little detail that we can," said Littleton, who has blocked two punts this season. "And all those little things actually help during the game and that's why we honestly look as well as we do."
Fassel was surprised to realize that Sunday's game would mark one year since his stint as interim coach.
With the Rams playing to maintain first place in the division, he said he wasn't sure if he would stop on the sideline Sunday to reflect on last season's situation.
"I think I will be so focused on the game that I wouldn't go back to last year thinking that," he said.
Etc.
The Rams were off Tuesday, and for the second consecutive week they will not practice Wednesday. Last week, because of poor air quality caused by Southland fires, the Rams staged a long walk-through Wednesday but did not practice. McVay said at the time that the rest was valuable for players in the latter part of the season. "With the way that just the natural progression, in terms of what the season does taking a toll on guys, sometimes you do even look into it when you get later on in the season of making it more of a mental approach," McVay said. The Rams were on the field Thursday, Friday and Saturday before losing to the Philadelphia Eagles 43-35. ... There are many moving parts, but the NFL said the Rams can clinch a playoff spot if: The Rams defeat the Seahawks, the Detroit Lions lose to or tie the Chicago Bears, the Green Bay Packers lose to or tie the Carolina Panthers, and the New Orleans Saints lose to New York Jets, and the Atlanta Falcons lose to the Tampa Bay Buccaneers.
Follow Lindsey Thiry on Facebook and Twitter @LindseyThiry
Staff writer Gary Klein contributed to this report.
---
Get our high school sports newsletter
Prep Rally is devoted to the SoCal high school sports experience, bringing you scores, stories and a behind-the-scenes look at what makes prep sports so popular.
You may occasionally receive promotional content from the Los Angeles Times.