Column: Here's my painful Super Bowl pick (sorry, Eagles fans)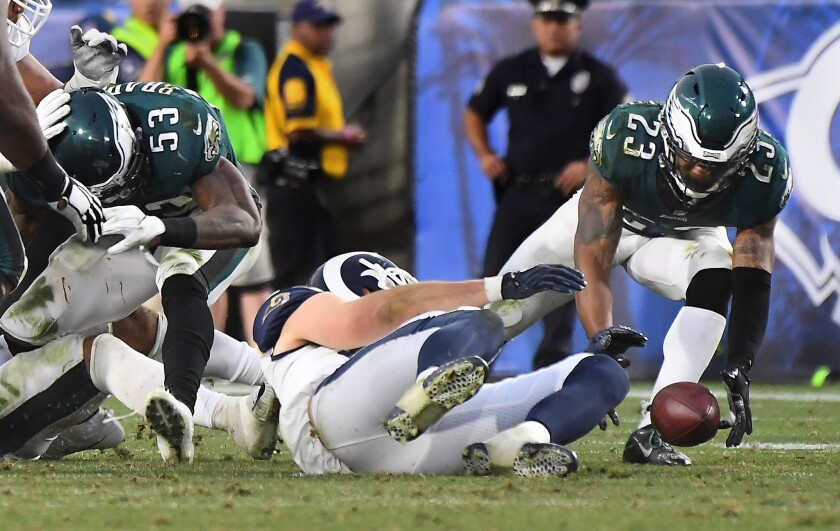 Reporting from Minneapolis —
Before digging into another Super Bowl prediction column that is surely going to bury me, I offer this disclaimer.
I'm really, really, really rooting for the Philadelphia Eagles.
I love that Nick Foles, the backup quarterback who wiped away tears when talking about his family, can be a hero. I love the desperate loyalty of fans so rowdy that this week they were threatened with ejection from the Mall of America. I love that their new team symbol has become a dog mask.
I love that coach Doug Pederson hustles his squad out of meetings to eat ice cream. I love that owner Jeffrey Lurie danced in the locker room after they won a playoff game. I love that defensive end Chris Long has donated has entire $1-million salary this season to charity.
And, honestly? I'm also really, really sick of the New England Patriots.
Did you read my colleague Sam Farmer's great story, "Patriots vs. Everybody?'' I am everybody.
The Patriots are Goliaths with a smirk. They loudly haul in their chips with a wink. They can be honored, but not trusted. They are an exclamation point, but also an asterisk.
Tom Brady is the best quarterback in NFL history, and he's becoming more embraceable with age, but he was still suspended a month for deflating footballs. Bill Belichick might be the best NFL coach ever, but he presided over a spying scandal that cost him a $500,000 fine and a first-round draft pick.
The Patriots could win the Super Bowl for, like, the sixth time in five years, and who outside of New England wants to see that? Most of America is sick of it. Most of America is resigned to it.
The Eagles are underdogs by less than a touchdown, and have a generally better team, but they don't have a starting quarterback, so nobody expects them to win. The Patriots have proved they can become champions with a historic comeback, a last-second field goal, or a goal-line interception, so nobody thinks they can possibly lose.
Except, well, me.
As much as it pains me to do this, because history has proved my Super Bowl predictions to be a big, fat smooch of death, I'm picking the Eagles.
Their defense will rock. Their running game will flatten. Their kid kicker Jake Elliott will hit his seventh field goal of 50-plus yards, they'll win by three, and the city of Philadelphia will party so hard the light poles will shimmy up the back of drunk fans and the police horses will start punching back.
It will be Eagles 27-24, and you have no idea how much I hate writing this sentence.
In my 21 years of covering this game, I have publicly predicted 18 Super Bowls and have been correct three times, and it's even worse than it sounds.
In one stretch, I missed 11 consecutive predictions. I've picked the Buffalo Bills three years in a row. I've picked the Atlanta Falcons both times they lost. I picked San Diego Chargers when they lost by 45.
My record is so bad that I've been told numerous times that bettors looking for an edge consider my failure to be their savior. I'm guessing I've made a lot of money over the years, just none of it for me.
But you know one of three predictions I got right? In 2008, I picked the New York Giants to end the Patriots' undefeated season. You can look it up.
"Today, if only today, the Giants are a better team,'' I wrote then.
I have the same feeling about Sunday. If only for this moment in time, the Eagles have a better team. They are healthier. They are tougher. They are more empowered. They have the same kind of bruising defense that the Giants once used in stopping the unstoppable.
From the moment I saw Foles lead them to a fourth-quarter comeback win against the Rams in the Coliseum in early December — his team rallying around the backup less than two hours after he was thrust into the game because of Carson Wentz's season-ending injury — I was convinced this group was special.
This isn't one of the great Patriots teams, but this is certainly one of the greatest Eagles teams, and Sunday's game will be decided by that difference. As usual in these prediction columns — which is maybe why they're so bad? — I'm forgoing statistics and going with the most basic observations.
Common sense: Foles will be fine. He just needs to not screw up, and he hasn't screwed up in two postseason games. A mediocre quarterback can win this game. Brad Johnson did it. Trent Dilfer did it. Jeff Hostetler was a backup who did it.
Common sense: Brady will get hit, and he doesn't do well when he gets hit. In his last big playoff loss two seasons ago in Denver, he was sacked four times and hit a season-high 23 times. This year's Eagles lead the league with 112 quarterback hits. There is a reason no 40-year-old quarterback has ever won a Super Bowl. We'll soon see why.
Common sense: The Eagles will run well, easing the burden on Foles, wearing down the Patriots, and keeping Brady on the sidelines. They gained 110 rushing yards in their last game against the league-best defense of the Minnesota Vikings. The combination of Jay Ajayi, LeGarrette Blount and Corey Clement can cut the Patriots at all angles.
Common sense: The Patriots will not run well, putting more pressure on Brady. Their running backs gained 43 yards in the AFC championship game against the Eagles-type defense of Jacksonville. The Eagles had the league's top-ranked run defense and allowed just seven rushing touchdowns in 16 games.
Common sense: The Eagles are playing with house money. When Wentz went down, their season was considered finished. They have been underdogs in all three playoff games, even though their first two were at home. Nobody outside of Philadelphia has believed in them for more than a month, leading them to play with a certain reckless joy that often leads to championships.
Common sense: The Patriots are playing on borrowed time. In their two most important wins of the last two seasons, their opponents blew it. In last year's Super Bowl, the Falcons blew it. In this season's AFC championship, the Jaguars — with help from poor officiating — blew it. Falling behind in the fourth quarter is eventually going to catch up to the Patriots. It happens now.
See? It's easy. Eagles win. If loving them is wrong, I don't want to be right.
Get more of Bill Plaschke's work and follow him on Twitter @BillPlaschke
---
Get our high school sports newsletter
Prep Rally is devoted to the SoCal high school sports experience, bringing you scores, stories and a behind-the-scenes look at what makes prep sports so popular.
You may occasionally receive promotional content from the Los Angeles Times.