Column: Oregon, with transfer QB Vernon Adams, has what it takes to reach playoff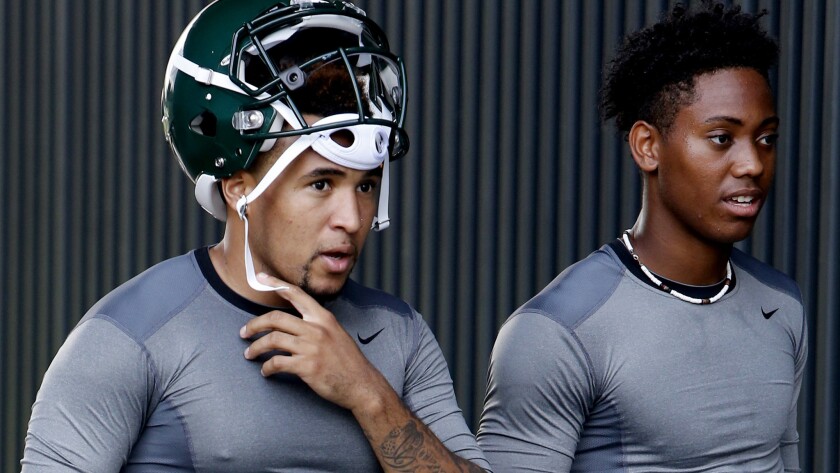 The Times' annual college football countdown continues its march toward No. 1 with the pick for No. 4.
Oregon fans waddled around like nervous ducklings as, earlier this month, Vernon Adams took what might prove to be the most important math exam in Ducks football history.
Social media being what it is, we knew the exact hour Adams was testing, and the tension in Eugene was the football version of the communication blackout endured when astronauts re-entered Earth's atmosphere.
Then, finally, came word from mission control: Adams passed!
Adams is now, officially, a graduate-student transfer from Eastern Washington, where in three years he passed for more than 10,000 yards and scorched two Pac-12 Conference defenses in nonconference games.
Oregon is hoping Adams, who played at Mission Hills Alemany High, is a knockoff of Russell Wilson, the brilliant quarterback who transferred from North Carolina State to Wisconsin and led the Badgers to the Rose Bowl.
Any player would struggle to replace Marcus Mariota, who won the Heisman Trophy last season. "We don't need someone to come in and try to be Superman when they're not," Oregon Coach Mark Helfrich said of his quarterbacks. "We need them to play their role well, utilize the strengths we have on our team, and go."
Adams was listed first on the depth chart Friday, ahead of three-year program veteran Jeff Lockie, with whom he has been competing for the starting job. The players might even share snaps in the opener against Eastern Washington, the school Adams just left.
The important thing is to have the best quarterback ready for Oregon's Sept. 12 game at Michigan State.
Oregon will have more offensive weapons for the opener than it did for last season's national title game, when the Ducks were missing their three top receivers against Ohio State.
Oregon was my preseason No. 1 in the 2014 countdown and led, 21-20, late in the third quarter of the national title game. Ohio State then wore the Ducks out with the relentless rushing of Ezekiel Elliott, who finished with 246 yards and four touchdowns.
There was a huge letdown at Oregon when the team failed to win the title with Mariota, a once-in-a-generation player. But sometimes the payoff comes when you least expect it. Tennessee didn't win the national title with Peyton Manning at quarterback. The Volunteers won it the season after he left, in 1998, with Tee Martin.
It is possible Oregon could be better this season than last. The Ducks have more quality wide receivers than should be allowed. They return Bralon Addison, who missed all of 2014 with an injury, and track star Devon Allen, who was injured on the first play of the Rose Bowl win against Florida State.
Running back Royce Freeman had a sensational freshman year and gives Oregon a power runner to pick up hard yards near the goal line. The team lost Thomas Tyner to a season-ending injury, but there appear to be two or three backs ready to fill the void.
Oregon is real deep and real talented, and the defense might be a lot better than some people think.
There are still concerns about Helfrich, the nice-guy successor to wisecracker Chip Kelly. Some people thought the biggest mismatch in last season's national title game was at head coach.
Mariota may have covered up a lot of shortcomings. We'll soon know just how many.
Top 25 so far: 25. Michigan; 24. Nebraska; 23. Utah; 22 Missouri; 21. Arkansas; 20. Tennessee; 19. Boise State; 18. Oklahoma; 17. Notre Dame; 16. Wisconsin; 15. Georgia Tech; 14. UCLA; 13. Arizona; 12. Florida State; 11. Arizona State; 10. Georgia; 9. USC; 8 Auburn; 7. Clemson; 6. Baylor; 5. Michigan State.
---
Get our high school sports newsletter
Prep Rally is devoted to the SoCal high school sports experience, bringing you scores, stories and a behind-the-scenes look at what makes prep sports so popular.
You may occasionally receive promotional content from the Los Angeles Times.