At this point, Lamar Odom deserves more than to be written off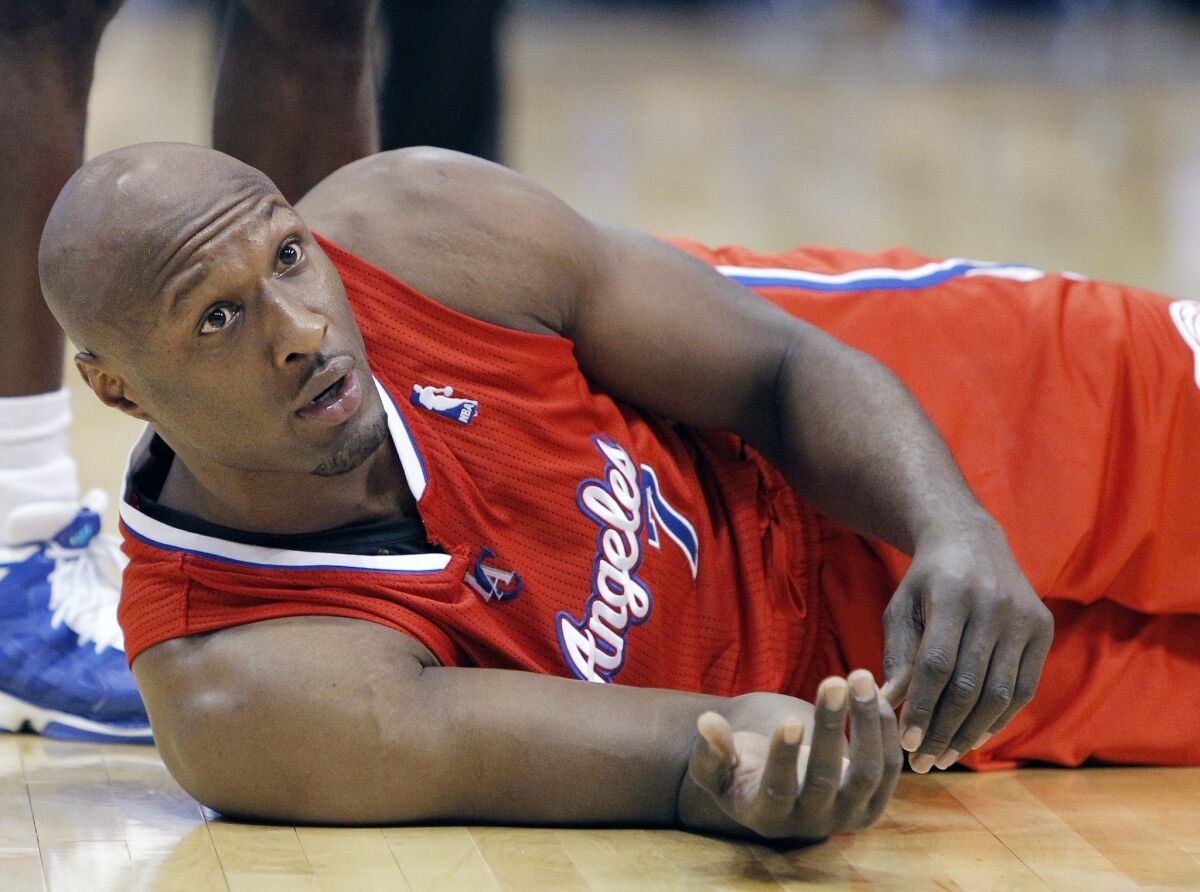 In the wake of recent events, it would be easy to dismiss Lamar Odom.
Nice pro basketball career. Got 14 years out of it, 12 of those in Los Angeles with either the Clippers or Lakers. Made millions, screwed up in the end, so it is over. See ya.
We tend to find these stories all too familiar, and their familiarity nudges our cynicism. Tall kid plays basketball so well it gets him out of a tough neighborhood. His dad is a heroin addict, mom dies of cancer when he is 12. Basketball and the people hanging around him as he becomes a star — some with genuine concerns for him and others with genuine desire to profit from him — become his family.
As he gets taller, en route to 6 feet 10, and his basketball skills get larger too, he keeps getting into messes. Still, the incredible basketball skills warrant him second chance after second chance.
With Odom, the "second chances" count goes into double figures.
He left Nevada Las Vegas after suspicions were raised in a Sports Illustrated article that the college test he took wasn't exactly an accurate measurement of his academic promise. Also, an NCAA inquiry found Odom received payments from a booster.
Odom transferred to Rhode Island and was so good the Clippers made him the No. 4 pick in the 1999 NBA draft.
Life became more affordable, but not easier. Along the way, he has gone through an NBA suspension for substance abuse (allegedly marijuana), lost his 61/2-month-old son to sudden infant death syndrome, was the passenger in a car accident that killed a motorcyclist, and moved on from the Lakers, where he had played significant roles in two championships but was no longer wanted, to the Dallas Mavericks, where he was a bust.
Those are just some lowlights.
Now, after an uneventful but mostly mediocre 2012-13 season with the Clippers, he has apparently hit rock bottom. We have had fender-benders, televised run-ins with photographers, rumors of marital upheaval with wife Khloe Kardashian, and — most seriously — a strange arrest on suspicion of driving under the influence and jailing last week, in which he cruised along for a while before pulling over for police.
The end? If it isn't, we can all see it from here.
Reaction has been both interesting and predictable.
The jelly spines of anonymity, easily gaining a voice these days, descended like vultures to comment at the end of The Times' recent news story of Odom's arrest. One said Odom might soon be "on a freeway ramp, holding up a sign." Another said he would soon be found "pushing a shopping cart, looking for empty bottles."
More scarring was the published quote from "a senior executive with an NBA team," who said bravely, behind his mask of anonymity, "Lamar can't play anymore."
The likelihood is that will be the result. A more accurate statement would have been: "Nobody will take a chance on him to play anymore."
This column is written as a minority opinion.
Odom should get a chance simply because he is a decent person. He is not a prima donna, not a jerk nor egotist. Many visits to Lakers' and Clippers' locker rooms and practices and dozens of conversations may not mean anything, but if the 20th impression is the same as the first, and the first was good, we get a vote.
We aren't saying he has walking-little-old-ladies-across-the-street virtue, although we bet he would. He doesn't rescue kittens out of trees, but he probably would if somebody asked.
Vinny Del Negro coached the Clippers and Odom last season. He was still playing in 2000 and 2001, when Odom was starting out in the NBA. He has had more than enough close encounters to form an opinion.
"He is a good guy, a good teammate," Del Negro said from his home in Phoenix. "Everybody liked him. There were no issues.
"I understand he is going through a lot right now. It is never easy. He has always had some difficult obstacles and they weigh on him a lot. You feel bad, but you hope he is all right."
Odom will be 34 in November. Yet Del Negro, whose contract wasn't renewed after last season and who probably will be doing television commentary this season, disagrees with the "senior executive of an NBA team."
"Lamar can still play," he said. "It's not the basketball skills that are the problem. Once he gets himself in shape and gets his mind wrapped around basketball, he can help somebody."
Del Negro said he hates how quickly people will "knock a guy when he is down." He said he hates all the hearsay — "none of us really knows exactly what is going on" — and said of the executive, "If the guy is that powerful, he should have the guts to use his name."
We see it all in athletes these days. Overpaid clowns who run their mouths while missing a brain; con artists who work overtime on their public image and very little on their games; sulking jocks with little to offer outside the lines and an expectation of canonization.
Odom is none of these. Messed up? Sure. Someone who might have addiction issues? Obviously. Deserving of punishment if it is proved he put others in danger by driving under the influence? Certainly.
But dismissed quickly by all of us, especially many in the NBA? Given no chance of recovery and return? Scorned by a public that recently rooted for and adored him?
Not now. Not yet.
---
Get our high school sports newsletter
Prep Rally is devoted to the SoCal high school sports experience, bringing you scores, stories and a behind-the-scenes look at what makes prep sports so popular.
You may occasionally receive promotional content from the Los Angeles Times.