Cleveland's Jose Ramirez didn't remain overlooked for long
Reporting from GOODYEAR, Ariz. —
Jose Ramirez has always walked the walk.
For as long as the Cleveland Indians third baseman can remember, going back to his childhood in the Dominican Republic, he has moved with a certain swagger — chest slightly puffed out, bounce in his step, arms swinging, head swaying as if he's grooving to his favorite tune.
"I've always been like that," Ramirez, speaking through an interpreter, said with a laugh this spring. "People always ask me, 'Hey, why do you keep walking like that?' They think it's weird. They think it's different. For me, that's how I've always been. This is who I am."
Whether he's strolling through the clubhouse or from the dugout to the on-deck circle, the 5-foot-9, 165-pound Ramirez walks "like he's the most confident guy in here, like he's on top of the world," Indians outfielder Rajai Davis said.
Ramirez, 25, ascended to unfathomable heights in 2017, hitting .318 with an American League-best 56 doubles and 91 extra-base hits, starting the All-Star Game and finishing third in most valuable player voting, ahead of Angels star and perennial MVP candidate Mike Trout.
But the switch-hitter had the same strut when he was an undersized 16-year-old scrambling to get noticed in the Dominican coastal town of Bani, which produced stars such as Vladimir Guerrero and Miguel Tejada.
"That's kind of the way he walked around," said John Mirabelli, the Indians senior director of scouting operations who evaluated Ramirez before Cleveland signed him in 2009. "I don't think he means much by it, or that it's fake. He's not cocky.
"The kid just has no fear. He's always been confident. He's always played with an edge. He had a high motor, even back then. He probably needed that mind set because everyone overlooked him."
Ramirez provides an interesting case study — and perhaps a cautionary tale — for talent evaluators, who, in their efforts to identify players with "high ceilings," might overlook the picture on the wall right in front of them.
A high-profile prospect Ramirez was not. He did not have a projectable body. He was shaped then as he is now, compact and strong but short and small. His raw tools — power, speed, throwing arm — were modest. He rarely started in showcase events, usually entering late, after the premium players got their at-bats.
"He wasn't like a lot of the players down there who are long and lean and underdeveloped," Mirabelli said. "He wasn't really sexy in scouting terms, so he flew way under the radar."
But there was something about Ramirez that continued to ping the screen of Ramon Pena, Cleveland's former chief Latin America scout whom Mirabelli said "deserves all of the credit" for Ramirez's signing.
"Every time he saw him play, the kid was in the middle of everything," Mirabelli said. "He'd have a couple hits from both sides, steal a base, make some plays. He had bat-to-ball skills and could run the bases. He knew how to play the game."
The kid just has no fear. He's always been confident. He's always played with an edge.
John Mirabelli, Cleveland Indians senior director of scouting operations
Ramirez signed for $50,000, a paltry sum in an international-market era in which "there were no restrictions," Mirabelli said. It was Ramirez's only offer.
As Ramirez evolved from a light-hitting utility man in 2015 to break-out major leaguer on a World Series team in 2016 to star on a division winner in 2017, Mirabelli reflected on his evaluation of Ramirez as a youngster and how it might affect how the Indians scout.
"As a scout you run through your mind, 'OK, what was he doing when I saw him back then? What's he doing now? How did he get there? What did I miss?' " Mirabelli said. "There were so many other guys who had more upside.
"But I remember riding back in the car a couple of times, looking over our notes, and saying, 'Geez, he had a couple more hits today, he had a stolen base. He made a lot of hard contact. He didn't swing and miss much. Those kinds of things usually translate."
Mirabelli, in his 19th year with the Indians, thought Ramirez had a chance to reach the big leagues when, as a 19-year-old in the winter after 2012, Ramirez hit .312 with 22 RBIs in 38 Dominican winter league games.
"He played one full season in the minor leagues, and all of a sudden he's in the Dominican at 19 and just hammering big-league and triple-A pitchers," Mirabelli said. "I thought, 'You know what? This guy might be good.' "
But All-Star starter, MVP-contender good?
"No, no," Mirabelli said. "No chance."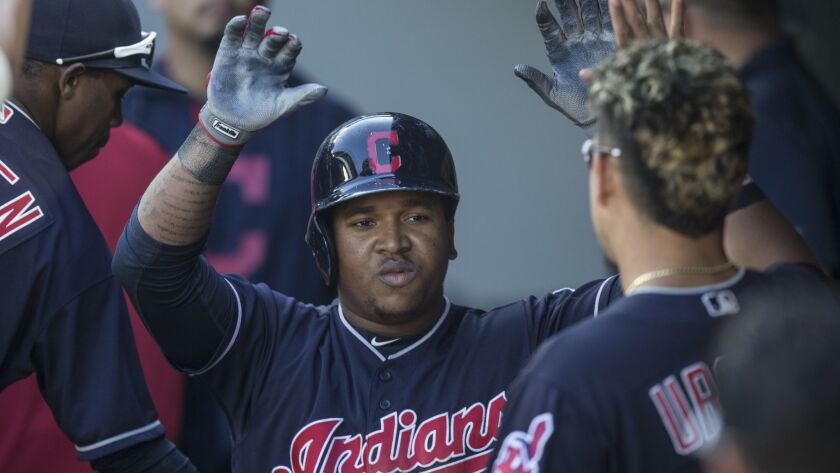 In addition to his .318 average, third-best in the AL last season, Ramirez had a .374 on-base percentage, a .583 slugging percentage, 29 homers, 83 RBIs, 107 runs, 17 stolen bases. He struck out 69 times and had 52 walks.
Were there any indications in his first three years that Ramirez was capable of such a season?
"I don't know that we can honestly say there were," Cleveland manager Terry Francona said. "He came up as a utility player. We had to send him back [to triple-A] a couple of times, and then, man, he came back with a vengeance."
Ramirez hit .312 with 11 homers, 46 doubles and 76 RBIs in 2016, batting in all nine spots. The Indians rewarded him with a five-year, $26-million contract that includes options for $11 million in 2022 and $13 million in 2023.
Ramirez hit fifth and third in 2017, batting .423 (30 for 71) with eight homers and 11 doubles during Cleveland's 22-game win streak in August and September.
"He was hot, and I mean, like, really hot," Francona said. "Extra bases all over the place. Every time you look up, he was on second. He's a really good hitter, but he's also fast enough and runs the bases hard enough that he'll get doubles where other guys will get singles."
The financial windfall of his contract did not affect Ramirez's play in 2017, and he's not about to let the success of last season go to his head in 2018.
"I don't think about the fact I was third in MVP voting or played in the All-Star Game," Ramirez said. "I just keep focusing on what I need to do every day — look for a good pitch and put a good swing on it."
---
Get our high school sports newsletter
Prep Rally is devoted to the SoCal high school sports experience, bringing you scores, stories and a behind-the-scenes look at what makes prep sports so popular.
You may occasionally receive promotional content from the Los Angeles Times.