Pac-12 basketball: Parker Van Dyke's career-high 23 carries Utah over Arizona 83-76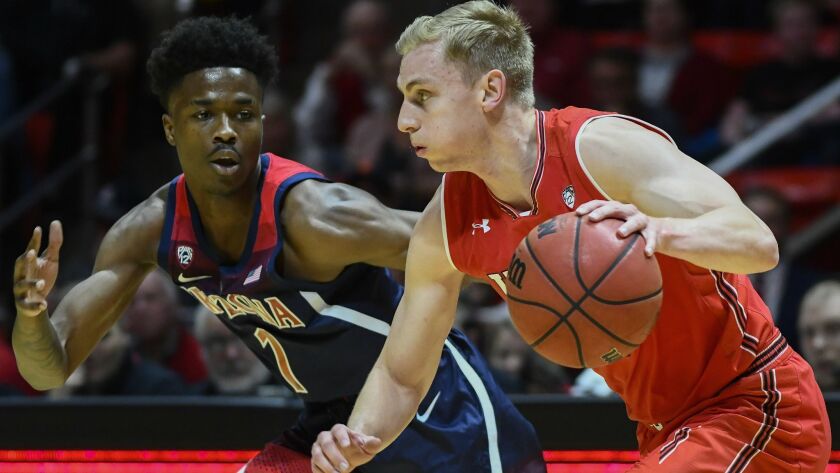 Reporting from Salt Lake City —
Parker Van Dyke may not start but he picked up right where he left off.
One game after capping a 23-point second-half comeback with a buzzer-beater at UCLA, Van Dyke made seven 3-pointers and scored a career-high 23 points and Jayce Johnson also set a career-best with 17 points to help Utah beat Arizona 83-76 on Thursday night.
"A little magic came home with me from Westwood," Van Dyke said. "It was a really fun game and it was great to get a win against Arizona - that's my first one as a Ute."
Van Dyke is a senior but has become a reserve the last three games. Once he got on the court, he made five 3s in a row to help the Utes keep pace in the first half.
"I thought there was something off with my eyes" as the hoop looked so big, Van Dyke joked. "The shot is feeling good. I have a good rhythm and good confidence and my teammates are doing a great job getting me open and getting me shots."
Sedrick Barefield had 15 points and six assists and Timmy Allen scored 14 for the Utes (14-10 overall, 8-4 Pac-12), who have won three in a row and are in second place in the conference. But the story of this victory was the offense of Van Dyke and Johnson, who both average seven points a game.
Dylan Smith scored a season-high 16 points and Ryan Luther had 14 for the Wildcats (14-11, 5-7), who have lost six in a row for the first time since former coach Lute Olson's first season at Arizona in 1983-84.
The Wildcats got within five points in the final minute but Both Gach made four straight free throws in the final 13 seconds to clinch the win.
Neither team led by more than Arizona's 32-26 margin in the first half until Utah went on a 18-2 run in the second half, sparked by Van Dyke's shooting and Johnson's strong play at the rim.
"Parker was on fire," Barefield said. "And Jayce, I'm not surprised. He's one of our hardest workers and he just got it going. He just continues to get better and better."
Johnson's follow basket with 7:03 to play gave Utah a 66-51 lead. Utah's center barely touched the ball on offense in the first half but dominated the paint in the second half, scoring all of his points.
"I was just playing hard and a lot of my points were off offensive rebounds and passes from Sedrick on my rolls," said Johnson, who added 10 rebounds and marked the fifth straight game he has notched double figures on the boards.
Utah didn't score during the first four minutes of the game, until just after Van Dyke checked into the game and hit a shot from the corner.
The Wildcats are 13-2 against Utah since Sean Miller became the head coach at Arizona. The Wildcats outlasted Utah 84-81 in overtime on Jan. 5. Ten of those contests have been decided by single digits.
"They're hitting on all cylinders," Miller said of Utah. "Often times, you judge the November and December by who you beat and what you did. Utah is one of those teams in college basketball that they're better now than they were then."
---
Get the latest on L.A.'s teams in the daily Sports Report newsletter.
You may occasionally receive promotional content from the Los Angeles Times.