College football: Michigan beats Michigan State; Temple rallies to upset No. 20 Cincinnati; No. 5 LSU take down No. 22 Mississippi State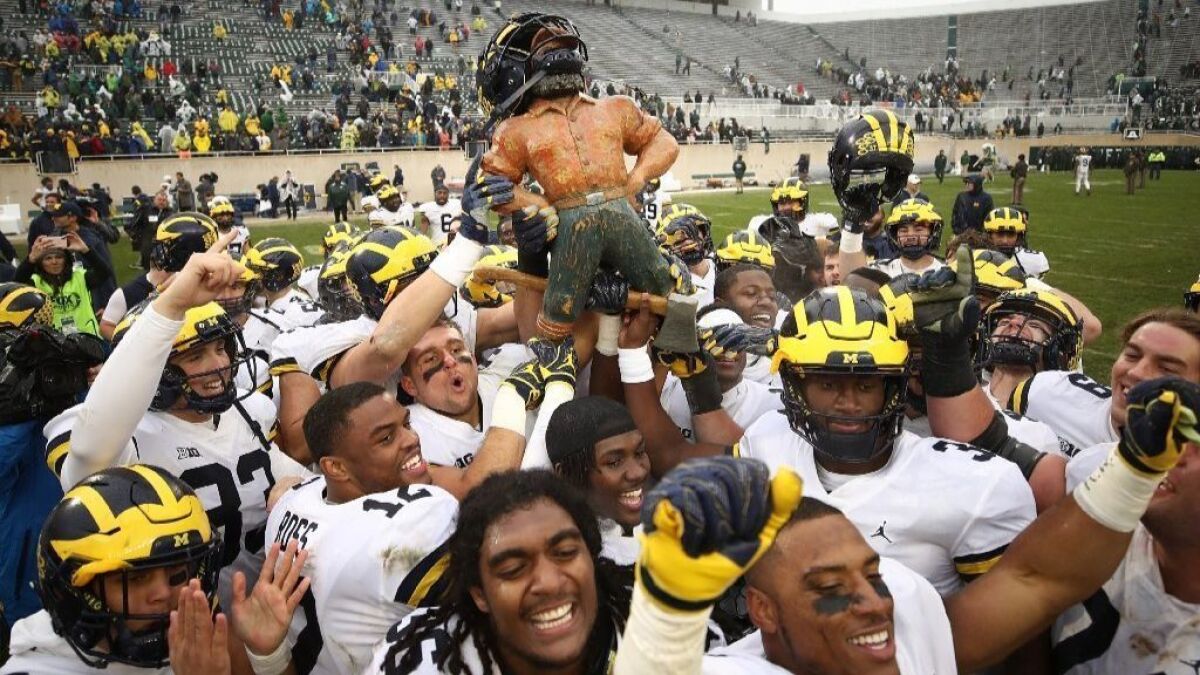 Shea Patterson threw two touchdown passes and No. 6 Michigan earned a desperately needed 21-7 win over No. 24 Michigan State on Saturday.
The Wolverines (7-1, 5-0 Big Ten) had lost eight of 10 against their in-state rivals and those setbacks have led to them not winning a Big Ten title since 2004.
The Spartans (4-3, 2-2) struggled to move the ball, getting held to 94 yards and failing to convert any of its 12 third downs.
Patterson's 79-yard pass to Donovan Peoples-Jones put Michigan ahead late in the third quarter. He converted a fourth-and-2 from the Michigan State 41 early in the fourth, setting up Ben Mason's 5-yard run that gave the Wolverines a 21-7 lead.
The Ole Miss transfer was 14 of 25 for 212 yards and made a successful debut in a series that has been tilted Michigan State's way in part because of poor quarterback play. His 6-yard pass to Nico Collins broke a scoreless tie early in the second quarter and was Michigan's first touchdown throw against the Spartans since 2011.
Michigan State needed a fumble deep in Michigan territory and a trick play to score once.
at No. 5 Louisiana State 19, No. 22 Mississippi State 3: Michael Divinity Jr.'s interception set up Nick Brossette's short touchdown run, Cole Tracy kicked four field goals, and No. 5 LSU beat No. 22 Mississippi State 19-3 on Saturday night.
Still, the Tiger Stadium crowd left angry after LSU's top linebacker, Devin White, was ejected for targeting in the fourth quarter, meaning he will not be eligible to play in the first half of the Tigers' upcoming showdown with unbeaten and top-ranked Alabama.
White appeared to lower his head as he leveled quarterback Nick Fitzgerald a moment after he released a pass that was intercepted by defensive back Kristian Fulton. The targeting penalty wiped out the turnover, and LSU's celebrations also drew two flags for unsportsmanlike conduct, resulting in 45 yards in penalties on one play.
at Temple 24, No. 20 Cincinnati 17: Anthony Russo threw a tying, 20-yard touchdown pass with 49 second left to Brandon Mack, and then a 25-yard TD to Isaiah Wright in overtime as Temple handed No. 20 Cincinnati it first loss, 24-17 on Saturday.
Russo was 20 for 41 for 237 yards passing, with three touchdown passes and three interceptions for the Owls (5-3, 4-0 American). He led a seven-play, 75-yard drive in the closing minutes to tie the game with the TD to Mack.
Cincinnati (6-1, 2-1) got a first down on its first play of overtime, but an errant snap behind quarterback Desmond Ridder left the Bearcats with second-and-21 and a personal foul pushed them even further back. Ridder was intercepted on third-and-36 by Shaun Bradley to end the game.
Temple receiver Randall Jones caught five passes for 67 yards and scored a touchdown.
The Bearcats dominated the middle quarters after falling behind 10-0.
Cincinnati's Michael Warren II and Charles McClelland combined for 202 yards on the ground.
McClelland's 42-yard dash with 6:09 left in the third quarter broke a 10-10 tie and gave the Bearcats their first lead. Warren had 132 yards on 25 carries and scored a 24-yard touchdown in the first quarter.
Ridder was 14 for 33 for 111 yards.
The Bearcats picked off Russo twice in the final six minutes, but Temple's defense kept holding and giving the offense a chance. Temple got the ball back after a Cincinnati punt with 2:37 to play and Russo took over from there for a tying drive.
No. 10 Central Florida 37, at East Carolina 10: Darriel Mack Jr. stepped in for Heisman Trophy hopeful McKenzie Milton and rushed for 120 yards and a touchdown, and No. 10 UCF forced five turnovers in beating East Carolina 37-10 for its 20th straight victory.
Nate Evans returned a fumble 94 yards for a momentum-changing touchdown with 10:07 left, Greg McCrae added a 74-yard TD run and the Knights (7-0, 4-0 American Athletic Conference) turned all those takeaways into 24 points.
UCF — which was outgained 496-427 — went up 20-3 by scoring on four consecutive possessions in the second quarter, then made it a full-fledged rout with those late big plays.
at No. 19 Iowa 23, Maryland 0: Nate Stanley threw for 86 yards and a touchdown and 19th-ranked Iowa pummeled Maryland 23-0 on Saturday for its third straight victory.
Anthony Nelson added a TD on a fumble recovery for the Hawkeyes (6-1, 3-1 Big Ten Conference), whose defense held the Terrapins to just 115 yards and seven first downs on a day when wind gusts topped 40 mph.
After settling for a pair of short field goals, Iowa went into halftime ahead 13-0 after Stanley found Brandon Smith for a 10-yard TD grab — which Smith made with one hand — with eight seconds left in the second quarter.
Nelson, a defensive end, made it 23-0 Hawkeyes late in the third quarter by falling on a botched handoff from backup quarterback Tyrrell Pigrome in the end zone.
No. 1 Alabama 58, at Tennessee 21: Tua Tagovailoa threw touchdown passes to four receivers and No. 1 Alabama started fast again in a 58-21 victory over Tennessee on Saturday.
Alabama had touchdowns on its first four possessions while outscoring Tennessee 28-0 and outgaining the Volunteers 217-6 in the opening period. Alabama has outscored opponents 165-31, and Tennessee has been outscored 69-16 in first quarters this season.
Tagovailoa went 19 of 29 for 306 yards before leaving midway through the third quarter with Alabama ahead 51-14. He took a big hit on his final play of the day, a 51-yard touchdown pass to Henry Ruggs III.
at No. 3 Clemson 41, No. 16 North Carolina State 7: Trevor Lawrence came in wanting to leave little doubt about No. 3 Clemson's championship goals this season and about his ability to take the Tigers there.
He accomplished both Saturday in a 41-7 rout of No. 16 North Carolina State, helping Clemson dominate the showdown between the Atlantic Coast Conference's last remaining undefeated teams.
"We just didn't want to leave any doubt that the game should've went a certain way," Lawrence said. "It was clear how we won the game by a good bit."
And it was clear Lawrence, the strong-armed, long-haired freshman, has the goods to keep the Tigers out front.
No. 9 Oklahoma 52, at TCU 27: Kyler Murray threw four touchdowns, Kennedy Brooks and Trey Sermon both had 100-yard rushing games with scores and ninth-ranked Oklahoma rebounded from its only loss this season by beating TCU (3-4, 1-3) for the third time in 11 months, 52-27 on Saturday.
The Sooners (6-1, 3-1 Big 12) won their 18th consecutive true road game, never trailing after scoring touchdowns on each of their first four drives in their first game since losing to Texas two weeks ago.
Brooks ran for 168 yards on 18 carries with an early 21-yard TD. Sermon ran 17 times for 110 yards and scored twice before walking gingerly off the field after being tended to by trainers with about eight minutes left.
at No. 14 Kentucky 14, Vanderbilt 7: Benny Snell Jr. rushed for 169 yards, including the go-ahead 7-yard run with 8:04 remaining that helped No. 14 Kentucky pull away for a 14-7 victory over Vanderbilt on Saturday night.
The Wildcats (6-1, 4-1 Southeastern Conference) clinched bowl eligibility for a third consecutive season and stayed in contention in the East division with their third straight victory over the Commodores (3-5, 0-4). But it took linebacker Kash Daniel's fourth-down forced fumble that Quinton Bohanna recovered at the 20 midway through the fourth quarter to jump-start Kentucky from game-long inconsistency.
No. 18 Penn State 33, at Indiana 28: Trace McSorley passed for 220 yards, ran for 107 and had a hand in three touchdowns in No. 18 Penn State's 33-28 victory over Indiana on Saturday.
Penn State (5-2, 2-2 Big Ten) rallied to snap a two-game losing streak after Indiana (4-4, 1-4) took a 21-20 lead in the third quarter on Steve Scott's 3-yard touchdown run.
Johnathan Thomas took the ensuing kickoff back to the Indiana 5, setting up McSorley for the go-ahead touchdown on the next play.
at No. 21 South Florida 38, Connecticut 30: Johnny Ford rushed for 164 yards and three touchdowns to help No. 21 South Florida shrug off a slow start to remain unbeaten with a 38-30 victory over Connecticut on Saturday night.
Ford scored on runs of 15, 15 and 43 yards. He also set up a second-half field goal with a 78-yard burst, helping the Bulls (7-0, 3-0 American Athletic) pull away from a 7-7 halftime tie and match the best start in school history.
Blake Barnett threw for one TD and ran for another for USF. Jordan Cronkite, the nation's third-leading rusher at 151.4 yards per game, finished with 103 yards on 16 attempts for his school record-tying fifth consecutive 100-yard game.
at No. 23 Wisconsin 49, Illinois 23: Jonathan Taylor rushed for 159 yards and Taiwan Deal ran for 111 yards and two touchdowns as No. 23 Wisconsin took advantage of five first-half turnovers to rout Illinois 49-20 on Saturday.
Wisconsin (5-2, 3-1 Big Ten), which has won nine straight against Illinois (3-4, 1-3), had three interceptions and recovered two fumbles on the way to building a 28-10 halftime lead. Alex Hornibrook, coming off an awful outing in a loss at Michigan last week, threw two touchdown passes and two interceptions.
In other games:
- JaTarvious Whitlow rushed for 170 yards on 19 carries as Auburn scored on three consecutive touchdown drives to open the third quarter Saturday and defeat Mississippi 31-16. The win snapped a two-game losing streak for the Tigers (5-3, 2-3 Southeastern Conference), who broke open a 10-6 halftime lead with the second-half surge. Auburn rolled up 484 yards in total offense in a turnover-free performance.
- Isaiah Bowser scored on a 5-yard run with 8:12 to play and Northwestern (4-3, 4-1 Big Ten) avoided a major letdown by converting two fourth-downs plays on the game-winning drive to defeat struggling Rutgers 18-15 on Saturday. won their third straight game by rallying from an eight-point third-quarter deficit. Clayton Thorson hit Flynn Nagel on a 2-point conversion pass after Bowser's go-ahead run. Rutgers (1-7, 0-5) lost its seventh straight game.
- Bryce Perkins passed for 189 yards and a touchdown to help Virginia beat Duke 28-14 on Saturday afternoon. Perkins also rushed for 61 yards and two scores for the Cavaliers (5-2, 3-1 Atlantic Coast Conference), who won for the fourth time in five games.
- Anthony Lawrence threw four touchdown passes, including the 100th of his career, and San Diego won its 25th straight Pioneer Conference game, 42-13 over Butler on Saturday. Lawrence completed 22 of 28 passes for 390 yards with the four scoring passes giving him 20 on the season and 101 in his four years as a starter for the Toreros (5-2, 4-0).
- Darnell Woolfolk scored on a bruising 7-yard run up the middle in the second overtime, sophomore quarterback Cam Thomas rushed for 137 yards and one touchdown in his first career start, and Army held off Miami of Ohio 31-30 on Saturday. Army (5-2) remained unbeaten at home this season and extended its winning streak at Michie Stadium to 10 games. Miami (3-5) had won two straight and three of four after beginning the season with three straight losses.
- Tommy DeVito, in relief of a struggling Eric Dungey, hit tight end Ravian Pierce on a 4-yard scoring play in the second overtime and Syracuse defeated North Carolina 40-37 on Saturday. DeVito, who entered the game in the fourth quarter, sent it to overtime with a 42-yard touchdown pass to Nykeim Johnson with 1:39 to go. Syracuse (5-2, 2-2 ACC) appeared to be on its way to a third straight loss until DeVito's heroics. North Carolina (1-5, 1-3) rallied from a 20-7 deficit to take a 27-20 lead with 10 minutes to go but dropped its third straight game.
- D'Eriq King threw for 413 yards and three touchdowns, ran for a score and deftly directed a Houston attack that amassed 574 yards in a 49-36 victory over Navy. Marquez Stevenson caught eight passes for 141 yards and had a rushing TD to help the Cougars win their fourth straight. Houston trailed 24-14 in the second quarter before storming back to hand Navy its fourth consecutive defeat.
- Nebraska built a four-touchdown lead in the first half and survived some nervous moments in the second before pulling away to beat Minnesota 53-28, giving Scott Frost his long-awaited first win as Cornhuskers coach and ending a program-record 10-game losing streak. A week after squandering a late 10-point lead at Northwestern and losing in overtime, the Huskers scored on three of their first four possessions on their way to a 28-0 lead.
- Cam Akers had two touchdown runs, including a 58-yarder, and Deondre Francois threw for a season-high 353 yards as Florida State bounced back from a sloppy start and scored 38 straight points in a 38-17 win over Wake Forest.
Other scores:
at Utah 41, USC 28
at UCLA 31, Arizona 30
at No. 25 Washington State 34, No. 12 Oregon 20
at No. 15 Washington 27, Colorado 13
California 49, at Oregon State 7
at Purdue 49, No. 2 Ohio State 20
Akron 24, at Kent State 23, OT
at Appalachian State 27, Louisiana Lafayette 17
at Arkansas 23, Tulsa 0
Coastal Carolina 24, at Massachusetts 13
Eastern Michigan 42, at Ball State 20
at Florida International 36, Rice 17
Fresno State 38, at New Mexico 7
at Louisiana Monroe 20, Texas State 14
at Louisiana Tech 31, Texas El Paso 24
at Marshall 31, Florida Atlantic 7
at Middle Tennessee 21, Charlotte 13
at Missouri 65, Memphis 33
at Ohio 49, Bowling Green 14
Old Dominion 37, at Western Kentucky 34
Southern Methodist 27, at Tulane 23
at Southern Mississippi 27, Texas San Antonio 17
at Texas Tech 48, Kansas 16
Toledo 31, at Buffalo 17
Utah State 24, at Wyoming 16
Western Michigan 35, at Central Michigan 10
Get our high school sports newsletter
Prep Rally is devoted to the SoCal high school sports experience, bringing you scores, stories and a behind-the-scenes look at what makes prep sports so popular.
You may occasionally receive promotional content from the Los Angeles Times.