An estimated 25 horses die in fires at San Luis Rey Downs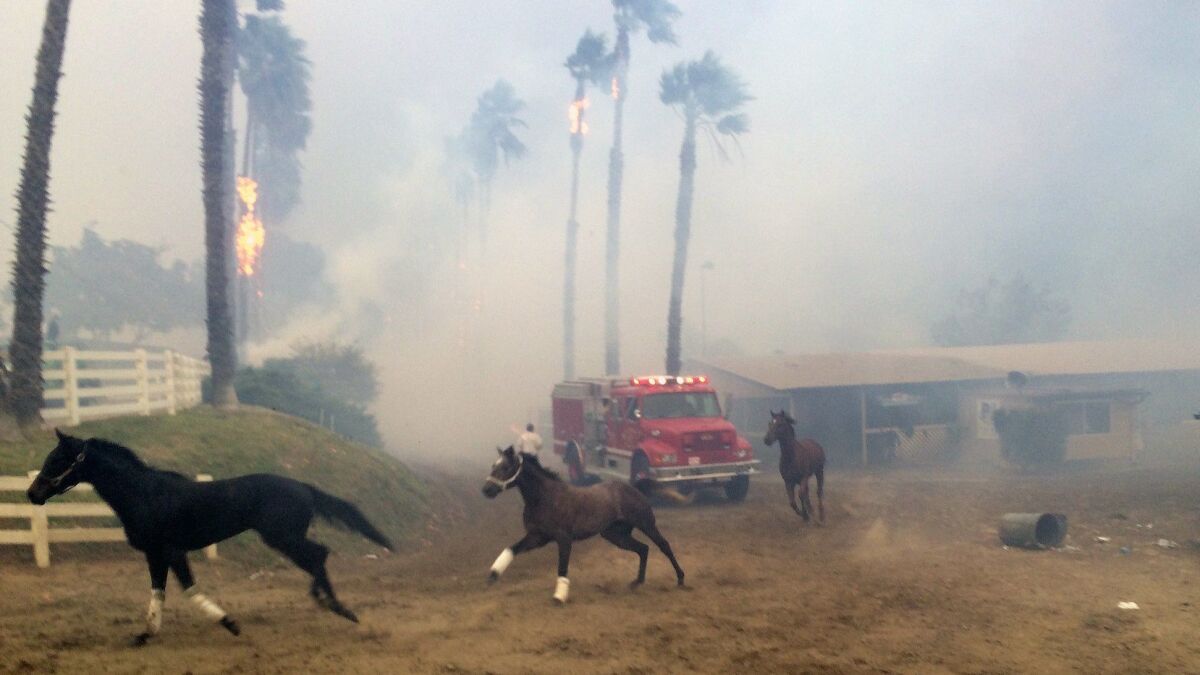 A day after the devastating fire that swept through part of the San Luis Rey Downs training site, saddened and sickened horsemen were trying to keep up their spirits amid a blackened area that one trainer described as a war scene.
Late Thursday afternoon a wind-driven fire descended on this 500-stall facility for thoroughbreds. The threat was there but not menacing, until it hit. As a precaution, some horses were being transported to Del Mar in the morning and early afternoon, some 35 miles away from this north San Diego County property, but no one expected the speed with which the fire would hit.
"It went from one minute being, 'Yeah, we're going to be OK,' to 'Oh, my God, what are we going to do?'" said trainer Doug O'Neill, who was repeating the words of his chief assistant Leandro Mora, who was there when the fire hit.
Sign up for our free horse racing newsletter!
It was originally estimated that 25 horses died in the fire or of fire-related injuries, although some on the scene fear it will go higher than 30.
The only known serious human casualty was trainer Martine Bellocq, who suffered second- and third-degree burns over 50% of her body, according to Jeremy Balan of Bloodhorse. She was taken by helicopter to UC San Diego Medical Center, where she was placed into a medically induced coma.
She was injured trying to rescue her six horses. Three perished and three are unaccounted for.
Trainer Cliff Sise, a regular on the Southern California circuit, said he saw about 10 horses die, including one of his fillies.
"It was dark, everything was hot and she wouldn't come out," Sise told KFMB-TV in San Diego. "I opened the pen and tried to get behind her and get her out, and she wouldn't get out. She burned to death that quick."
Trainer Scott Hansen fears he may have lost as many of 10 of his 30 horses.
"I don't know the extent of the damage," Hansen told the Daily Racing Form. "I know I lost horses. I had 30 horses. My guy estimates at least eight to 10 didn't make it. That's a guess.
"They were dropping the webbings to get them out of there. The palm trees caught fire above the barn. All hell broke loose real quick."
Much of Thursday was spent with trainers and owners trying to find their horses. When the fire hit, many horses were just pushed from the barns and allowed to run free. The hope was to get them to the training track, which has no structures that could burn.
O'Neill had 46 horses at the training track and said all but 10 were accounted for.
"We're optimistic that they will be found," O'Neill said. "It's just so emotional that you have to keep going and think about doing good."
Most of the damage was to the lower level of the facility, which is now reduced to blackened ground and debris.
"It's like a horrible war scene," O'Neill said. "It's beyond words of the devastation that the fire wreaked."
Virtually all the surviving horses were taken to Del Mar, which saw its equine population grow to about 800.
"We took in racing and non-racing horses," said Mac McBride, head of media relations for Del Mar. "Also, goats, pigs and all sort of other four-legged creatures."
It's expected that Del Mar will morph into a training facility until San Luis Rey can be repaired and rebuilt.
Los Alamitos canceled its eight-race Friday card to allow racetrack personnel to mourn and relocate their horses. Racing will resume Saturday.
"This is a tragic blow to the California thoroughbred racing industry and of great sorrow to everyone," said Jack Liebau, vice president of the Los Alamitos Racing Assn.
"We express our sympathy to the owners, trainers and caretakers of the horses victimized by this tragic event. We salute those who so bravely attempted to safeguard horses at San Luis Rey Downs in the face of the swiftly approaching fire as well as those who transported horses to Del Mar under hazardous conditions and those who went to Del Mar to aid the horses moved there."
San Luis Rey became vital to the Southern California racing scene when Hollywood Park was closed. It's 500 stalls eased the housing situation for horses. Some trainers use San Luis Rey to rest and rehabilitate horses that aren't actively racing and others use it as the primary barn facility, transporting the horses to Del Mar, Santa Anita and Los Alamitos when they raced.
In addition to the displaced horses, scores of backstretch workers who care for the horses have also been displaced. Santa Anita has started a clothing campaign and the Stronach Group has started a Go Fund Me account with a goal of $100,000.
---
UPDATES:
9:30 a.m.: Updated with new details, death toll estimates and additional comments from trainers.
This post was originally published at 6:50 a.m.
Get our high school sports newsletter
Prep Rally is devoted to the SoCal high school sports experience, bringing you scores, stories and a behind-the-scenes look at what makes prep sports so popular.
You may occasionally receive promotional content from the Los Angeles Times.