Calabasas High's Johnny Wilson isn't your typical 6-foot-6 receiver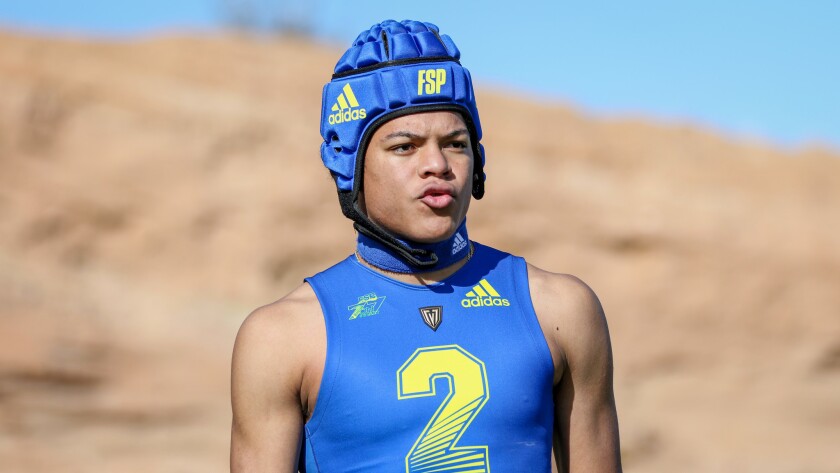 Johnny Wilson's regular seven-on-seven team wasn't participating in the Pylon 7v7 championship series in Mesquite, Nev. So, the Calabasas High receiver called fellow national recruit Sav'ell Smalls to see if his team might have room for a 6-foot-6 playmaker.
The Ford Sports Performance team Smalls plays for is based in Seattle, but the FSP Blue Chip team invited Wilson to team up with one of the top offensive units in the nation.
Wilson was used sparingly early in the tournament. Washington quarterback commit Sam Huard had Ohio State receiver commit Gee Scott Jr. to throw to as well as one of the top running backs (Sam Adams) and tight ends (D.J. Rogers) in the nation.
Wilson's opportunities increased as the weekend tournament progressed. He showed why he's such a dynamic pass catcher, running by defenders and jumping over them to snag throws in jump-ball situations.
"I'm a big receiver but at the same time I'm not the typical slow receiver," Wilson said. "I'm not slow. I can run some pretty routes."
He showed that by scoring several times in the final stretch of bracket play, playing a pivotal part in helping FSP Blue Chip win the title.
The 247Sports composite five-star receiver is being recruited hard by programs that hope his addition could lead them to titles as well. In January, Wilson narrowed his recruiting focus to Ohio State, Oregon, Texas, UCLA and Washington.
"This recruiting process, the decision, it's creeped up on me and it came up a lot faster than I thought it would," Wilson said. "I had to sit down with my family and really consider decision time is coming up soon, so we got to start narrowing my options down. Seeing what's really best for me and everything."
Wilson is looking into how each of his final schools uses receivers, particularly tall ones. He's enamored with the way Texas has deployed Collin Johnson, who has the same 6-6, 220-pound measurements as Wilson.
"It's something that I haven't seen ever since I started playing football," Wilson said of Johnson's usage. "And Washington, they got a couple of big receivers there, so seeing how they use them and how they can fit into that offense is something that I'm really looking into, same with the other schools too."
Wilson has been in contact with Texas, Washington and UCLA most frequently, calling communication with the Bruins "an everyday thing." He said his decision will likely come in December when the NCAA's early-signing period opens.
"It's going to be a difficult decision," Wilson said. "But at the end of the day, I'm going to have to do what's best for me and my family, and what's going to help me for the bigger picture."
McKibbin finds a home
Blaze McKibbin bounced from Gardena Serra to Westlake searching for a home going into his senior year. He settled at Anaheim Servite with the intent to show that he could compete against the nation's best in the Trinity League. The 6-5 quarterback added weight and showed solid mechanics and arm strength, but his recruitment never gained traction.
McKibbin had early offers from San Jose State, Nevada, Cincinnati and Louisiana. Those programs landed quarterback commitments and his options shrank. He didn't sign when the February signing period opened.
McKibbin found a new home Monday, announcing on Twitter that, "After speaking with Coach [Jeff] Tedford and his fine staff, I am proud to say that I am now a Fresno State Bulldog."
Under Armour All-American invites
Two more Southland wideouts were invited to participate in the Under Armour All-American game in Orlando in January. Los Angeles Cathedral's Chad Johnson and LV Bunkley-Shelton of Gardena Serra will join Calabasas receivers Jermaine Burton and Wilson, who committed to the game last month.
---
Get the latest on L.A.'s teams in the daily Sports Report newsletter.
You may occasionally receive promotional content from the Los Angeles Times.