Kurt Busch's Daytona 500 win is a great start — but can he finish the season No. 1?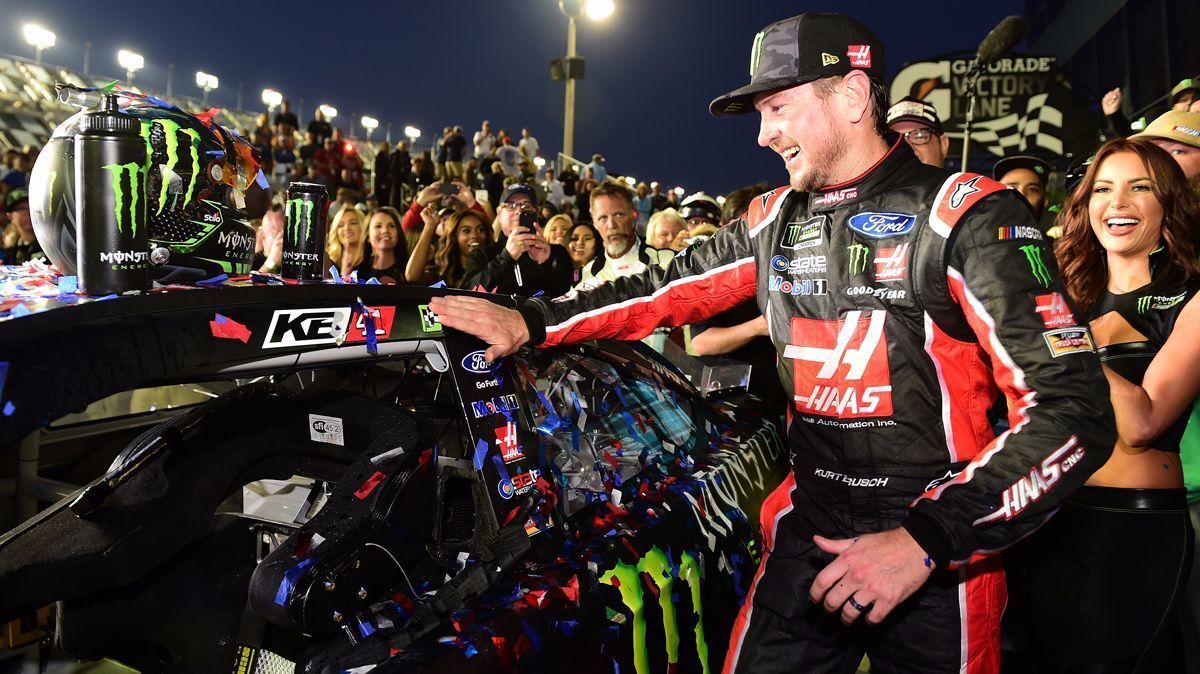 Since the racing heyday of Richard Petty — in which he won the Daytona 500 and the NASCAR season title in the same year four times (1964, 1971, 1974 and 1979) — just one driver has managed to start the schedule with a 500 victory and finish the nine-month adventure with a season championship. And Jimmie Johnson did it twice — in 2006 for his first season title and in 2013 for his sixth.
Meanwhile, a defending season champion twice has won the 500 to kick off the subsequent campaign, and that double occurred in consecutive years. Jeff Gordon won the 1998 season title and then the 500 in 1999, the year Dale Jarrett wound up with the crown before taking 2000's Daytona opener.
Either way, it's a tough ticket that only Johnson — last year's season champ who finished 34th on Sunday after being derailed in an accident — has been able to punch in NASCAR's postseason era.
So Kurt Busch, a season champ himself in 2004, faces formidable odds staying atop the standings for the rest of year after his first Daytona 500 victory, on Sunday, gave the Outlaw a 12-point first-place lead over runner-up Ryan Blaney. (In NASCAR's newfangled regular-season standings, some points are awarded to a driver for winning either of the first two segments of a race.)
"It's surreal," Busch said. "Wins are hard to come by … but to win the Daytona 500, it's hard to put into words. It's beyond belief, really."
Season championships also are extremely challenging. Busch's playoff crown 13 years ago carries a distinct label. It's the last time Ford won NASCAR's premier circuit. So with Stewart-Haas Racing (Busch, Kevin Harvick, Danica Patrick and Clint Bowyer) shifting over from Chevrolet this season, Ford could not have had a much better start to 2017.
"We are so proud of this result and the teamwork you saw today out on that track with everyone working together from Ford," said Dave Pericak, Ford Performance's global director, after six Fusions posted top-10 finishes. "We dominated early and then had some bad crashes that took some of our cars out, but what a way to win it at the end. Ryan Blaney did a fantastic job and SHR in their first outing with Ford, to get this win, we could not be any happier as an organization right now."
Thanks to Busch's victory, Stewart-Haas managed an average finish of 17.5 (Bowyer 14th, Harvick 22nd and Patrick 33rd).
Sunday's scoring tower tally didn't go Toyota's way. Just one top-10 finisher — retiring two-time 500 champ Michael Waltrip — piloted a Toyota. Four of the final five in the 40-car field were Camrys, including those guided by Joe Gibbs Racing stars Matt Kenseth (40th) and Kyle Busch (38th).
Among the three largest powerhouse teams, Joe Gibbs Racing posted the poorest average finish — 31st. Defending race champ Denny Hamlin wound up crossing the finish line in 17th and heralded young Mexican driver Daniel Suarez was relegated to 29th after an accident in his initial Monster Energy NASCAR Cup Series outing.
Hendrick Motorsports' four Chevys came away with an average finish of 23, boosted by Kasey Kahne's seventh place along with Chase Elliott's out-of-fuel 14th but weighted down by accidents that wrecked Johnson and Dale Earnhardt Jr. (37th).
Penske Racing's two Fords, driven by Joey Logano (sixth) and Brad Keselowski (27th after getting caught up in an accident) came in with an averaged showing of 16.5.
Down the road
Just as winning the 500 seldom is a predictor of tremendous sustained success that season for the winner, the dicey restrictor-plate dynamics can lead to odd conclusions. Consider the first four finishers and the final four finishers. The two groups? Kurt Busch, Blaney, A.J. Allmendinger and Aric Almirola on one end; Earnhardt, Kyle Busch, Erick Jones and Kenseth on the other. Ordinarily, where would you expect to see such foursomes?
Starting Sunday in Atlanta, where Johnson has won the past two years, the Cup Series will have eight races — including its March swing through Las Vegas, Phoenix and Southern California — before its second of four annual restrictor-plate sojourns, this one on May 7 at Talladega in Alabama. By then, maybe the drivers and teams will have a better concept of how to mesh plate-racing with the new points system after 15 cars (37.5% of the field) on Sunday got knocked out by accidents.
"Daytona and Talladega are going to be the extreme," Allmendinger said, "because it comes down to trying to get your track position. You see people lay back. Now with the stages, there's points on the line."
Get our high school sports newsletter
Prep Rally is devoted to the SoCal high school sports experience, bringing you scores, stories and a behind-the-scenes look at what makes prep sports so popular.
You may occasionally receive promotional content from the Los Angeles Times.