The NBA's longest-tenured teammates embody the spirit of their team
Reporting from Memphis, Tenn. —
It doesn't normally happen like this, the best players on a team so intertwined with the city in which they play. But in a league in which stars hunt for the best situations and most compatible rosters, the special relationship between Memphis and the two best Grizzlies happened organically, the men even helping to put into words the attitude of their adopted home.
"Grit and Grind" has become more than a marketing slogan in the nearly eight years since Grizzlies guard Tony Allen coined the phrase during a postgame interview. It's become a shorthand way to describe the attitude of an entire city.
Embodying it are guard Mike Conley and center Marc Gasol, the NBA's longest-tenured teammates who have enjoyed a bond since their first practices because of a shared set of values.
"We were on a young team, full of guys who wanted to show that they could play and that they were worth something. Marc and myself, we just were worried about how we were going to win a game," Conley told the Times. "We felt like we were on the same page. We didn't care about how many shots we were getting. We were just trying to do the right things to win.
"And because of that attitude and that mindset, we kind of bonded."
In their 11th season together, a number Gasol says proudly, the Grizzlies are a threat for their seventh trip to the postseason thanks largely to their veterans. Conley, who missed almost all of last season because of a heel injury, is averaging 20.3 points and 6.5 assists — both near career bests. Gasol, long regarded as one of the best defensive centers, has evolved into a three-point threat while tutoring 19-year-old rookie Jaren Jackson Jr.
Both do their jobs with more toughness than flash and both do it with little recognition. Conley has never been selected for an All-Star game. Gasol has been to three All-Star games while getting selected to a pair of All-NBA teams.
Memphis has been the perfect place for them to work.
"It's a place where the city and the players share a mindset and the same image," Gasol said. "You think of the city, its mindset and what the culture stands for and what the Grizzlies stand for, it's kind of a perfect match."
Even with the league becoming less "grit and grind" and more "run and shoot," Memphis is squarely in the middle of the pack in the Western Conference playoff hunt thanks to its slow-it-down, defensive style.
Entering Friday night, Memphis' defense was fourth best in the NBA while its offense ranked in the bottom five in efficiency. It's not a recipe for winning in the modern NBA — and yet, the Grizzlies have been pulling it off.
With its offensive limitations, Memphis needs to ace the other aspects that go into winning. Things like attitude and chemistry are no issue with Memphis' joint leadership.
"You never see these guys fight over whose team it is," said veteran Garrett Temple, who is in his first season with Memphis. "I never heard it, and I haven't seen it here. I think that goes back to their personality. It's no one's [team]. It's theirs."
Toughness is valued at a premium. Make a game-changing play, draw a charge, do the little things and a player gets rewarded with a sticker that is affixed to a basketball in each locker. It's a football tradition, which makes sense because the Grizzlies have played with the physicality of a football team for years.
"The way we play the game, we think it's the right way. That's a constant," Conley said. "It's something that's necessary. For basketball to work, you have to do these certain things and do them consistently. And if you do them consistently enough, regardless of the trends of the league, you're going to be in there and have an opportunity to be successful."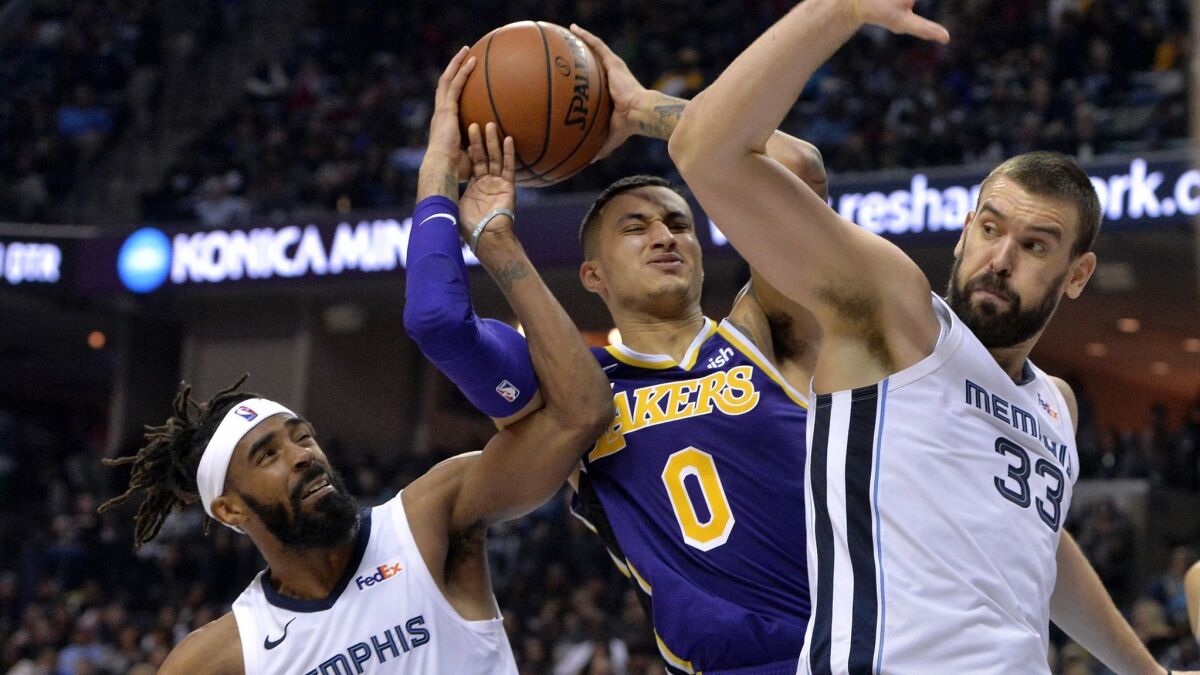 The path forward is a little murky, though. Gasol, who turns 34 in January, can opt out of the final year of his contract to join a crowded free-agency crop that could include centers Al Horford, DeMarcus Cousins and Nikola Vucevic.
Gasol, despite his age, is still an interesting option for teams looking for a floor-spacing big man who can facilitate offense with pinpoint passing. But it's hard to imagine him separated from Conley.
The two sit next to one another on flights, go to dinners and see movies on the road, and both made lives for themselves in Memphis.
"We've been through the same things, on the court and off the court as well," Gasol said. "We've been through the same processes, becoming a good team, becoming really good players from being role players. Some things haven't changed for us on the court — what we've stood for has always remained the same and we've always had each other's back. And we went through the same things off the court. We both got married, had kids.
"You kind of go through the same struggles. And we always had each other."
Twitter: @DanWoikeSports
---
Get our high school sports newsletter
Prep Rally is devoted to the SoCal high school sports experience, bringing you scores, stories and a behind-the-scenes look at what makes prep sports so popular.
You may occasionally receive promotional content from the Los Angeles Times.