The Times' survey: Which are the NBA's best and worst referees?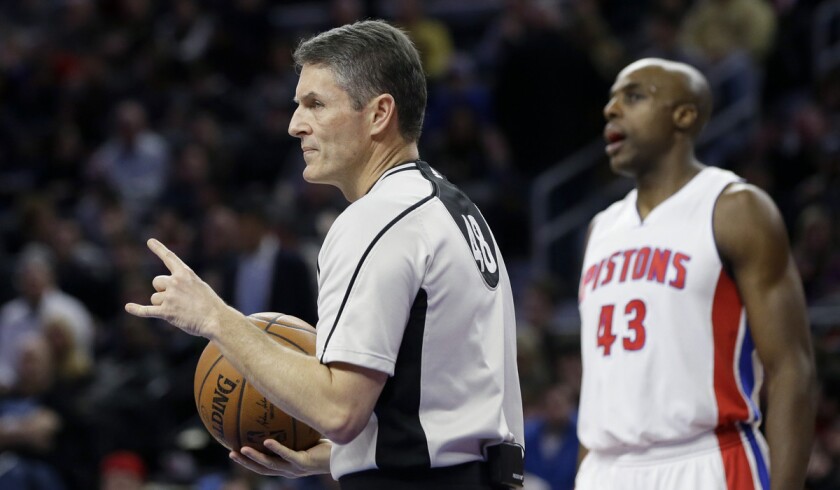 Every play can result in a foul call, a technical or even an ejection. The momentum of a game and sometimes the outcome can depend on the skill of the referees blowing, or not blowing, the whistles.
This season there are 64 NBA referees, ranging from rookies Gediminas Petraitis, Tyler Ford and Mitchell Ervin, to veterans Joey Crawford (in his 39th season) and Danny Crawford (31st season), who were making calls when Magic Johnson and Michael Jordan were in their prime.
Given the importance of referees, The Times conducted an anonymous survey with nearly three dozen NBA players, head coaches and assistants to see who they consider the three best referees in the league.
"Are there any out there?" one longtime assistant coach asked incredulously.
The players and coaches were also asked to list the three worst referees in the association.
"Oh, there are a lot of them," said a veteran player, who was laughing.
Clearly, the adversarial relationship is a constant between the officials who call the games and the players and coaches who resent the calls that go against them.
Nevertheless, according to our survey, here are the three best NBA referees:
1. Danny Crawford, who got 30 votes.
2. Joey Crawford (no relation), with 25 votes.
3. Monty McCutchen, with 13 votes.
And now the three worst officials in the league, according to players and coaches we surveyed:
1. Scott Foster, with 24 votes.
2. Lauren Holtkamp, with 14 votes.
3. Marc Davis, with 12 votes.
"Let's be honest. There are some very good refs and some bad refs. They make some good calls and they make some bad calls," said one veteran player. "We make mistakes too as players. We like some refs and we hate some refs. That's just the way it is."
Danny Crawford, 62, came out on the top of our survey because he is well-liked because of his communication skills.
"He's been in the league for a long time and a lot of guys respect him," one player said. "You won't get cheated by him. Now does he make mistakes? Yes. I like it where he'll tell a star to shut up. At the same time, he knows there is a pecking order and he gives certain players more respect than others. A lot of the new refs are terrible and the old refs won't speak to you. But Danny gives you a happy medium."
"Danny is good because he'll talk to you," another player said. "He doesn't take it personal if you question him, as long as you're not tripping or your tone is not all messed up. If you're asking a question, even if you're questioning his call, he doesn't take it like it's an affront to his manhood. He might tell you some stuff like, 'You're wrong.' But he'll treat you like a man, like a human being."
Every player and coach knows that Joey Crawford, 64, can have a short fuse and is not to be crossed. But they all say Crawford, who is retiring after this season, is fair.
"Once upon a time, you couldn't talk to Joey," an NBA head coach said. "He's cleaned that up — big time. He runs it when he's on the floor now. For me, that's big. I don't care if it's at home or on the road, he's not going to get intimidated by the crowd. To me, that's big with officials. You have guys that are homers, where the home crowd can sway them. But not Joey."
"There's no nonsense when Joey is doing stuff," one player said. "When Joey says, 'Ya'll been warned,' everybody stops."
Players joke about how well-dressed McCutchen is when he arrives at games, but they also like his honesty. McCutchen, 49, is in his 23rd season.
"There was a game against us where he missed the call and during a timeout, he was like, 'Yeah, when I watch that one back, I'm probably going to want to slap myself.' That's cool," said an assistant coach. "You're going to miss a call and we're going to mess up coaching. You just own to what you do, and Monty does that."
"Monty is just solid," a player said. "He explains things. He doesn't have an attitude. And he does wear some nice suits. But if he's going to call your game, you know he's going to be fair."
The trio of top referees all have lengthy experience in the league. But time served doesn't automatically make you a good referee, at least according to our survey.
Foster, 48, who got the worst grades of any referee, has been in the business for 22 seasons.
"He had one of our playoff games and as soon as he walked in, I was like, 'This game is over.' We all knew we were going to get bad calls, and we did," said one veteran player. "You couldn't say anything to him. Hell, I don't think you could even look at him."
"You can't talk to him. He's never wrong," one player complained about Foster. "I like refs where they say, 'You know what, I made a mistake. I saw it at halftime. You were right.' But Scott Foster thinks he never makes a mistake. The players see the stats of how he is on the road. He always helps the road team out. He loves to stick it to teams."
Holtkamp, 35, is in her second season in the NBA.
"Take the female part aside, she's just new," a player said. "But with her, I thought she took it a little bit personal, thinking players talk to her the wrong way. When you're young, like an NBA player or a ref, you've got to come in seeking knowledge. You can't come in blowing the whistle. She came in like, 'I'm a female and you're not going to talk a certain way to me.' No one called her a bad name. No one disrespected her. It's her terrible calls."
"She's got no feel for the game and she's terrible," a head coach said.
And closing out the list is Davis, 48, an 18-year veteran official.
"He's cool as they come, but he's so arrogant," one player said. "He instigates things sometimes. Marc will go back at a player. He forgets that he's talking to another man. Don't challenge a man's manhood. Now you are going too far."
"Marc Davis is hands down the worst," a player said. "He acts likes he's your friend, but he'll just screw you. He'll screw you and he'll get the biggest attitude about it."
Twitter: @BA_Turner
ALSO
Doc Rivers fined $25,000 by NBA for public criticism of referees
---
Get our high school sports newsletter
Prep Rally is devoted to the SoCal high school sports experience, bringing you scores, stories and a behind-the-scenes look at what makes prep sports so popular.
You may occasionally receive promotional content from the Los Angeles Times.