NBA preview: Western Conference predictions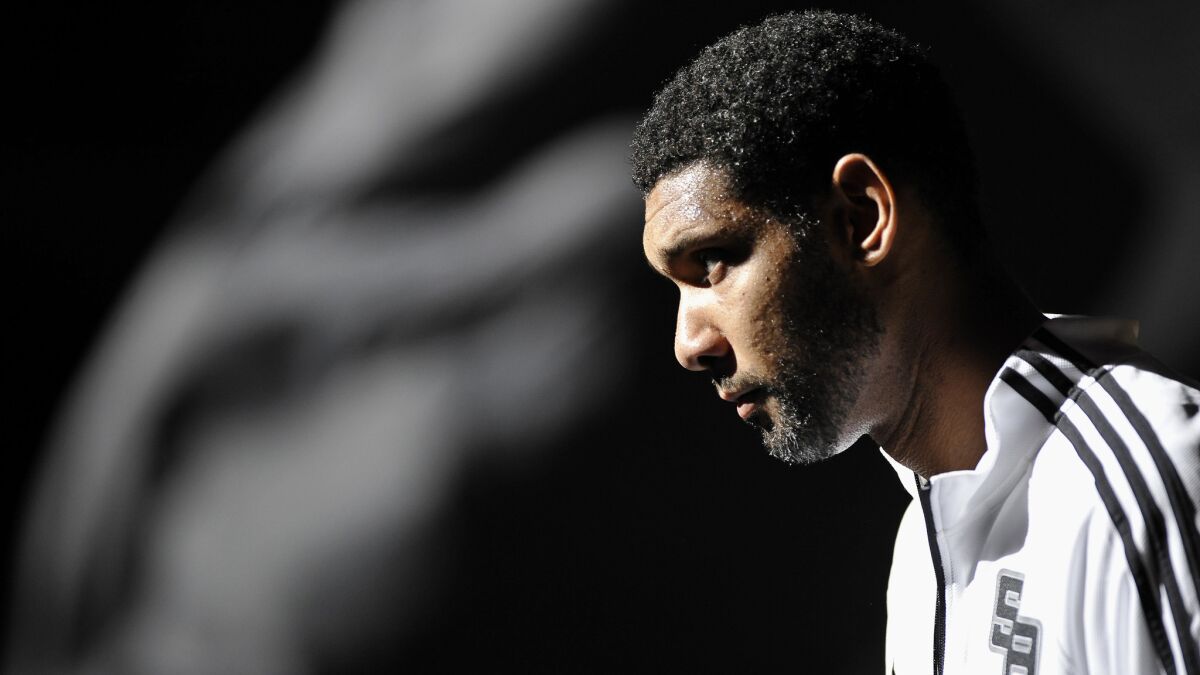 Broderick Turner picks the West (in predicted order of finish)
PLAYOFF-BOUND
1.San Antonio
2013-14 finish: 62-20.
Coming: Kyle Anderson.
Going: No one of significance.
Despite a storied history, the Spurs have never won back-to-back titles. In fact they had never reached back-to-back NBA Finals until 2014 when, a year after losing in excruciating fashion to Miami, they extracted revenge against the Heat to earn their fifth title in the Tim Duncan-Gregg Popovich era. For the Spurs to win consecutive championships — and reach the NBA Finals for the third season in a row — small forward Kawhi Leonard must sustain the high level he showed while earning the MVP award in the 2014 Finals.
2. Clippers
2013-14 finish: 57-25.
Coming: Owner Steve Ballmer, Spencer Hawes, Jordan Farmar, Chris Douglas-Roberts, Ekpe Udoh, C.J. Wilcox.
Going: Owner Donald Sterling, Darren Collison, Danny Granger, Ryan Hollins, Willie Green.
The Clippers could move up in the playoff seedings with Oklahoma City star Kevin Durant sidelined to start the season. Once again, it will be up to Chris Paul, Blake Griffin and DeAndre Jordan to carry the Clippers. The small forward position is a concern for Coach Doc Rivers, who is starting Matt Barnes, but Reggie Bullock and Douglas-Roberts will get an opportunity to show they can handle that spot. And don't be surprised if Rivers uses guard Jamal Crawford, the NBA's sixth man of the year, at small forward, especially at the end of games.
3. Golden State
2013-14 finish: 51-31.
Coming: Coach Steve Kerr, Shaun Livingston, Leandro Barbosa, Brandon Rush.
Going: Coach Mark Jackson, Jermaine O'Neal, Jordan Crawford, Steve Blake.
With the Warriors, it's always about the Splash Brothers: guards Stephen Curry and Klay Thompson. But for Golden State to have major success, 7-foot center Andrew Bogut must stay healthy. Bogut, 29, missed Golden State's first-round playoff series against the Clippers because of a fractured rib. He has suffered a series of injuries since being the No. 1 overall pick by Milwaukee in the 2005 draft. Still, the Warriors are deep enough, with such impact players as David Lee, Andre Iguodala, Harrison Barnes and Draymond Green, to be a threat in the West.
4. Oklahoma City
2013-14 finish: 59-23.
Coming: Anthony Morrow, Mitch McGary, Sebastian Telfair.
Going: Derek Fisher, Caron Butler, Thabo Sefolosha.
A broken bone in his right foot will keep Kevin Durant on the injury list long enough for the Thunder, which reached the conference finals last season, to drop in the West. Russell Westbrook, an All-Star point guard, is a force, but he can't carry the load alone while Durant is out; he'll need help from Serge Ibaka, Reggie Jackson, Andre Roberson and Perry Jones, the probable starter for Durant. But there's plenty of talent for the Thunder to stay afloat until its main man returns.
5. Portland
2013-14 finish: 54-28.
Coming: Chris Kaman, Steve Blake.
Going: Mo Williams, Earl Watson.
The Trail Blazers have two All-Stars in power forward LaMarcus Aldridge and 24-year-old Damian Lillard, who in just two seasons has become one of the elite point guards in the NBA. They also have solid role players in small forward Nicolas Batum and guard Wesley Matthews, both of whom are good defenders and offensive threats. The key for Portland is getting solid bench production out of Kaman, Will Barton, C.J. McCollum and Blake.
6. Houston
2013-14 finish: 54-28.
Coming: Trevor Ariza, Jason Terry, Nick Johnson, Clint Capela.
Going: Jeremy Lin, Chandler Parsons, Omer Asik.
The Rockets have two of the NBA's best players in All-Stars Dwight Howard and James Harden, but that may not be enough for this team to win a championship. Newcomer Ariza is a skilled two-way player, but he's not a better offensive threat than the departed Parsons. Also, the Rockets played little defense last season, giving up 103.1 points per game, 23rd in the league.
7. Memphis
2013-14 finish: 50-32.
Coming: Vince Carter.
Going: Ed Davis, Mike Miller.
The Grizzlies are perhaps the most physical team in the NBA, with 7-1 center Marc Gasol and 6-9 forward Zach Randolph. With talented point guard Mike Conley, and a defense that ranked third in the NBA for fewest points (94.6) allowed last season, they are a tough matchup for any team.
8. Dallas
2013-14 finish: 49-33.
Coming: Tyson Chandler, Raymond Felton, Jameer Nelson, Chandler Parsons, Richard Jefferson, Al-Farouq Aminu.
Going: Jose Calderon, Samuel Dalembert, Shane Larkin, DeJuan Blair, Vince Carter, Shawn Marion.
The Mavericks retooled pretty well in the off-season to surround franchise player Dirk Nowitzki with new talent. Bringing back Chandler, who started at center on Dallas' 2011 championship team, to anchor the defense was a smart move. Parsons must show he's worth the three-year, $46-million deal he signed with the Mavericks.
EARLY OFF-SEASON
9. New Orleans
2013-14 finish: 34-48.
Coming: Omer Asik, John Salmons, Russ Smith, Jimmer Fredette.
Going: Al-Farouq Aminu, Anthony Morrow, Jason Smith.
The Pelicans have a rising star in power forward Anthony Davis, who played a pivotal role in helping Team USA win the gold medal at the FIBA World Cup last month. With Davis, Asik and Ryan Anderson, who played in only 22 games last season because of a neck injury, the Pelicans could have one of the better big-man rotations in the NBA.
10. Phoenix
2013-14 finish: 48-34.
Coming: Isaiah Thomas, Tyler Ennis, Anthony Tolliver, Zoran Dragic.
Going: Channing Frye, Leandro Barbosa, Ish Smith.
The Suns have one of the shortest backcourts in the NBA, with starters Eric Bledsoe (6-1) and Goran Dragic (6-3), plus reserves Thomas (5-9) and Ennis (6-2). But they also have plenty of speed, and last season they almost reached the playoffs under first-year Coach Jeff Hornacek. Bledsoe signed a maximum deal for five years and $70 million and the Suns hope he can lead them to the postseason.
11. Denver
2013-14 finish: 36-46.
Coming: Arron Afflalo, Gary Harris, Jusuf Nurkic.
Going: Aaron Brooks, Evan Fournier.
Center JaVale McGee played in just five games last season because of a fractured left leg, and small forward Danilo Gallinari missed the season because of surgery on his left knee. Coach Brian Shaw needs both players to be productive, plus big seasons from point guard Ty Lawson and power forward Kenneth Faried for Denver to have a shot at the playoffs.
12. Sacramento
2013-14 finish: 28-54.
Coming: Darren Collison, Nik Stauskas, Ramon Sessions, Ryan Hollins.
Going: Jason Terry, Aaron Gray, Travis Outlaw.
Has DeMarcus Cousins' maturity finally caught up to his talent? Cousins, 24, averaged 22.7 points, 11.5 rebounds and 1.3 blocks last season, then showed signs that he's finally getting it together with his play and attitude for Team USA in the World Cup. The Kings will need it to end a string of eight straight losing seasons.
13. Lakers
2013-14 finish: 27-55.
Coming: Coach Byron Scott, Julius Randle, Carlos Boozer, Jeremy Lin, Jordan Clarkson, Ed Davis.
Going: Coach Mike D'Antoni, Pau Gasol, Jordan Farmar, Chris Kaman, Jodie Meeks, Kendall Marshall, Kent Bazemore, MarShon Brooks.
Kobe Bryant missed the first 19 games last season while recovering from left Achilles' tendon surgery, then the final 57 games because of a fractured left knee. He's looked fit in the preseason. That can't be said for Steve Nash, who will miss the entire season because of back problems. Even with Bryant, 36, back, it probably isn't enough for this team to make the playoffs. The Lakers' short frontcourt of 6-10 center Jordan Hill and 6-9 power forward Boozer isn't inspiring, and key reserve Nick Young will miss eight weeks after right thumb surgery.
14. Minnesota
2013-14 finish: 40-42.
Coming: Andrew Wiggins, Anthony Bennett, Thaddeus Young, Mo Williams, Zach LaVine.
Going: Kevin Love, Luc Mbah a Moute.
Flip Saunders, Timberwolves coach and president, will have to bring this young group along slowly. Wiggins, 19, the first overall pick in the June draft, is a talent. Point guard Ricky Rubio, 24, still hasn't lived up to his hype and Bennett, the first overall pick from the 2013 draft, was a major disappointment with Cleveland.
15. Utah
2013-14 finish: 25-57.
Coming: Coach Quin Snyder, Dante Exum.
Going: Coach Tyrone Corbin, Richard Jefferson, Marvin Williams, Brandon Rush.
The Jazz has some young talent in power forward Derrick Favors, 23, center Enes Kanter, 22, and small forward Gordon Hayward, 24. But can the team put it all together? The spotlight will be on Hayward after the Jazz matched a four-year, $63-million contract offer he got from Charlotte.
---
Get our high school sports newsletter
Prep Rally is devoted to the SoCal high school sports experience, bringing you scores, stories and a behind-the-scenes look at what makes prep sports so popular.
You may occasionally receive promotional content from the Los Angeles Times.