Dwight Freeney calls on his Super Bowl history to guide fellow Falcons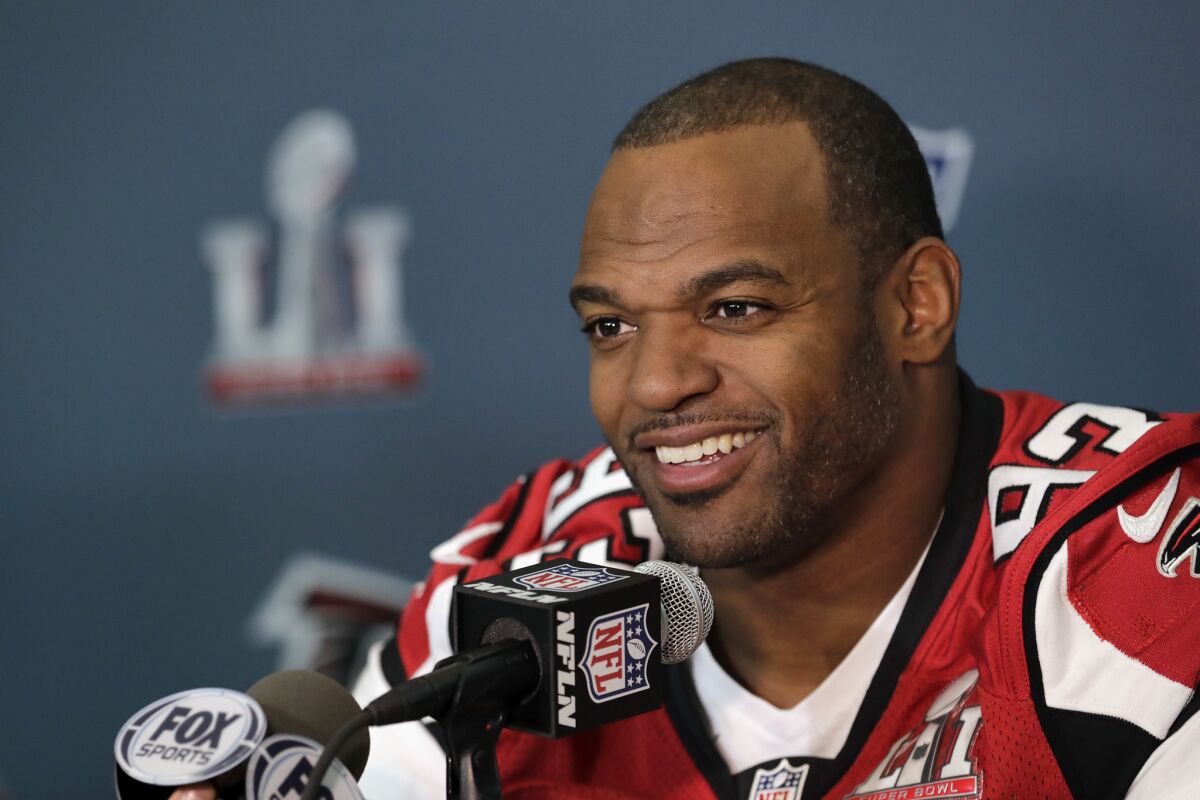 houston —
Defensive end Dwight Freeney has built his illustrious NFL career around his signature spin move. But he didn't want spin from his next NFL team.
He said that's the reason he turned down offers from other suitors and wound up signing with the Atlanta Falcons, even though they were a ho-hum 18-30 over the last three seasons.
"I just went with my heart," said Freeney, 36, who spent his first 11 seasons with Indianapolis, followed by two with San Diego and one with Atlanta. "What sold me is how bad they really wanted me. It's good to feel wanted on that level, this being my 15th year."
Freeney is one of four Falcons players with Super Bowl experience, having won one and lost one with the Colts. By comparison, 22 members of this season's New England Patriots have played on the NFL's biggest stage.
Although he's had just three sacks this season, Freeney — who routinely registered double digits in that category earlier in his career — has been hugely instrumental as a mentor to younger players. Chief among those is outside linebacker Vic Beasley, who led the NFL with 15½ sacks this season.
"He's meant so much to me," Beasley said of Freeney. "Bringing him on this team and bringing him into the organization has been a great help. He just preaches a work-hard mentality."
For the Falcons, bringing in seasoned defensive linemen hasn't always worked. Six years ago, they tried that with Ray Edwards, a veteran from the Minnesota Vikings, and he didn't last a full two seasons. He wasn't productive, and his attitude eventually led to him being shown the door.
"I believe more and more it's so important to have the entire coaching staff buy in and listen to them, listen to the nuances of what their evaluation is," Falcons General Manager Thomas Dimitroff said. "It's not the end all, be all. But I want to make sure people are truly in. Otherwise, within a few months, a D-coordinator or position coach could say, 'I didn't want this guy anyway.'"
That certainly is not the case with Freeney, who has taken to his role as the experienced hand, someone who essentially has seen it all. What's more, he serves as a traffic cop for the defensive line, using his anticipation and know-how to instruct teammates on the most advantageous rush lanes.
Freeney said Beasley "absolutely" can have the same type of impact on Super Bowl LI that Denver's Von Miller had in helping the Broncos to victory over Carolina in last season's marquee game.
"I think he has the ability to have that," Freeney said. "I don't know what's going to happen — you're talking about the Patriots that can game-plan and scheme… and Tom [Brady] throws the ball very quickly. But when Vic puts his mind to it, I think he can be unstoppable."
Freeney is very familiar with Brady, having faced him multiple times when the Patriots-Colts rivalry was at its height. But the two players faced each other even before that. Freeney said this week that his first hit on a college quarterback came against Brady in 1998, when Freeney was at Syracuse and Brady was at Michigan.
Whereas Brady is looking to become the NFL's first quarterback with five Super Bowl rings, Freeney is playing in his 13th postseason game.
"I tell guys, 'You're going to have a hard time keeping your emotions inside,'" Freeney said. "Saturday night is going to be tough to fall asleep. You'd better take whatever you have to take — Ambien, Tylenol PM, whatever it is — to get yourself to knock out. Because you are going to be living the dream."
Follow Sam Farmer on Twitter @LATimesfarmer
Get our high school sports newsletter
Prep Rally is devoted to the SoCal high school sports experience, bringing you scores, stories and a behind-the-scenes look at what makes prep sports so popular.
You may occasionally receive promotional content from the Los Angeles Times.