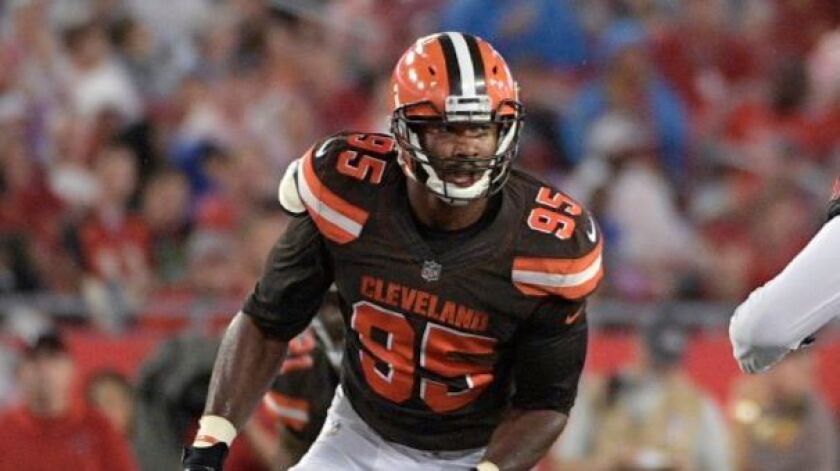 Myles Garrett's NFL debut for the Browns won't happen for weeks.
The top overall pick in this year's draft will miss Sunday's opener against Pittsburgh and possibly a few more games after severely spraining his right ankle during practice. A teammate fell on the back of his leg during a drill Wednesday.
An MRI revealed the 6-foot-4, 275-pound Garrett has a high ankle sprain, an injury that typically takes several weeks to heal. His status will be updated in a couple of weeks, the team said. That means he will sit out against the Steelers and likely the following week at Indianapolis, and perhaps other games.
This is the second time Garrett already has been hurt as a pro, and those setbacks came after he was limited during his junior year at Texas A&M by a badly sprained left ankle.
Garrett sustained a lateral sprain to his left foot during minicamp while pressuring former Browns quarterback Brock Osweiler. The injury was initially thought to be serious, but Garrett's foot was immobilized in a walking boot and he recovered in time for the start of training camp.
Garrett had been pointing to the opener and promised to sack Ben Roethlisberger. Before Wednesday's practice, Garrett said taking down Steelers quarterback would be nice, but his main objective was to wreak havoc wherever he could.
"It's to make a difference," he said. "Making a difference whether it's a sack, TFL [tackle for loss] or just being disruptive, that's what I'm going to do. I'm going to take the opportunities that are given to me."
Also, the Browns released safety Calvin Pryor on Thursday shortly after he was involved in a fight with wide receiver Ricardo Louis.
Coach Hue Jackson did not provide any details of the skirmish, which took place before practice.
Falcons' Jones is ready to go
All-Pro receiver Julio Jones said Thursday that he is 100% healthy for the Atlanta Falcons' opener Sunday at Chicago.
Jones had right foot surgery in March and took just eight snaps in one preseason game, but he's been practicing with no restraints for the last three weeks.
Jones ranked second in the NFL last year with 1,409 yards receiving. In 2015, he had the second-best season in league history with 136 catches for 1,871 yards receiving.
Coach Dan Quinn expects Jones to have no limitations with his foot against the Bears.
"We are definitely throwing long passes," Quinn said with a smile. "I guess what I'd be concerned about is if he didn't have practice time. That's a different story."
Etc.
New York Giants wide receiver Odell Beckham Jr. has missed his third practice this week and his status for the season opener against the Cowboys in Dallas remains in doubt because of a sprained left ankle. For the second straight day, Beckham stretched with teammates before the practice and then worked with a trainer. ... The Cincinnati Bengals signed linebacker Vontaze Burfict to a three-year contract extension that will keep him with the team through the 2020 season. The move Thursday comes despite Burfict being suspended by the NFL for the first three games this season for his egregious hit on Kansas City Chiefs fullback Anthony Sherman in a preseason game.
---