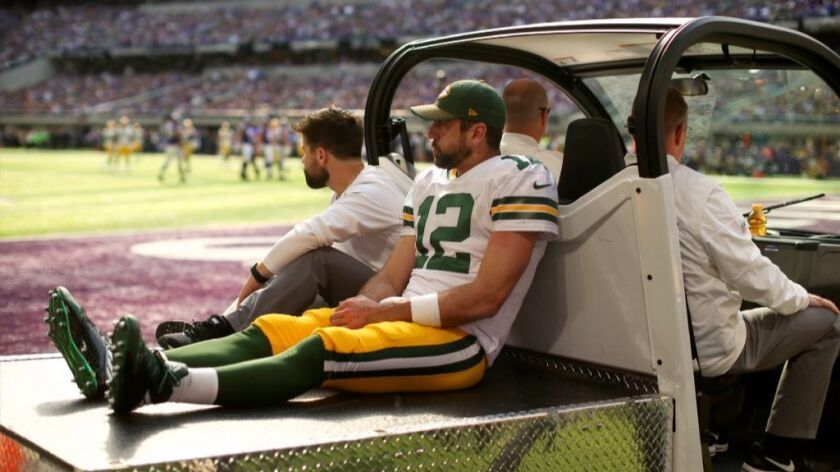 Green Bay Packers coach Mike McCarthy knew that this was one injury that his two-time NFL MVP could not shake off, and Monday confirmed the worst.
McCarthy said Rodgers will have surgery on his broken right collarbone, putting the rest of the quarterback's season in jeopardy.
"He'll be out a minimum, a significant amount of time — potentially the season could be over," he said.
Backup Brett Hundley is now the starting quarterback. A fifth-round draft pick in 2015, Hundley went 18 of 33 for 157 yards with a touchdown and three interceptions in relief of Rodgers. The Packers promoted third-stringer Joe Callahan from the practice squad to back up Hundley.
McCarthy said the team is looking at some free agents to help in practice. But don't expect them to bring in Colin Kaepernick.
"Did you just listen to the question I just answered?" McCarthy said to a reporter who asked if the team would look at Kaepernick. "I've got three years invested in Brett Hundley, two years invested in Joe Callahan. "The quarterback room is exactly where it needs to be, OK?"
McCarthy also voiced his displeasure with Anthony Barr's hit on Rodgers.
"To pin him to the ground like that, I felt it was an illegal act," McCarthy said.
Winston day to day
Tampa Bay Buccaneers quarterback Jameis Winston has a sprained AC joint in his throwing shoulder and is "day to day," coach Dirk Koetter said.
Winston, who has started 37 consecutive games to begin his career, has not been ruled out of Sunday's game at Buffalo. He was replaced by veteran Ryan Fitzpatrick, who rallied the Bucs from a 31-0 third-quarter deficit before losing at Arizona.
Bridgewater back?
Teddy Bridgewater has been cleared to rejoin the Vikings for practice, roughly 14 months after a dislocation and multiple ligament tears in his left knee put his leg and career at risk.
Bridgewater remains on the physically unable to perform list. They have three weeks to evaluate him before deciding whether to add him to the active roster or place on him on injured reserve and keep him out for a second straight season. Coach Mike Zimmer said Bridgewater would stay on the PUP list "until he's ready to play."
Further clouding the quarterback situation is the lingering problem with Sam Bradford's twice-repaired left knee, which has kept him out of 41/2 games. Backup Case Keenum has made a strong case to keep the job. He has a 93.1 passer rating and 1,134 yards with five touchdowns and one interception. Despite a solid job in Sunday's win over Green Bay, which lifted Minnesota (4-2) into a tie for first in the NFC North, Zimmer declined to name Keenum the starter for this weekend's game against Baltimore.
Etc.
Attorneys for Dallas Cowboys running back Ezekiel Elliott are set for an emergency hearing in federal court in New York as they try again to block his six-game suspension. ... San Francisco 49ers defensive lineman Arik Armstead broke his hand and will need surgery, coach Kyle Shanahan said ... Despite reports to the contrary, Pittsburgh Steelers receiver Martavis Bryant told reporters he did not request a trade and is "good to go."
---