NFL: Tannehill set to return Sunday against the Colts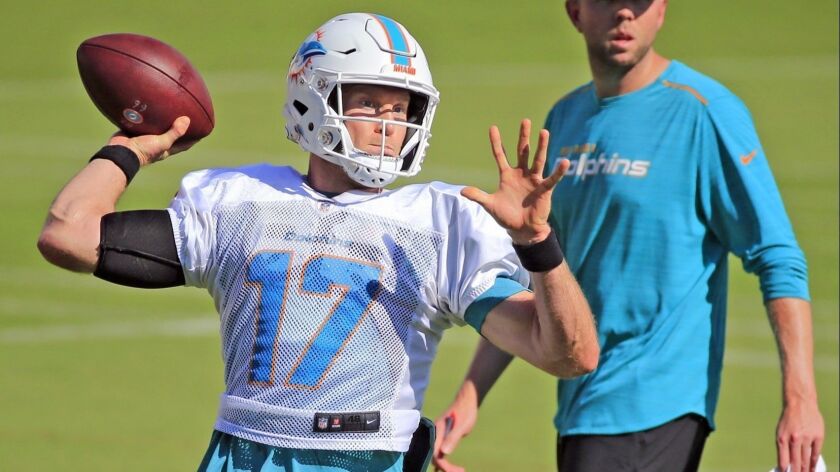 Ryan Tannehill was among the first players on the field Tuesday, tossing short passes to an assistant equipment manager before practice even began, trying to make up for lost time and lost games.
The Miami Dolphins plan to start Tannehill for the first time in seven weeks Sunday at Indianapolis. Coach Adam Gase said Tannehill has progressed enough in his recovery from a throwing shoulder injury to rejoin the lineup, and said the quality of his passes appears to be 100%.
"You don't look at him and go, 'Is he trying to feel his way?'" Gase said. "I don't see that. I see a guy who's confident in where he's at, and is doing a good job of turning the ball loose and putting it where it needs to be."
Tannehill said his shoulder still hurts when he throws, but the stabbing pain he felt earlier is gone.
"I'm not completely pain-free, but it's at a tolerable rate and it's something I can deal with, and it doesn't affect any throws I make," he said. "I'm ready to put this behind me and move forward and start winning games."
Tannehill's return provides a welcome lift. Replacement Brock Osweiler went 2-3 as the starter, and the offense has gone nine quarters without a touchdown.
The Dolphins (5-5) have lost five of their last seven games, but because of a logjam of .500 teams in the AFC, they're in contention for their third playoff berth in the last 17 seasons.
That means Tannehill has a shot to play in the postseason for the first time in his seven-year career.
Trubisky uncertain
Chase Daniel promises to be ready to step in at quarterback for Mitchell Trubisky on Thursday when the Chicago Bears play the Detroit Lions.
The Bears' backup might need to clear away some rust.
Daniel hasn't started or played extensively in an NFL game since 2014, and might start for Trubisky because of a right shoulder injury sustained in the fourth quarter of Sunday night's 25-20 Bears victory over the Minnesota Vikings.
"This week is a little bit different just because it's a short week, but I really haven't changed the way I prepare," Daniel said. "I prepare like a starter every week, so for me it's just another game."
Coach Matt Nagy is holding out hope Trubisky can play even without practice.
"I'm saying cautiously optimistic, but I can't make any promises," Nagy said. "I hope he does. But it's a day-to-day thing for us."
'Pacman' cut
Adam "Pacman" Jones' short stint in Denver is over.
The Broncos waived the 14-year veteran Tuesday after he'd appeared in seven games, posting nine tackles and one interception and three pass breakups.
Jones posted a thank you note on Instagram, saying, "Well Denver, it was good. Thanks for the opportunity!!! On to the next !!!"
He signed with Denverin August. Coach Vance Joseph, who once served as an assistant in Cincinnati, vouched for Jones, who spent eight seasons with the Bengals.
---
Get our high school sports newsletter
Prep Rally is devoted to the SoCal high school sports experience, bringing you scores, stories and a behind-the-scenes look at what makes prep sports so popular.
You may occasionally receive promotional content from the Los Angeles Times.