Sam Farmer's NFL picks for Week 12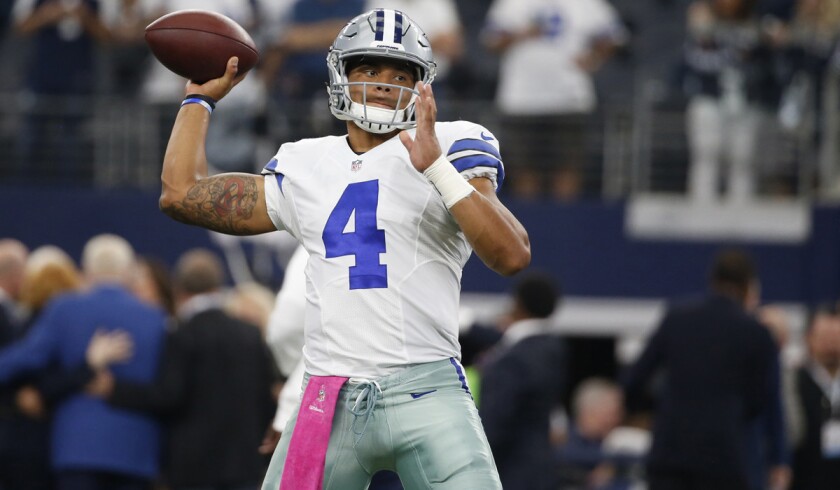 The Times' NFL writer, Sam Farmer, examines this week's matchups. Lines according to Pregame.com (O/U = over/under). Last week's record 12-2 (.857); season 105-54-2 (.660). Using point spreads with the scores Farmer predicted, the record against the spread last week would have been 9-5 (.643); season 82-75-4 (.523).
::
Minnesota (6-4) at Detroit (6-4)
Thursday, 9:30 a.m.
Vikings 21, Lions 17
TV: Channel 2.
Line: Lions by 2 1/2. O/U: 41 1/2.
It seems the Lions are always good on Thanksgiving, and the Vikings had lost four in a row before beating Arizona last Sunday. But watch for Minnesota's defense to control this one.
::
Washington (6-3-1) at Dallas (9-1)
Thursday, 1:30 p.m.
Cowboys 31, Redskins 27
TV: Channel 11.
Line: Cowboys by 7. O/U: 51 1/2.
Anything goes in this classic rivalry, so an upset is quite possible. But the Cowboys have done such a good job of dominating possession time and keeping their defense fresh.
::
Pittsburgh (5-5) at Indianapolis (5-5)
Thursday, 5:30 p.m.
Steelers 35, Colts 20
TV: Channel 4.
Line: Steelers by 9. O/U: 48.
Andrew Luck is in the concussion protocol, and the Steelers tend to shine in prime time. With Ben Roethlisberger getting healthier, he'll be able to move the ball vs. Colts defense.
::
Cincinnati (3-6-1) at Baltimore (5-5)
Sunday, 10 a.m.
Ravens 24, Bengals 20
TV: None. DirecTV: 705.
Line: Ravens by 4 1/2. O/U: 40 1/2.
The Ravens' defense is rock-solid, and the Bengals are without star receiver A.J. Green. Cincinnati isn't going to be able to run on Baltimore, and isn't stellar vs. the pass.
::
Jacksonville (2-8) at Buffalo (5-5)
Sunday, 10 a.m.
Bills 28, Jaguars 21
TV: None. DirecTV: 706.
Line: Bills by 7 1/2. O/U: 45.
Just when the Jaguars look like they've quit, they go to Detroit and give the Lions a scare. Buffalo is solid, though, and LeSean McCoy is expected to play after thumb surgery.
::
Tennessee (5-6) at Chicago (2-8)
Sunday, 10 a.m.
Titans 27, Bears 17
TV: None. DirecTV: 707.
Line: Titans by 4 1/2. O/U: 42.
The Titans can control the pace of the game with the run, and they're a much better team. Former USC quarterback Matt Barkley is making his first career start for the Bears.
::
San Diego (4-6) at Houston (6-4)
Sunday, 10 a.m.
Texans 27, Chargers 23
TV: Channel 2. DirecTV: 708.
Line: Chargers by 2. O/U: 46 1/2.
The Texans are tough at home, and they are starting to come around offensively. Philip Rivers will sling it until the end, but the Chargers will have their issues with Houston's defense.
::
Arizona (4-5-1) at Atlanta (6-4)
Sunday, 10 a.m.
Falcons 35, Cardinals 28
TV: None. DirecTV: 709.
Line: Falcons by 4. O/U: 50.
The Cardinals are scratching their heads for answers. They'll try reshuffling the offensive line this week. Atlanta just has too much firepower for a mistake-prone opponent.
::
N.Y. Giants (7-3) at Cleveland (0-11)
Sunday, 10 a.m.
Giants 28, Browns 17
TV: None. DirecTV: 710.
Line: Giants by 7. O/U: 44.
The Giants are picking up steam, as they often do at this point of the season. The Browns are careening toward an 0-16 record. Salvation doesn't come this week for Cleveland.
::
San Francisco (1-9) at Miami (6-4)
Sunday, 10 a.m.
Dolphins 24, 49ers 17
TV: None. DirecTV: 711.
Line: Dolphins by 7 1/2. O/U: 44.
Miami is on a roll. The Dolphins run it well, and get after the quarterback. The 49ers are playing hard, but they have no receivers and precious little hope. Long trip, too.
::
L.A. Rams (4-6) at New Orleans (4-6)
Sunday, 10 a.m.
Saints 24, Rams 13
TV: Channel 11. DirecTV: 712.
Line: Saints by 7. O/U: 46.
The Rams are playing better-than-solid defense, but they'll have a tough time holding up long enough against a Drew Brees-led Saints offense, especially with New Orleans at home.
::
Seattle (7-2-1) at Tampa Bay (5-5)
Sunday, 1 p.m.
Seahawks 24, Buccaneers 21
TV: None. DirecTV: 713.
Line: Seahawks by 6. O/U: 45.
The Seahawks are looking like the Seahawks again, but this game could be closer than folks expect. The Buccaneers can hang tough … unless they have turnovers, a distinct possibility.
::
New England (8-2) at N.Y. Jets (3-7)
Sunday, 1:15 p.m.
Patriots 27, Jets 20
TV: None. DirecTV: 714.
Line: Patriots by 7 1/2. O/U: 46.
The Patriots are good, but they're not the same without Rob Gronkowski. Ryan Fitzpatrick could make this interesting for the Jets, but New England should still win.
::
Carolina (4-6) at Oakland (8-2)
Sunday, 1:15 p.m.
Raiders 27, Panthers 23
TV: Channel 2. DirecTV: 715.
Line: Raiders by 3. O/U: 49.
Jack Del Rio is pushing all the right buttons for the Raiders, who aren't the same team at home. Panthers are missing Luke Kuechly, and Cam Newton can fold in tough times.
::
Kansas City (7-3) at Denver (7-3)
Sunday, 5:30 p.m.
Broncos 20, Chiefs 16
TV: Channel 4.
Line: Broncos by 3. O/U: 391/2.
Neither of these quarterbacks have been great, and this matchup should be dictated by the defenses. The Chiefs have Justin Houston but not Dee Ford. The Broncos are rested.
::
Green Bay (4-6) at Philadelphia (5-5)
Monday, 5:30 p.m.
Eagles 30, Packers 24
TV: ESPN.
Line: Eagles by 4. O/U: 47 1/2.
These are a couple of banged-up and desperate teams. Carson Wentz has come back to Earth, but he's still a good player. Philadelphia's defense gets it done at home.
---
Get our high school sports newsletter
Prep Rally is devoted to the SoCal high school sports experience, bringing you scores, stories and a behind-the-scenes look at what makes prep sports so popular.
You may occasionally receive promotional content from the Los Angeles Times.