Column: NFL review and preview: Steelers aim to avoid making a major mistake again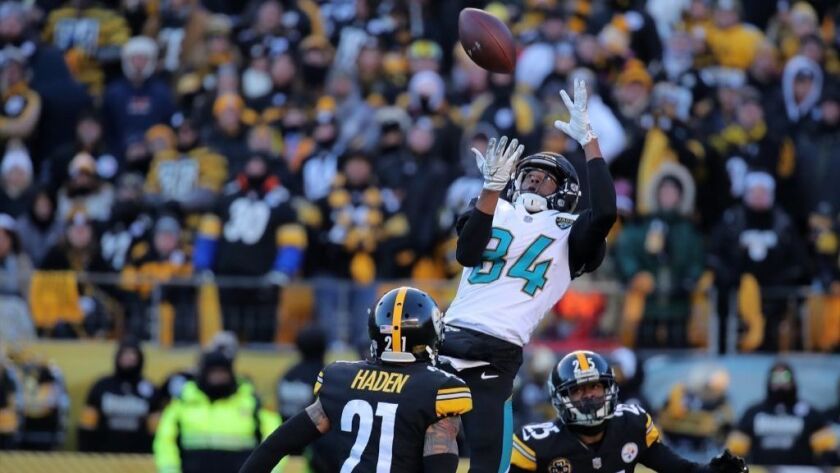 The Pittsburgh Steelers are heading one direction, and the Jacksonville Jaguars another.
Both teams are riding five-game streaks — the Steelers are winning, the Jaguars are losing.
But don't expect the Steelers to crow about that leading into Sunday's game at Jacksonville. They learned their lesson in the playoffs last season.
So confident were they that they would dispatch Jacksonville in the divisional round — despite losing to the Jaguars at home, 30-9, in the regular season — the Steelers fast-forwarded past their postseason opener and started addressing the AFC championship game against New England.
"We're going to play [the Patriots] again,'' Mike Mitchell, then a Pittsburgh safety, said in a Sports Illustrated interview days before the Jaguars game. "We can play them in hell, we can play them in Haiti, we can play them in New England … we're gonna win."
Mitchell is no longer with the team, but the lesson of that and other inflammatory comments lingers for a Pittsburgh team that was knocked out of the playoffs by Jacksonville, 45-42.
"Yeah, it's embarrassing. It really is, man,'' guard David DeCastro said recently, according to the Pittsburgh Post-Gazette. "It just blows my mind. They beat us 30-9, we played like crap and we want to talk about New England!
"I don't know what to say about that. It's just stupid. It's just not what you do. You don't need to give a team like that more bulletin board material."
Marching in
Sunday's 51-14 blowout of Cincinnati marked the fifth time in nine games New Orleans scored at least 40 points. The Saints are just the third team in NFL history to do that, joining the 2013 Denver Broncos and 2000 St. Louis Rams.
That certainly has to catch the eye of Philadelphia, coming off a home loss to Dallas and needing to get back on track. In the Superdome, that is no simple task.
Drew Brees threw for three touchdowns Sunday, bringing his career total to 509, one more than Brett Favre for second place on the all-time list. Only Peyton Manning has thrown for more, with 539.
Passing grades
Pittsburgh's Ben Roethlisberger threw for five touchdowns in Thursday's blowout of Carolina, recording a "perfect" passer rating of 158.3. He was one of four quarterbacks to notch a passer rating of at least 145 in Week 10, joining Cleveland's Baker Mayfield (151.2), Brees (150.4) and Chicago's Mitchell Trubisky (148.6).
Four quarterbacks with at least a 145 rating is a first. Three quarterbacks have achieved that in the same week on four occasions.
Best of Luck
Tennessee toppled Tom Brady and the Patriots in Week 10, but there's another big challenge around the corner. The Titans play at Indianapolis on Sunday and face a prolific Andrew Luck, who has thrown at least three touchdown passes in each of his past six games.
Luck is one of three quarterbacks to assemble that kind of six-game streak. Brady threw at least three touchdown passes in 10 consecutive games in 2007, and Manning did it in eight in a row in 2004. Brady and Manning were named the NFL's most valuable player after those seasons, but Luck faces long odds in that department. Kansas City's Patrick Mahomes is in the driver's seat for MVP.
More elite company
The Rams' Todd Gurley has scored at least one touchdown in each of the first 10 games. The only other running backs to accomplish that feat were a trio of Hall of Famers: O.J. Simpson (14 games in 1975), Lenny Moore (14 in 1964) and Elroy "Crazylegs" Hirsch (10 in 1951).
Give it a rest
In a quirky scheduling twist, all four AFC East teams have the week off. Just as well, with the Patriots, New York Jets and Miami Dolphins losing Sunday. The only team in the division that won was Buffalo — the Bills beat the Jets.
Odds and ends
• Green Bay is back in Seattle on Thursday night for the first time since the Seahawks defeated the Packers in the 2014 NFC title game. Seattle overcame a 19-7 deficit in the fourth quarter to win in overtime 28-22.
• Joe Flacco's availability is in doubt for Sunday's game against Cincinnati because of a hip injury. The Baltimore quarterback reportedly was on crutches during the bye week. If Flacco can't play, the Ravens will go with rookie first-round pick Lamar Jackson.
• Houston, which has been terrific against the run during its six-game winning streak, plays at Washington and looks to shut down Redskins running back Adrian Peterson. An offseason resident of Houston, Peterson made it clear when he was a free agent that he wanted to play for the Texans.
• Chicago's 34-22 victory over Detroit on Sunday was the Bears' first divisional win in two years; they defeated Minnesota on Halloween 2016. Chicago (6-3) has a half-game lead in the NFC North over Minnesota (5-3-1), with the Vikings coming to Soldier Field for a game that was flexed into the Sunday night slot.
• Kansas City receiver Sammy Watkins, who played for the Rams last season, should be ready to go against his former team next Monday in Mexico City. He has been recovering from a foot injury and probably could have played Sunday against Arizona; he had participated in practice during the week leading up to that game.
Follow Sam Farmer on Twitter @LATimesfarmer
---
Get the latest on L.A.'s teams in the daily Sports Report newsletter.
You may occasionally receive promotional content from the Los Angeles Times.