Aging QBs Matt Hasselbeck, Carson Palmer, Philip Rivers turn NFL into a gray area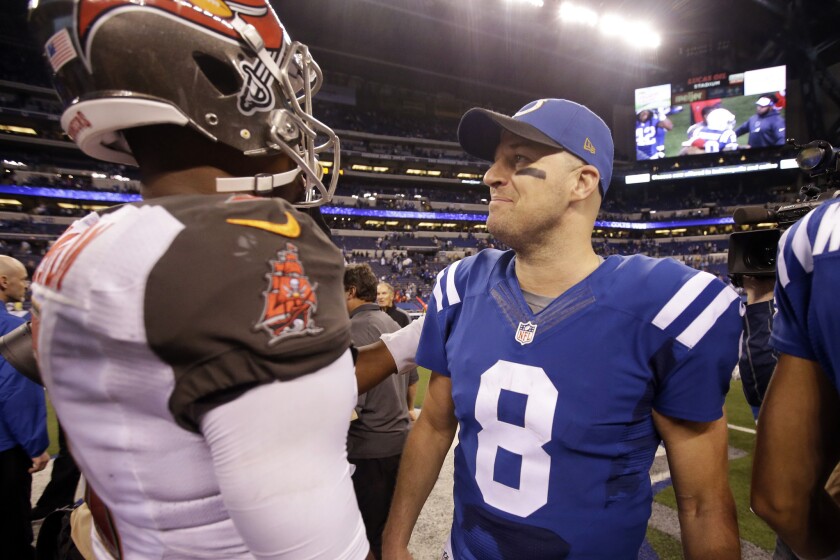 Chalk one up for the old guys.
Not only is Matt Hasselbeck the big four-oh — the NFL's oldest quarterback — but also he's 4-0 as the replacement starter for the Indianapolis Colts. On Sunday, he led his team to a 25-12 victory over Tampa Bay, whose rookie quarterback, Jameis Winston, was born during Hasselbeck's freshman year in college.
"He's not playing like he's 40," said T.Y. Hilton, who caught two touchdown passes from Hasselbeck. "He's out there having fun, making sure guys are in the right spot and letting us make plays. He's fired up and wants to make sure guys are in the right spot so he can make plays."
In Santa Clara, Carson Palmer directed Arizona to a 19-13 victory over San Francisco, the first time the Cardinals have beaten the 49ers on the road since 2008. That included Palmer's scoring the go-ahead touchdown with a chugging eight-yard run to the corner, ending with a dive over the pylon. He punctuated that with a spike and tumble that had him climbing slowly off his knees and into the arms of congratulatory teammates. The cagey Cardinals, led by their 35-year-old quarterback, have won five in a row.
In what was more a spirit-lifter than season-saver, San Diego's Philip Rivers outgunned the young Blake Bortles in a 31-25 victory at Jacksonville. Rivers, 33, threw four touchdown passes, two to Antonio Gates, 35, the team's oldest player. The win ended a six-game losing slide by the Chargers.
"This was long overdue," Rivers said. "It feels good. We leaned on each other a lot today. By no means does 3-8 sound wonderful, but winning today sure does."
It was a great day to be gray. But not everywhere. Pittsburgh's Ben Roethlisberger gave the Seahawks a scare in a back-and-forth shootout at Seattle, but the home team ultimately pulled away with a short Russell Wilson pass that Doug Baldwin turned up the sideline for an 80-yard touchdown.
Roethlisberger, who threw for 456 yards but took a beating and wound up going through concussion tests, handed the reins to understudy Landry Jones for the Steelers' last-gasp drive, which ended with an interception. The Seahawks won, 39-30.
New Orleans lost at Houston, 24-6, with the Saints failing to score a touchdown for the first time since 2005 — snapping a streak of 155 games. That also ended Drew Brees' string of 45 consecutive games with a touchdown pass, the fifth-longest in NFL history.
The flip side of that is the Texans have won four in a row to stay tied with Indianapolis for first place in the AFC South. The current streak — Houston's longest since it won six straight in 2012 — came on the heels of an 18-point loss at Miami.
"We just had enough of playing like that," Texans linebacker Brian Cushing said. "We started simplifying things and playing hard. Just had a bad taste in our mouth from a couple of those games and just internally promised each other it wouldn't happen again."
In other words, those losses were getting old.
False starts
The NFL is all about disguise, and several teams look a lot different than they did earlier in the season.
Atlanta, for instance, has lost five of six — and four in a row — after starting the season with five consecutive wins. The Falcons are in danger of becoming one of the few teams in league history to miss the playoffs despite a 5-0 start.
"It starts with me," quarterback Matt Ryan said Sunday after a 20-10 home loss to Minnesota. "I've got to know when to throw the ball away, cut my losses, and take the field goal."
Ryan has five interceptions in the last two games.
Kansas City is heading in the other direction. The Chiefs won their fifth in a row Sunday — a 30-22 victory over Buffalo — making their 1-5 start feel like a bad dream. Amazingly, the Chiefs whipped their U-turn without the help of All-Pro running back Jamaal Charles, out for the season with a knee injury.
None of Kansas City's remaining opponents currently has a winning record — Oakland (twice), San Diego, Baltimore and Cleveland — and the 6-5 Chiefs are in prime position to be a wild-card team. Not that Coach Andy Reid is looking ahead that far.
"We're not really worried about all that," Reid said. "We just got over .500, think about that. All that stuff, if you keep knocking out the fundamentals and techniques, you don't worry about that other stuff."
Bortles without borders
Twice against the Chargers, Bortles attempted passes when he was well beyond the line of scrimmage. Both were short passes into the end zone, and one was caught for a would-be touchdown that was wiped out. Those miscues happen every so often with players, but twice in the same game?
Graham injured
The Seahawks had a big setback in their win, losing star tight end Jimmy Graham to a season-ending knee injury. The bad break came in the fourth quarter when Graham landed awkwardly while trying to make a touchdown catch. He lay in the end zone for several moments, clutching his right knee before being carted off wearing a hip-to-ankle air cast. The team confirmed after the game he suffered a torn patellar tendon.
Before he was injured, Graham had four catches for 75 yards.
All day Peterson
Not only did the Vikings tighten their grip on first place in the NFC North, but also Adrian Peterson had a typically impressive day. He ran for 158 yards and two touchdowns against the Falcons to become the sixth player in league history to have 30 games with at least 125 yards rushing.
The other five in that group are in the Pro Football Hall of Fame: Barry Sanders, Jim Brown, Walter Payton, Eric Dickerson and Emmitt Smith.
Sunday's effort was a nice bounce-back for Peterson after gaining just 45 yards in a Week 11 loss to Green Bay.
Peterson said of that 30-13 defeat, "We took it personal."
Watt's up
Houston's J.J. Watt had two sacks against the Saints, pushing his NFL-leading total to 131/2. He now has 701/2 in 75 career games, meaning he got to 70 faster than any player but the late Reggie White, who got there in just 57 games. Then again, sacks only became an official statistic in 1982, so yesteryear stars such as Deacon Jones aren't counted.
Mediocrity reigns
Does anyone really want to win the NFC East?
Washington and New York are tied atop the division thanks to the Redskins' 20-14 victory over those Giants on Sunday. Both teams are an underwhelming 5-6.
Philadelphia, which has lost three in a row, is a game behind at 4-7. And Dallas is last at 3-8, having lost seven in a row without Tony Romo, who is now out for the season.
"We're just in the driver's seat right now," Redskins defensive end Jason Hatcher said. "We've just got to continue winning games and driving the car — right into the playoffs."
Or off a cliff.
Twitter: @LATimesfarmer
---
Get our high school sports newsletter
Prep Rally is devoted to the SoCal high school sports experience, bringing you scores, stories and a behind-the-scenes look at what makes prep sports so popular.
You may occasionally receive promotional content from the Los Angeles Times.