Saints power past Panthers in playoffs as Cam Newton hit raises concussion concerns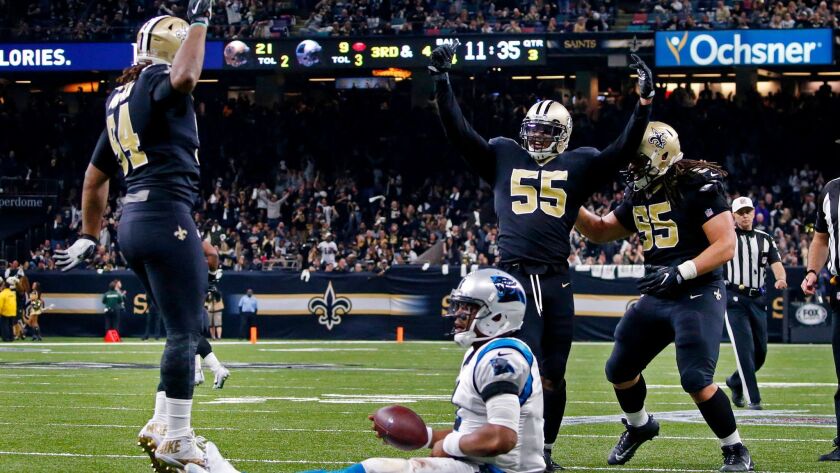 Reporting from new orleans —
The New Orleans Saints took the next step in their revival tour Sunday, knocking off the Carolina Panthers in a first-round playoff game, 31-26, and setting the stage for a showdown in Minnesota.
Not many people saw this coming, not after three consecutive 7-9 seasons for the Saints, and the sun appearing to set on the illustrious career of quarterback Drew Brees.
But Brees, who turns 39 in a week and is on an expiring contract, has no plans to quietly walk offstage. He threw for 376 yards and a pair of touchdowns against the Panthers, pushing the Saints' playoff record in the Mercedes-Benz Superdome to a pristine 5-0 in the era of Brees and Coach Sean Payton. One of those scores was an 80-yarder to former Panthers receiver Ted Ginn Jr., the Saints' longest play of the season.
"It's hard to beat a team three times," said Brees, whose team swept the regular-season series with Carolina. "Especially a team that's as prideful as the Panthers."
The Saints, who finished the regular season with the league's fifth-best rushing attack, were limited to 41 yards on the ground — 88 fewer than their average. Running backs Mark Ingram and Alvin Kamara, who stood together for postgame interviews, insisted they weren't bothered by that.
"It don't matter, as long as we keep getting these W's," Ingram said. "At this point, we've just got to win games. We don't care what happens. If it comes to us and we've got to make plays, so be it. If Drew's got to toss it around in the air and throw it to all our receivers and tight ends, so be it."
What lies ahead is a divisional round filled with mismatches in terms of quarterback experience. It's Brees versus Minnesota's Case Keenum, New England's Tom Brady vs. Tennessee's Marcus Mariota, Pittsburgh's Ben Roethlisberger vs. Jacksonville's Blake Bortles, and Atlanta's Matt Ryan vs. Philadelphia's Nick Foles.
Quarterbacks don't go head to head, of course, but in a pass-happy league, the success of a team largely sits on their shoulders.
Sunday's matchup featured two experienced hands, Brees and Carolina's Cam Newton, who kept his team in the game even though the Panthers trailed throughout.
Newton threw for 349 yards and had a pair of touchdown passes in the fourth quarter that twice pulled his team within five points. He didn't do excessive damage with his feet, running eight times for 37 yards, all but 17 of which came in the first half.
"We knew if we could make him a pocket quarterback, we could win," Saints defensive end Cam Jordan said. "That's been our key to success."
What figures to be much debated was that Newton had to leave the game for a play after absorbing a punishing hit to the head — one that had him looking unstable — yet cleared concussion protocol and was allowed to return.
That came with nine minutes left in the game, when the Carolina quarterback twisted out of a tackle and as he was rising from a hunched position was blasted in the face by New Orleans defensive tackle David Onyemata for a 10-yard loss.
Newton lay on the turf for several moments, was helped to his feet, and made his way to the sideline even though the sack came on second down. Before he could get off the field, Newton had to sit down and ostensibly regain his equilibrium with team medical personnel surrounding him.
When asked if Newton went through the concussion protocol, Coach Ron Rivera said: "No, he actually got poked in the eye. They took him in [the sideline tent] just to make sure as a precautionary, but when he was sitting on the ground, they were trying to wipe whatever when he got poked. So that's what that was."
Less than two weeks ago, the NFL announced new concussion protocol standards that would "require a locker room concussion evaluation for all players demonstrating gross or sustained vertical instability (e.g. stumbling or falling to the ground when trying to stand)." Newton, who did not go to the locker room, sat out one play and returned the following series.
Although Newton would throw another touchdown pass after coming back into the game — a toss to rookie Christian McCaffrey that went for 56 yards — the New Orleans defense ultimately slammed the door on any Panthers comeback.
That defense was key to the Saints' return to relevance this season, after being ranked 27th, 31st and 31st on that side of the ball the past three years. This season the Saints were a middle-of-the-pack 17th in yards allowed, but a respectable 10th in points allowed.
The Panthers gave the Saints and their raucous crowd a scare down the stretch, getting all the way to the New Orleans 21 in the final minute before three incomplete passes by Newton — including an intentional-grounding call — and a game-clinching, 17-yard sack by Vonn Bell on fourth down.
A massive challenge awaits the Saints, who have won consecutive playoff games only once, when they raised the Lombardi Trophy at the end of the 2009 season. They're headed to Minneapolis, where they are 3-13 all time and lost a Monday night season opener, 29-19.
The Saints might have an unblemished postseason record at home, but they are 1-3 in road playoff games with Brees and Payton.
New Orleans defensive tackle Sheldon Rankins envisions a different outcome in Minnesota.
"It was first game of the season, 'Monday Night Football', a young team, guys going out there trying to do too much," he said. "It took a few games, but guys finally settled into their roles, settled into what this defense is expecting of them, and we've been rolling since."
Follow Sam Farmer on Twitter @LATimesfarmer
---
Get our high school sports newsletter
Prep Rally is devoted to the SoCal high school sports experience, bringing you scores, stories and a behind-the-scenes look at what makes prep sports so popular.
You may occasionally receive promotional content from the Los Angeles Times.