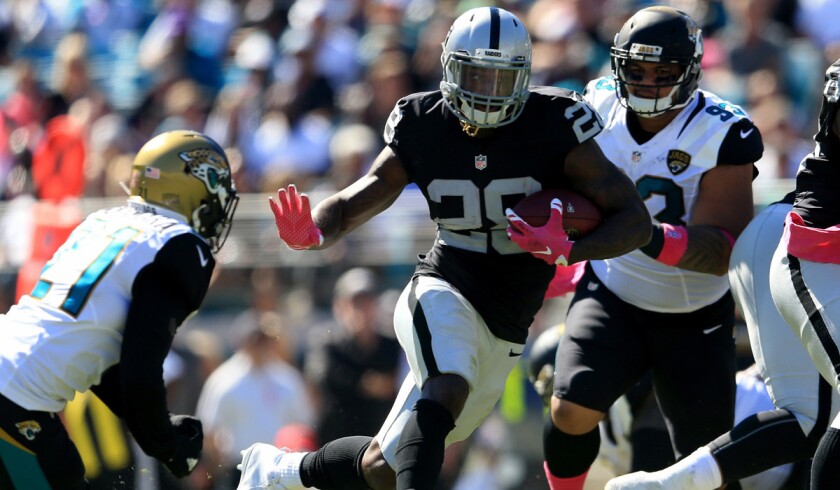 Reporting from JACKSONVILLE, Fla. —
Latavius Murray scored twice in his return from turf toe, and the Oakland Raiders handled listless Jacksonville 33-16 Sunday and gave coach Jack Del Rio a victory against his former team.
Murray, who missed the past two games, finished with 59 yards on 18 carries. Michael Crabtree caught eight passes for 96 yards and a touchdown from Derek Carr, Sebastian Janikowski kicked four field goals and the Raiders played the kind of defense they've been looking for all season.
The result was the team's most complete win of the season. Oakland improved to 4-0 on the road and moved to 5-2 for the first time since 2001.
The Jaguars (2-4), meanwhile, dropped a third straight at EverBank Field and added more speculation about the future of coach Gus Bradley.
Jacksonville fell to 14-40 during Bradley's four seasons, and the latest loss was filled with poor execution on both sides of the ball and a lack of discipline down the stretch.
Del Rio had to be thrilled with the outcome, getting the franchise's first win in three trips to Jacksonville. Del Rio spent nine years coaching the Jaguars and was fired with five games remaining in the 2011 season.
Del Rio was booed while jogging onto the field with his team before the game.
The louder jeers came later — for the home team. Blake Bortles threw for 246 yards, with two interceptions and a garbage-time touchdown. Allen Robinson caught two passes for 9 yards. The Jaguars finished with 344 yards of offense — the fewest gained against the league's worst-ranked defense this season.
---